Koerner Hall Opens!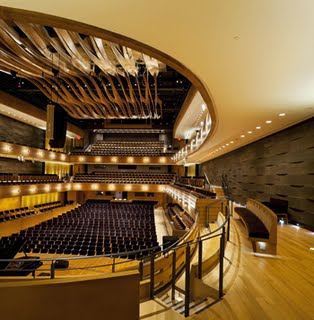 Kicks off Inaugural Season with Star-Studded Grand Opening Festival

Tonight is the night! The long-awaited Grand Opening of
The Royal Conservatory
ĺ─˘s spectacular new Koerner Hall takes place on Friday, September 25, 2009 at 8:30 pm. The jewel in the crown of Torontoĺ─˘s Cultural Renaissance, Koerner Hall also represents the final phase in the transformation of The Royal Conservatoryĺ─˘s national headquarters, the TELUS Centre for Performance and Learning.
ĺ─˙Koerner Hall and the TELUS Centre are critical components in inspiring audiences and connecting the worldĺ─˘s greatest artists to our students.ĺ─¨ remarked Dr. Peter Simon, President of The Royal Conservatory.
The Grand Opening of Koerner Hall includes Spirits of the House, a world premiere by R. Murray Schafer, especially commissioned by Michael and Sonja Koerner for the opening, and a video commemorating Glenn Gouldĺ─˘s 77th birthday. The all-Canadian roster of artists includes the Royal Conservatory Orchestra under the baton of rising star conductor Jean-Philippe Tremblay, Grammy-nominated ARC (Artists of The Royal Conservatory), Anton Kuerti, the Toronto Mendelssohn Choir, and vocal soloists Erin Wall (soprano), Wallis Giunta (mezzo-soprano), Colin Ainsworth (tenor), and Robert Pomakov (bass), all of whom have a special connection to The Royal Conservatory.
ĺ─«The Grand Opening of Koerner Hall is just the beginning of an exciting and wide-ranging season of music at The Royal Conservatory ĺ─ý nine more concerts complete the Grand Opening Festival of Koerner Hall, which runs until October 17. ĺ─˙These first concerts will reveal Koerner Hallĺ─˘s exceptional acoustics while also reflecting our commitment to bring you some of the best classical, jazz, pop, and world music artists from around the globeĺ─¨, noted Mervon Mehta, The Royal Conservatoryĺ─˘s Executive Director of Performing Arts.
On September 26, jazz giant Chick Corea takes the stage with bassist Stanley Clarke and jazz funk drummer Lenny White in a special concert that will also feature Juno Award-winning Toronto vocalist Sophie Milman.
On September 29, virtuosos Błęla Fleck (banjo), Zakir Hussain (tabla), and Edgar Meyer (double bass) will present a concert blending classical, bluegrass, and world music, presented in association with Small World Music.
On October 1, the Emerson String Quartet, dubbed ĺ─˙Americaĺ─˘s best quartetĺ─¨ by TIME Magazine, will be joined by Menahem Pressler, who wowed audiences during his recent appearance at the Toronto Summer Music Festival. He will join the Quartet in Dvo뢳░kĺ─˘s Piano Quintet in A, which they recorded together to great critical acclaim.
The Royal Conservatory will participate in the Scotiabank Nuit Blanche for the first time ever on October 3. Brian Current, Artistic Director of The Glenn Gould Schoolĺ─˘s New Music Ensemble, will fill the entire TELUS Centre building with sound and light, as he leads musicians from The Glenn Gould School, the Univox Chorale, and the Penthalia singers in a 12-hour installation of James Tenneyĺ─˘s In a large open space.
The Royal Conservatory Orchestra returns to Koerner Hall on October 9, this time under Toronto Symphony Orchestra Music Director Peter Oundjian, who will lead the orchestra in Respighiĺ─˘s Pines of Rome and Prokofievĺ─˘s Piano Concerto No. 2, with Glenn Gould School 2009 Concerto Competition winner Sam Deason.
This Thanksgiving weekend, Torontonians will be thanking mezzo-soprano Frederica von Stade for stopping at Koerner Hall on her farewell recital tour. Canadian singing superstar and RCM alumnus, Isabel Bayrakdarian, will be making a special guest appearance at the performance, on October 10.
Two more singing sensations will appear on October 15 - Hong Kong superstar Frances Yip (perhaps best known for her song Shanghai Beach from TVB movie The Bund) and Cantopop star Anthony Lun, a classically trained pianist who has composed no less than 42 number one hits.
Kebĺ─˘ Moĺ─˘ will bring the RCM down to the Delta on October 16, with his soulful blend of blues, rock, folk, and jazz. He will be joined by Hamilton-based blues man Harrison Kennedy.
The Royal Conservatory celebrates Diwali on October 17 with legendary sitarist Ravi Shankar and his daughter, Anoushka Shankar. These world music luminaries will be the perfect complement to the annual festival of lights.
Certain to become one of the world's great concert spaces, Koerner Hall represents a long-awaited addition to Torontoĺ─˘s cultural landscape ĺ─ý a world-class concert hall in the heart of the city. It will be used by many of the cityĺ─˘s finest artists and performing arts organizations and will provide a performance venue for many students and faculty of The Royal Conservatory. The opening of Koerner Hall also completes the physical transformation of the RCMĺ─˘s national headquarters and culminates the vision of President Dr. Peter Simon to provide facilities befitting an internationally-renowned organization dedicated to developing the human potential of Canadians through excellence in performance and learning.
The Royal Conservatory acknowledges all of its donors and recognizes the remarkable generosity of:
TELUS Communications Inc.
The governments of Canada and Ontario
Michael & Sonja Koerner
Ian Ihnatowycz & Marta Witer
Leslie & Anna Dan
Wilmot & Judy Matthews
The Royal Conservatoryĺ─˘s 2009-2010 Koerner Hall Inaugural Concert Season is made possible through the generous support of:
TELUS ĺ─ý official season sponsor of the 2009-10 Koerner Hall Concert Season
The Globe and Mail ĺ─ý Season media sponsor
Classical 96.3 FM ĺ─ý Classical Series sponsor (Chamber Series, Vocal Series & String Series)
Jazz FM ĺ─ý Jazz Series sponsor
GRAND OPENING FESTIVAL
Grand Opening of Koerner Hall: Friday, September 25, 2009, 8:30pm
Corea, Clarke & White: Saturday, September 26, 2009, 8pm
Błęla Fleck, Zakir Hussain & Edgar Meyer: Tuesday, September 29, 2009, 8pm
Emerson String Quartet with Menahem Pressler: Thursday, October 1, 2009, 8pm
Nuit Blanche: Music Inside/Out: Saturday, October 3, 2009, 7pm - 7am
Peter Oundjian conducts the Royal Conservatory Orchestra: Friday, October 9, 2009, 8pm
Frederica von Stade with special guest appearance by Isabel Bayrakdarian:
Saturday, October 10, 2009, 8pm
Frances Yip & Anthony Lun: Thursday, October 15, 2009, 8pm
Kebĺ─˘ Moĺ─˘ with special guest Harrison Kennedy: Friday, October 16, 2009, 8pm
Ravi Shankar & Anoushka Shankar: Saturday, October 17, 2009, 8pm
All concerts take place at The Royal Conservatory, 273 Bloor St West
Tickets are available online at
www.rcmusic.ca
, by calling 416.408.0208
or in person at The Royal Conservatory Box Office
Tickets for the Grand Opening of Koerner Hall range from $20-$250
Select any 4+ concerts and save 10%
Select any 7+ concerts and save 15%
or in person at The RCM Box Office, 273 Bloor Street West, Toronto
More information about the 2009-2010 Concert Season is available on The Royal Conservatory website at
www.rcmusic.ca
.
Labels: The Royal Conservatory