Presenting Distant Worlds: Final Fantasy in concert with the Vancouver Symphony Orchestra!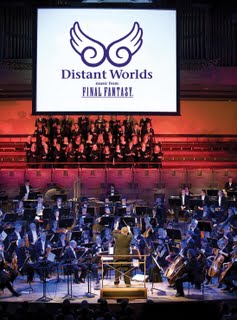 Vancouver BC 'Äì The VSO presents Distant Worlds: Music from FINAL FANTASY, on Thursday, October 8, 2009, at the newly renovated Orpheum Theatre. The concert will feature Nobuo Uematsu'Äôs award-winning music from Square Enix'Äôs enormously successful FINAL FANTASY video game series, performed by the
Vancouver Symphony Orchestra
and conducted by Grammy award-winner Arnie Roth. State of the art videos will be projected on screens to showcase the games most memorable and thrilling sequences. This concert will also feature the North American premiere performance of the FINAL FANTASY VII Main Theme.
FINAL FANTASY is a worldwide sensation, and one of the most successful video game franchises in the history of gaming. One of the top-selling video game franchises, FINAL FANTASY has created a lasting legacy in the video game world as one of the most innovative and influential role-playing games ever released. It has received worldwide critical acclaim for its originality, graphics, and of course, its rich, sumptuous, exciting music scores. Tickets are on-sale now and selling very quickly! Some good seats remain, and are available online at www.vancouversymphony.ca, or through VSO Customer Service at 604.876.3434.
Video game music has become increasingly popular in the last decade with the advancement of gaming console technology and has become essential in enhancing a game'Äôs overall experience. In fact, the music of FINAL FANTASY has become just as popular as the ongoing video game franchise due to its epic scores, which incorporate a variety of musical styles. The series veteran composer Nobuo Uematsu was named as one of the 'ÄúInnovators'Äù in Time Magazine'Äôs 'ÄúTime 100: The Next Wave 'Äì Music'Äù feature.
A classically trained violinist, conductor, composer, producer and Grammy award-winning artist, Arnie Roth performs across a wide array of musical genres. Mr. Roth has performed with a host of artists, including Il Divo, Diana Ross, Jewel, and Josh Groban. He is also a long-time member of the Grammy award-winning group Mannheim Steamroller. Orchestras which Mr. Roth has conducted include the London Symphony Orchestra, Los Angeles Philharmonic, BBC Symphony, San Francisco Symphony, and Tokyo Philharmonic. Mr. Roth was the music director and conductor of the 'ÄúDear Friends: music from FINAL FANTASY'Äù and 'ÄúVOICES: music from FINAL FANTASY'Äù concerts. He then became the principal conductor and music director of PLAY! A Video Game Symphony featuring music from blockbuster video games such as FINAL FANTASY¬Æ, World of Warcraft¬Æ, Elder Scrolls III: Morrowind'Ñ¢ and Battlefield 1942'Ñ¢.
CONCERT INFO
Specials:
Final Fantasy in Concert
Thursday, October 8, 8pm, Orpheum Theatre
Arnie Roth, conductor
Tickets $25 to $65
Tickets available by phone at 604.876.3434 or online at
www.vancouversymphony.ca
Labels: vancouver symphony orchestra