L'ambiance unique d'Irving Fields ˆÝ eXcentris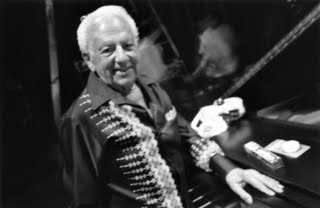 Montrˆ©al 'Äî
eXcentris
vous invite dans l'environnement chaleureux de son tout nouveau Hall en compagnie de l'ˆ©clectique pianiste amˆ©ricain
Irving Fields
. Personnage original, Irving Fields nous propose des concerts engageants aux sonoritˆ©s de toutes les provenances.
Irving Fields s'est dˆ©marquˆ© dans les annˆ©es 40 et 50 par ses enregistrements de style fusion, un genre peu exploitˆ© ˆÝ l'ˆ©poque. Ses albums de jazz latin juif, Bagels and Bongos et More Bagels and Bongos ont connu un vˆ©ritable succˆ®s, suscitant un enthousiasme pour la musique latine et une ouverture pour les airs d'ailleurs.
Au fil des ans, il a su combiner la musique latine ˆÝ diffˆ©rentes sauces : italienne avec Pizzas and Bongos; franˆßaise avec Champagne et Bongos; et hawaˆØenne avec Bikinis and Bongos. Son style, amalgame de rythmes Catskills et de Manhattan, Miami et La Havane, a attirˆ© l'attention de grandes stars latines dont Tito Puente, Machito et Xavier Cugat.
ˆÄ 93 ans, Irving Fields est toujours trˆ®s actif et se produit six soirs par semaine dans un restaurant italien de Manhattan. Il nous fait le privilˆ®ge d'inaugurer de belle et joyeuse faˆßon le Hall nouveau d'eXcentris.
Les 25 et 26 septembre ˆÝ 17 h. ˆâvˆ©nements gratuits.
Labels: eXcentris, Irving Fields