Parisian Laundry est fiˆ®re de prˆ©senter 'ÄúPostˆ©ritˆ© 'Äì Posterity'Äù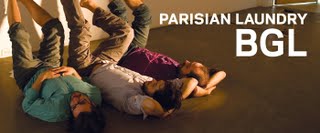 English follows.
Montrˆ©al 'Äì PARISIAN LAUNDRY est fiˆ®re de prˆ©senter 'ÄúPostˆ©ritˆ© 'Äì Posterity'Äù, la premiˆ®re et tant attendue exposition solo de notre trio d'Äôartistes quˆ©bˆ©cois BGL, su 26 septembre au 21 novembre 2009.
L'ÄôATTITUDE PARISIAN LAUNDRY BGL
Nous nous ˆ©tions donnˆ© rendez-vous dans une de ces grandes stations pˆ©troliˆ®res qui accueillent un comptoir ˆÝ cafˆ©, approvisionnˆ© la voiture en musique, en essence'Ķ Une enfant de 10 ans nous accompagnait dans cette rˆ©gion situˆ©e sur la Rive-Sud de Quˆ©bec qu'Äôon appelle La Beauce, une campagne magnifique et dense, modestement peuplˆ©e, plus prˆ®s de la ville de Quˆ©bec que de Montrˆ©al.

Nous avons roulˆ© pendant presque 4 heures, nous nous sommes perdues dans toutes les Rue Principale de tous les villages qui portaient des noms comme Saint-Jacques-de-Leeds et Sainte-Agathe-de-Lobtiniˆ®re. Nous nous sommes tellement, tellement perdues, et nous avions seulement quelques gorgˆ©es d'Äôeau de source et une poignˆ©e d'Äôarachides au vinaigre pour nous garder en vie (bon d'Äôaccord, j'Äôexagˆ®re). Nous avons aussi blaguˆ© au sujet de paysages qui ressemblaient ˆ©trangement ˆÝ des ‰ìuvres d'ÄôEd Burtynsky, et la tradition de la peinture de paysage'Ķ Nous avons roulˆ© ainsi, ˆÝ travers ce no man'Äôs land, jusqu'ÄôˆÝ ce que nous trouvions enfin le Rang Saint-Jean dans le village de Saint-Sylvestre. Nous sommes arrivˆ©es en ˆ©coutant la musique de MIA dans le tapis, en chantant et en prenant des poses hyper urbaines et caricaturales. Nous avons trouvˆ© le trio quˆ©bˆ©cois BGL ˆÝ l'Äôouvrage. Ils s'Äôaffairaient ˆÝ tremper des squelettes de sapins dans une peinture d'Äôun vert hyper vif, saturant la couleur naturelle de l'Äôarbre par celle artificielle de leur choix.
Sˆ©bastien Giguˆ®re a achetˆ© la maison il ya quelques annˆ©es. La cave en pierre, creusˆ©e ˆÝ la pelle tˆ©moigne de l'Äôhistoire du bˆ¢timent construite ˆÝ la fin du XIXe siˆ®cle, de la rudesse de la terre, de la neige et de la solitude.
Aprˆ®s la visite de l'Äôatelier, nous avons dˆ©gustˆ© un lunch typique au casse-croˆªte du village d'ÄôˆÝ cˆ¥tˆ©: le classique cheeseburger, une poutine qui aurait pu nourrir une famille de 8 personnes au complet'Ķ BGL a mangˆ© ˆÝ la hˆ¢te, des nuages denses apparaissaient ˆÝ l'Äôhorizon derriˆ®re les montagnes: ils devaient retourner rapidement ˆÝ l'Äôatelier pour ranger les arbres peints ˆÝ l'Äôabri dans la grange. Parisian Laundry voue toute sa programmation de l'Äôautomne 2009 ˆÝ une ‰ìuvre majeure de BGL qui prˆ©sentera un nouvel environnement immersif sur les 3 ˆ©tages de la galerie.
Postˆ©ritˆ©-Posterity tˆ©moigne de signes locaux, de bouffe et de la campagne. C'Äôest la suite de cette exploration de notre relation avec la nature que poursuit BGL. Nous devinons le paysage canadien transformˆ© dans une rˆ©alitˆ© actuelle, une lutte entre l'Äôenvironnement et ce qui est artificiel. Nous devenons hyper conscients de nos habitudes d'Äôinterminable consommation et de cette culture du jetable. C'Äôest en fait ce qu'Äôexploite BGL avec ce projet en utilisant des objets et des matˆ©riaux recyclˆ©s remaniˆ©s et prˆ©sentˆ©s dans le contexte de la galerie d'Äôart. Cette importante exposition prˆ©sentera une fabrique d'Äôarbre de Noˆ´l, ainsi qu'Äôun marchˆ© aux puces contenant des objets tˆ©moins de l'Äôatelier et d'Äôinstallations ˆ©phˆ©mˆ®res. Devenons des touristes!
BGL a bˆ©nˆ©ficiˆ© du Programme de soutien ˆÝ la production de l'OEil de Poisson.

----------
BGL 'Äì POSTˆâRITˆâ/POSTERITY
26 septembre 'Äì 21 novembre, 2009
Vernissage publique le 25 septembre, de 8:00 ˆÝ 10:00. Les artistes seront prˆ©sents
Informations: Jeanie Riddle ou Silvia Casas
t: 514.989.1056 info@parisianlaundry.com
Montrˆ©al, September 10 2009 'Äì PARISIAN LAUNDRY is proud to present BGL'Äôs first solo exhibition 'ÄúPostˆ©ritˆ© 'Äì Posterity'Äù in the spectacular industrial gallery, from September 26 to November 21, 2009.

-------
PARSIAN LAUNDRY BGL SWAGGER LIKE US
We meet at the ubiquitous petrol station cum coffee stand, loading the car with music, gas and a ten year old and are off to the lower north shore of Quebec- a region know as La Beauce- gorgeous and dense country side, modestly populated, nearer to Quebec City than Montreal.
We drive for almost 4 hours, lost in one street villages with names like Saint-Jacques-de-Leeds, St. Phillippe and Sainte-Agathe-de-Lobtiniˆ®re. We are lost lost lost with only a few sips of water and a few handfuls of vinegared peanuts between the 3 of us to keep us nourished and alive (ok I exaggerate) and joking about finding Ed Burtynsky landscapes and the tradition of plein air landscape painting until finally we find the Rang Saint-Jean in the town of Saint-Sylvestre. We are blasting MIA and posturing urbanism, only to find the Quebec based trio BGL working away. They are drenching skeletons of last years pine trees in the densest of pthalo green, saturating the natural with their artificial color choice.

Sˆ©bastien bought the farmhouse a couple of years ago. Built in the 1800'Äôs, the basement cave seeps history and one reads the harshness of the land, the snow, and the solitude.

After our 'Äòstudio visit'Äô, we head for lunch to a local casse-croˆªte where we enjoy the familiar cheeseburger and portions of poutine large enough to fuel a family of 8! BGL eat with haste, enormous rain clouds are creeping over mountains and they will have to bring their saturated trees into the barn for safekeeping and art making.

Parisian Laundry will dedicate its entire fall program to a major solo work by Quebecois collaborators BGL who will present a brand new immersive work on all three levels of the gallery.

In Postˆ©ritˆ©-Posterity we witness a translation of local signage, foodstuff and countryside. It is a continuation of BGL'Äôs investigation of our unpredictable relationship with nature. We feel the Canadian landscape transformed into the actual, a wrestling of environment and the artificial. We become hyper aware of our boundless consumption and throwaway culture and this, in fact is exactly what BGL are engaging with- a recycling and reusing of materials all restaged and recontextualized in the gallery. This massive exhibition will present a seasonal ornamental tree factory as well as a 'ÄòMarchˆ© aux puces (flea market)'Äô showing off over 10 years of studio ephemera. We are tourists.

BGL received financial help from the Production Program of L'Äôoeil de Poisson, Quˆ©bec, QC.

--------
BGL 'Äì POSTˆâRITˆâ/POSTERITY
September 26 'Äì November 21, 2009
Public vernissage on September 25, 8-10pm. The artists will attend.
Information: Jeanie Riddle or Silvia Casas
t: 514.989.1056 info@parisianlaundry.com
Labels: art visuel, BGL, Parisian Laundry, visual art