Jan Rubes, 1920-2009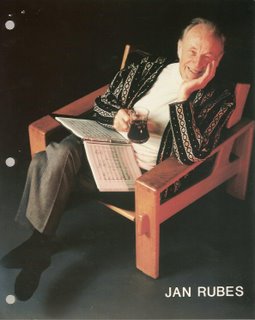 Jan Rubes
June 6, 1920 - June 29, 2009
With deep regret, the Rubes family today announced the passing of renowned Canadian singer and actor, Jan Rubes, at the age of 89.

Born in Volyne, Czechoslovakia Jan Rubes emigrated to Canada in 1948. A graduate of the Prague Conservatory of Music, Jan Rubes was a founding member of the Canadian Opera Company performing for the company over 1000 times between 1949 and 1989 and creating more than 100 operatic roles singing in English, French, German, Italian, Czech, and Russian.

A pioneer in many media, Jan took part in the very first CBC telecast with Glenn Gould in 1953. He later sang on the opening telecasts of CTV, TVO, and CITY TV, as well as in many operas specially produced for TV such as La Boheme, Bluebeard's Castle, Don Giovanni, Falstaff, Rigoletto, Oedipus Rex, Barber of Seville, Electra, and Down in the Valley with Jon Vickers.

Jan became quite well known in Canada on the strength of his weekly radio show entitled The Songs of My People. He also became a mainstay on television; guest starring in U.S. and Canadian series, mini-series, and movies of the week. While his wife, Susan, was founding the first North American professional theatre for children, Young Peoples' Theatre, Jan was busy creating 80 episodes of a children's television show called Guess What. Never forgetting the value of live performance, his school appearances numbered in the thousands.

With his Oscar worthy portrayal of the Amish grandfather in Paramount Pictures' Witness, starring Harrison Ford, Jan began his transition from singing to acting. Jan created roles in 40 motion pictures in Canada, the United States and Europe, including Dead of Winter, Something About Love, The Outside Chance of Maximilian Glick, Class Action, Deceived, and Never Too Late.

Besides the applause Jan's efforts have been recognized in the form of The Queen's Jubilee Medal in 1978, The Canadian Centennial Medal in 1967, the 1991 Earl Grey Award for lifetime achievement in television, an Honorary Degree of Doctor of Letters from the University of Guelph, an Honourary Citizenship of Winnipeg, Saskatoon and Sydney N.S, Honourary degrees from the universities of Windsor and Guelph, and the Order of Canada in 1995.

When time permitted he shared his lifetime of experience through teaching and directing at various universities and opera companies across Canada.

In 1995, at the age of 75, Jan Rubes starred in his first Broadway play, James Lapine's Twelve Dreams at the Lincoln Theatre Centre.

Married to Susan Douglas Rubes for almost 60 years, he leaves sons Jonathan (Judith) and Tony (Brenda), and grandsons Morgan, Colin and Jasan. Jan is predeceased by son Christopher in 1996 and brother Miroslav.

Jan will be missed by his family, friends and colleagues, all of whom loved him very much.

The Rubes family appreciates all the support and understanding of well-wishers and asks that their privacy be respected. In accordance with Jan's wishes, cremation has taken place and there will be no funeral. A celebration of Jan's life will be planned for the future. Condolences to the family should be addressed to 70 Mathersfield Drive, Toronto ON M4W 3W5. No flowers please.