Music Director Franz Welser-Mˆst conducts The Cleveland Orchestra in Shostakovich'Äōs Symphony No. 5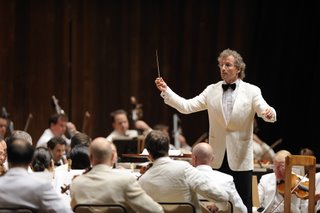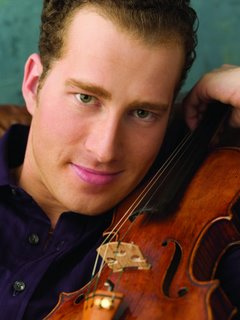 Music Director Franz Welser-Mˆst conducts The Cleveland Orchestra in Shostakovich's Symphony No. 5 at the Blossom Festival on July 18
Nikolaj Znaider is soloist in the Beethoven Violin Concerto
Music Director Franz Welser-Mˆst will conduct The Cleveland Orchestra in a program featuring Shostakovich's Symphony No. 5 at the Blossom Festival on Saturday, July 18, at 8:00 p.m. The program also will feature Nikolaj Znaider as soloist in Beethoven's Violin Concerto.
Following Mr. Znaider's performance of the Brahms Violin Concerto with The Cleveland Orchestra and guest conductor Pinchas Steinberg in February 2009, the Cleveland Plain Dealer commented, "Znaider met Brahms' challenge with a commanding, Apollonian technique. His bowing was flawless, moving among the strings seamlessly, and the triple-stopped chords in the lengthy first movement were played as precisely as if they had been sounded on a keyboard. Yet there was fire aplenty. Beneath Brahms' hard-fought logic there is a suppressed passion that Znaider emphasized brilliantly in his phrasing and attack."
The July 18 program will begin with Ludwig van Beethoven's Violin Concerto in D major, Opus 61. After intermission, the program concludes with Dmitri Shostakovich's Symphony No. 5 in D minor, opus 47. The Cleveland Orchestra and Mr. Welser-Mˆst will perform the Shostakovich symphony in four cities during their fall 2009 European Tour/Musikverein Residency, which begins in Toronto, Canada, and takes place from October 20-November 3.
New this season, Lawn/General Admission tickets allow patrons to sit on the lawn or in newly designated General Admission areas in the rear corner sections of the Pavilion, adding 1,500 lower-priced seats in the Pavilion. These seats are available on a first-come, first-served basis to any ticketholder.
Also new in 2009, children 12 and under will be admitted free to the Lawn for all concerts. For each adult ticket purchase, two children will be admitted free to the Lawn. Each child will receive a free Kids' Lawn Pass. Kids' Lawn Passes will be available at the Severance Hall Ticket Office, the Blossom Box Office, and the Lawn Ticket Booth at Blossom, and also will be available for downloading and printing online at BlossomLawnFun.com. Kids' Lawn Passes are required for all children 12 and under on the Lawn. The passes are not valid for entry into the Pavilion. Anyone wishing to sit in the new General Admission area of the Pavilion needs to have a Lawn/General Admission Ticket.
Biographical information on Franz Welser-Mˆst follows. Biographical information on Nikolaj Znaider is available on request.
* * *
TICKET PRICES: Pavilion $42, $31, $26; Lawn/General Admission $19. $82 box seats include complimentary parking in FirstEnergy Lot A and access to the Kulas Plaza VIP services. Children ages 12 and under are admitted to the Lawn seating area for free for all Blossom Festival concerts.
TICKETS for all 2009 Blossom Festival concerts are now on sale through the Severance Hall Ticket Office, the Blossom Music Center Box Office, online at clevelandorchestra.com and at all Ticketmaster outlets. The Severance Hall Ticket Office is located in the Smith Lobby. The entrance and 15-minute Ticket Service parking are along the west side of the building on East Boulevard. The Ticket Office is open during the summer Monday through Friday, 9:00 a.m. to 6:00 p.m. (closed Monday, July 6). The Blossom Music Center Box Office is open Fridays, Saturdays, and Sundays, from 1:00 to 5:00 p.m. (and through intermission on Blossom Festival concert dates).
To charge tickets by telephone on American Express, Discover Card, MasterCard and Visa, call Cleveland Orchestra Ticket Services at (216) 231-1111 (local call for 216 and 440 area codes) or (800) 686-1141 during the regular Severance Hall Ticket Office hours listed above. Subscriptions and single tickets are also available through The Cleveland Orchestra's website at clevelandorchestra.com. The website offers secure ticket transactions with any major credit card and provides complete concert listings. Please note: There are no added service charges or handling fees for Blossom Festival concert tickets purchased in person or by phone through the Blossom or Severance Hall ticket offices, or online through the Orchestra's website.
PARKING: Ample free parking is available. Patrons who buy Pavilion tickets at least 10 days prior to these performances will receive a free dated parking pass for one of Blossom's paved parking lots. (The 10-day advance purchase requirement is to allow time for postal delivery.) These paved parking lots are ADA accessible with ADA transport services to the Pavilion. In addition, there are a limited number of paid parking spaces available in the FirstEnergy Lot A (behind the Box Office) for purchase at $15 per vehicle (10-day advance purchase required). Call (216) 231-1111 or (800) 686-1141 for further details.
CALENDAR LISTING
Saturday, July 18, 2009, at 8:00 p.m.
Blossom Music Center
THE CLEVELAND ORCHESTRA
FRANZ WELSER-MˆńST

,

conductor
NIKOLAJ ZNAIDER, violin
BEETHOVEN Violin Concerto
SHOSTAKOVICH Symphony No. 5
TICKETS: Pavilion $82 (box), $42, $31, $26; Lawn/General Admission $19
Lawn seating for children 12 and under: FREE
Labels: cleveland orchestra, shostakovich