Knowlton Festival 2009: Beethoven's Diabelli Variations Illuminated by Kovacevich
by

Paul E. Robinson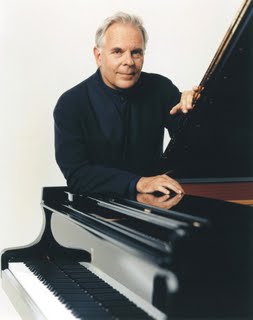 American-born pianist Stephen Kovacevich has made his home for many years in England. He must like it there because he rarely visits North America these days. He made an exception with Nagano and the OSM last summer and last night again at Nagano's invitation – and with Nagano and his family in the audience - he gave a recital at the Knowlton Festival in Québec. The performance confirmed Kovacevich's reputation as the 'thinking man's pianist'.
For the first half of the concert, Kovacevich chose Bach's Fourth Partita and Schumann's
Kinderszenen
(Scenes from Childhood). In both pieces he appeared to be probing the music deeply, without necessarily inviting listeners to share his thoughts.
The dynamic range adopted in the Bach was extremely limited and in the Schumann, Kovacevich confined his playing to mutterings and murmurings. But there were compensations. I have rarely heard the two contrapuntal lines in the
Allemande
movement of the Bach played with such lyrical beauty in both parts. And in the Schumann one was reminded that these may be scenes from childhood but they are not intended for children. This is a man looking back on childhood with a great sadness; those dreams he had so long ago are gone now, crushed by the weight of the real world of adulthood. The piece is often played with a sense of nostalgia but rarely with the disheartening melancholy Kovacevich gave to it.
After intermission came the mighty Beethoven
Diabelli Variations
. Before playing this daunting piece, Kovacevich spoke briefly to the audience. He pointed to the work's experimental quality, and suggested that this is a 'mysterious' composition in the sense that its meaning is not altogether clear. Does it end on a hopeful note or only an illusion of hopefulness?
Since this is a late work and as Kovacevich pointed out, Beethoven had lived a very unhappy life - especially with respect to the opposite sex - one might expect all the late quartets, piano sonatas and the
Diabelli Variations
to be full of sorrow and despair. This is not the case at all. What all these works do share is the experimental quality - evidence of the composer at the height of his powers, creating new forms and using the piano and other instruments in a myriad of new ways. One could argue that the older Beethoven was preoccupied with creativity rather than despair.
The
Diabelli Variations
have been at the heart of Stephen Kovacevich's repertoire for his entire career. He made his European debut with the piece in 1961. He recorded it for Philips a few years later and just last year – forty years later – he recorded it again for Onyx Classics.
Kovacevich's Knowlton Festival performance of the
Diabelli Variations
was far more extroverted than his Bach and Schumann. He does not dazzle the listener with his technique; rather he concentrates on tone quality and what one might call the soul of the music. Other pianists can play faster and louder. What Kovacevich gives us instead is a look inside the music and inside the composer's psyche.
Many composers were invited to write variations on Diabelli's banal little tune. Beethoven knew as well as anyone that the tune was superficial, but then went on to demonstrate that every element of it could be used as the basis for development, that one thing could lead to another, and another. Ultimately, as Beethoven showed us, one could end up with something rather profound. Put it all together and you have a master class in compositional technique and a window into Beethoven's soul.
Many of the variations in this work are abrasive and some are downright gloomy. Some quote Bach (
Goldberg Variations
) and Mozart (
Don Giovanni
). As Kovacevich pointed out in his remarks, after the monumental fugue, Beethoven ends up with music resembling late Mozart. Was this an ironic commentary on Diabelli's tune? Is Beethoven suggesting what a great composer like Mozart could have done with Diabelli's mundane material? Or was this Mozartean minuet tacked on to leave the listener with classical repose after the storm and stress of what has come before? The mystery persists.
This is why works such as the Diab
elli Variations
are infinitely engrossing. No single performance can ever reveal all its facets. Stephen Kovacevich has spent a lifetime exploring the piece and it was a privilege to hear his latest thoughts. He is one of the supreme interpreters of the piece.
At the age of 69, Kovacevich remains a unique and important artist. Given the infrequency of his North American appearances – watch for a recital in Chicago next season – his recordings are invaluable. Many of his older Philips recordings are still in the catalogue and his traversal of the complete Beethoven sonatas for EMI is readily available. There is also a recent EMI DVD containing live performances of the Sonatas Op. 110 and Op. 111.
Coming Next
: Tonight (Thursday) soprano June Anderson gives a master class at 5 pm and at 8 pm Kent Nagano conducts the OSM in Brahms' Symphony No. 3. On Friday, prizewinners from Placido Domingo's Operalia are featured with the Festival Orchestra under Nagano in excerpts from Tchaikovsky's
Eugen Onegin
.
Paul E. Robinson
is the author of
Herbert von Karajan: the Maestro as Superstar
, and
Sir Georg Solti: His Life and Music
, both available at Amazon.com.
Labels: bach, beethoven, Diabelli Variations, Festival de Knowlton, Kinderszenen, Knowlton Festival, piano, Schumann, Stephen Kovacevich