Met Opera in HD: La Boheme
t
on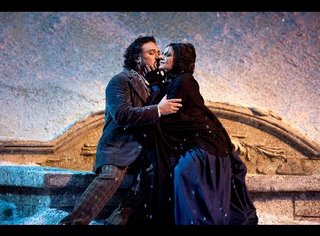 If there is one opera that qualfies as the all-time audience favourite, it is Puccni's La boheme. It is by far the most performed opera in the 125 year history of the Metropolitan Opera, surpassing other popular works the likes of Aida and Carmen. The current Met production by Franco Zeffirelli, first seen in the 1981-2 season with Teresa Stratas and Jose Carreras, is the most performed production in the history of this house. It has been given a total of 349 times! Think about it - the Met season is approximately seven months long, with seven performances a week. For the sake of simplicity of calculation, we are not going to worry about the two weeks in January (the last three seasons) when the theatre was dark. This means the Zeffirelli Boheme has been seen every night for a staggering eleven months and three weeks, equal to over one and a half Met seasons! It boggles the mind.

Zeffirelli with his super realism and the Met with its deep pockets are a perfect match - witness his Turandot, Tosca, Cav & Pag, and Carmen, all mega-productions that have become audience favourites. Critics on the other hand have not been so kind. Many complain that the massive and overly busy productions dwarf the singers, a criticism not ungrounded. Still for sheer opulence, you can't beat Zeffirelli. The other major criticism is his total lack of "concept" - again a valid comment. If ever there is an "anti-Regietheater Regie", it would be Zeffirelli, who is always faithful to the composer's original intentions. In a Zeffirelli production you won't find a Violetta dying in an AIDS ward, or a Don Jose being executed by a firing squad. For my money, there is always room for a traditional production, and this La boheme is as traditional as it gets.

This revival stars Romanian soprano Angela Gheorghiu and Mexican tenor Ramon Vargas. Joining them are Basque soprano Ainhoa Arteta (Musetta) and French baritone Ludovic Tezier (Marcello). The rest of the cast are made up of a mix of young artists - Oren Gradus (Colline), Quinn Kelsey (Schaunard) and a Met stalwart - Paul Plishka (Benoit and Alcindoro), all under the helm of Italian maestro Nicola Luisotti. It was shown today at the Sheppard Grande in four cinemas, a total of 1500 seats, all sold out in advance. The huge crowd was not disappointed. This performance was about as good as one is likely to encounter in the opera house these days.

The glamorous Angela Gheorghiu's Mimi is a bit too overtly flirtatious and calculating in Act One for my taste, although by Act Three, she was sufficiently tragic to elicit the sympathies of the most hard-hearted in the audience. Her singing was beautiful, although I find her timbre a bit cool and not sufficiently Italianate. She "chested" a few times in Act One, perhaps the voice was not yet sufficiently warmed up. Much of Mimi's music is written in the middle, an area of Gheorghiu's voice that is not ideally full. I would have preferred a modicum of portamento - it is a virtue, not a sin, in verismo and Puccini! Her Italian parlando lacks natural ease. (I admit I can't get the voice of Renata Tebaldi out of my mind when it comes to this role) Ramon Vargas may not have the most distinctive of tenor sounds, but overall, his Rodolfo was a pleasure. There was also good chemistry between these two.

The other couple were not on the same level. Soprano Ainhoa Arteta acted up a storm, but there was no hiding the fact that she made a shrill and quavery Musetta. There is a moment in Act Four, when Mimi asks "Chi parla?" to which Musetta replies "Io, Musetta". This is a moment when any half-way decent Musetta gets to show off her smooth legato. Well, this little phrase defeated Arteta completely. As Marcello, Ludovic Tezier's lyric baritone was pleasant if a bit anonymous, his acting insufficiently detailed, especially in his scene with Mimi in the opening of Act Three. There was no intensity coming from him; his facial expression was blank. He wasn't listening to her; he basically just put his hands in his pockets and stopped acting! Tezier was completely outsung by Quinn Kelsey, who was a particularly well sung (and well fed) Schaunard. To his credit, Kelsey, given his large size, managed the strenuously physical staging in Act Four without difficulty. Oren Gradus (Colline) lacked the sonorous bass necessary to make his Coat Song effective, something done to perfection in the past by the veteran Paul Plishka, now as Benoit/Alcindoro. A welcome addition to the roster, Nicola Luisotti conducted an incisive and lyrical performance, although I find his intermission interview and his body language a bit overly solicitous.

Like a comfortably cluttered and lived-in house, the sets in this Boheme is starting to look a tad frayed after so much use. Having seen this production a half dozen times at the Met, I have come to take this huge show for granted, so it was good to have the camera taking us backstage to witness the setup of the Cafe Momus scene, done in three and a half minutes - I was awe-struck by the enormity of the task. The videography was happily traditional here, unlike the quirkiness of the split-screen technology employed in Tristan. The Sheppard Grande audience should thank its lucky stars that once again, the satellite signal was flawless, with only a split second of frozen picture. I saw the show in Cinema Three, where the full house and the still air made it a little uncomfortable, especially for those sitting higher up. But other than that, it was an extremely enjoyable experience.
Labels: Angela Gheorghiu, Franco Zeffirelli, HD, La Boheme, Met Opera, Ramon Vargas, Sheppard Grande