Cette semaine à Montréal (1 à 7 fév) / This Week in Montreal (Feb. 1 - 7)
Musique, théâtre, et danse à Montréal cette semaine
Music, theatre, and dance in Montreal this week
Théâtre :
En février, le
Théâtre du Rideau vert
met à l'affiche
Une musique inquiétante
, de l'auteur américain Jon Marans, pièce finaliste en 1996 du Prix Pulitzer et lauréate du L.A. Drama Logue Award, reprise dans une douzaine de pays depuis sa création. Le jeune pianiste prodige Stephen Hoffman (Émile Proulx-Cloutier) débarque à Vienne en 1986 pour étudier avec le grand Schiller, mais il se retrouve plutôt dans la classe du déclinant Mashkan, professeur de chant sentimental (Jean Marchand). Il lui donne à travailler les Dichterliebe de Schumann, ce qui révolte d'abord le jeune pianiste. Ces deux hommes que tout semble opposer (âge, race, culture, façon d'aborder la vie) finiront pourtant par aller à la rencontre l'un de l'autre, non pas tant à travers leur dialogue qu'à travers la musique.
Le 9-13 fév
. - Lucie Renaud
Theatre:
MICHEL AND TI JEAN
, By George Rideout. In 1969, 27 year-old Michel Tremblay, having just published
Les Belles Soeurs
, sets out to meet the "king of the Beatniks" and his favourite writer, Jack Kerouac, at a bar in St. Petersburg, Florida. Despite an initial reticence on Kerouac's part, the two prolific writers hit it off and share their thoughts on the art of writing, inspiration, sports, music, religion and the thing that they share in common: their Quebecois heritage. Though fictitious,
Michel And Ti Jean
is an evocative and spirited glimpse into the poetic and philosophical world of North American literature.
Feb. 9-14
.
Centaur Theatre
(453 St. François-Xavier) 514-288-3161
Danse :
SPLINTERGROUP, Roadkill
. Voyage au coeur de l'agoraphobie et de la solitude de l'outback australien,
roadkill
, du collectif Splintergroup de Brisbane, nous plonge littéralement dans la tête des trois personnages. L'oeuvre explore leurs peurs et leurs perceptions faussées du paysage et de ses dangers. À leurs inquiétudes se mêlent les mythes urbains, les disparitions de routards, la soif, l'amour, la méfi ance et l'âpre solitude de la brousse. À mi-chemin entre le road movie et le thriller,
roadkill
est une virée terrifi ante dans l'univers d'un couple qui tombe en panne au beau milieu d'un endroit perdu et découvre que le plus grand danger n'est pas son isolement. Ces différents états psychologiques sont évoqués par une gestuelle intensément physique, frôlant constamment le risque et le vrai danger. Produit par Brisbane Powerhouse and Dancenorth.
Le 10-13 fév
. Place des Arts Cinquième Salle (175, rue Sainte-Catherine Ouest) 514 842-2112
Baroque Music:
The Arion Baroque Ensemble
and its Artistic Director Claire Guimond usher in the New Year with concerts on
February 11, 13 and 14
at McGill's Redpath Hall. Australian guest violinist Elizabeth Wallfisch will lead the 19-piece orchestra in excerpts from Henry Purcell's
The Fairy Queen
. With a libretto based on Shakespeare's
A Midsummer Night's Dream
, this is some of Purcell's most delightful music, written two years before his death, at the age of 35. The contagious energy of Wallfisch's playing should nicely complement Arion's vibrant style. 514-355-1825, - Hannah Rahimi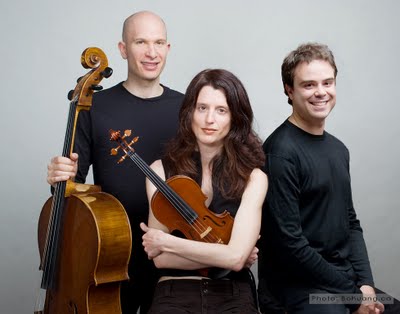 Musique de chambre :
Le vendredi
12 février
à 20 h, dans le cadre de la série Hommage à Gilles Tremblay, le Trio Fibonacci présente le concert 3,2,1. Le trio interprétera, en formation solo, duo ou trio, des pièces de Tremblay, Palacio-Quintin, Boivin et le
Trio op. 80
de Schumann. Formé à Montréal en 1998, l'ensemble mène aujourd'hui une brillante carrière internationale. 514-872-5338. - Renée Banville
Musique de chambre :
À la salle de concert du Conservatoire, on entendra le vendredi
12 février
à 20 h le
Trio Hochelaga
formé de la violoniste Anne Robert, du violoncelliste Paul Marleyn et du pianiste Stéphane Lemelin. Le trio accueillera comme invitée l'altiste Teng Li dans un programme Fauré, Lekeu et Schumann. Teng Li occupe depuis 2004 le poste de premier alto à l'Orchestre symphonique de Toronto. - Renée Banville