Ludwig van Beethoven: Piano Concertos 1-5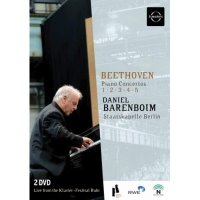 Staatskapelle
Berlin
/Daniel Barenboim
EuroArts 2056778 (2 DVDs - 298 min)
Produced by Paul Smaczny
Directed by Michael Beyer

***** $$$
Most conventional maestros will tell you that it is extremely hazardous to attempt to conduct a symphony orchestra while operating heavy equipment (like a piano). Evidence to the contrary already exists showing that Daniel Barenboim can both direct and play to superb effect. His 1995 performances of Beethoven's Triple Concerto (with the BPO, Ma and Perlman) and Choral Fantasia are available on an EMI DVD (4 91473-9). If that occasion was a triumph, the present issue is the crowning glory of Barenboim's Beethoven. This is something really worth seeing, a rare example of imagery reinforcing the power of the music. This soloist/conductor seems to have the scores embedded in his soul. And it is quite obvious that the Staatskapelle-Barenboim partnership is an all-round mutual admiration society. He leads the orchestra with a minimum of gesture, fleeting expressions and, as the piano keys become more slippery, something akin to group telepathy. The last means of communication is probably necessary because no matter how well rehearsed the works might be, spontaneity from the keyboard is as common here as it was in Barenboim's first recordings of the concertos with Klemperer and the Philharmonia forty years ago for EMI.
These thrilling concerts were filmed at the Klavier-Festival Ruhr over three days in May 2007. The venue was the Jahrhunderthalle in Bochum, which looks like a converted industrial space. Any acoustic challenges were overcome by EuroArts sound engineers. Sonically, in surround mode, it really seems as if you are perched on the piano bench right next to Barenboim. Director Michael Beyer manages his eight cameras with great dexterity to provide a satisfying viewing experience.
Catch Daniel Elsewhere: EuroArts offers three other Barenboim concert events on DVD:
- Europa-Kozert 2004: Barenboim, Berlin Philharmonic Orchestra/Rattle (2053658). An outdoor concert at the Odeon of Herodes Atticus in conjunction with the Olympic Games in Athens, Barenboim performs the Brahms Piano Concerto No 1. The BPO also play the same composer's Piano Quartet No 1 in its orchestration by Arnold Schoenberg.
- Israel Philharmonic Orchestra 70th Anniversary Concert 2006: Zukerman, Barenboim, Israel Philharmonic Orchestra/Mehta (2055878). Pinchas, Daniel and Zubin: something of a three amigos reunion. Zukerman performs the Bruch First Violin Concerto and Barenboim offers Brahms No 1…again. Ravel's La Valse is also on the programme.
- Concert at the Palacio de Carlos V, Alhambra, Granada, 2006: West-Eastern Divan Orchestra/ Barenboim (2055538). Any appearance of Barenboim's youthful Arab-Israeli orchestra is a special event and they do not disappoint in this spectacular, open-to-the-stars venue. The programme begins with a rousing account of Beethoven's Leonore Overture No 3. A charming Bottesini Fantasia arranged for cello and double bass and orchestra follows. Last, a blazing performance of Brahms' Symphony No 1.
-Stephen Habington
Labels: barenboim, beethoven, piano, product_review