Beethoven Symphonies Nos. 4 & 7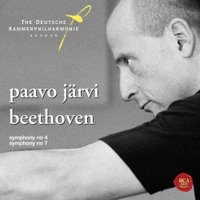 Deutsche Kammerphilharmonie
Bremen
; Paavo Järvi, dir.
Sony/BMG 88697129332 Hybrid SACD (69 min 23 s)

*** $$$
"Järvi the Younger" kicked off his Beethoven symphony cycle with vivid, high impact recordings of Nos. 3 and 8 (RCA Red Seal 88697-13066-2). Therein, he nailed his colours to the mast: swift, sure, deft articulation and a special bag of tricks for the kettledrums (Järvi is a percussionist by trade). Grandeur and rugged good humour in the tradition of Furtwängler and Klemperer are not on board for the voyage. The present issue is cast in the same mold and brings a palpable hit and a near miss. Volume 1 earned high praise in some quarters for the originality of the interpretations. After exhaustive comparisons it can be reported that Järvi is not doing anything that Carl Schuricht and Hermann Scherchen (among others) weren't doing fifty years ago. What Järvi has going for him is a first class chamber orchestra and a state-of-the-art Direct Stream Digital recording.
The Fourth Symphony fits the conductor's concept hand-in-glove. It is a very convincing reading and an exciting listening experience. The Seventh is another matter. After the fireworks generated in his account of the Eroica, it really seems underplayed. The lack of grip may be due to patching from recording sessions two years apart and wholesale changes in orchestra personnel during the interval. In terms of other recent recordings, Paavo Järvi is outclassed by Stanislaw Skrowaczewski (Oehms), Sir Charles Mackerras (Hyperion) and Mikhail Pletnev (DG). One disc will neither make nor break a Beethoven symphony cycle but a weak Seventh is a serious obstacle to success. If SACD surround sound is an absolute necessity, a safer recommendation would be the continuing cycle from Osmo Vänskä and the Minnesota Orchestra (BIS).
FROM THE BEETHOVEN ARCHIVES:
Carl Schuricht and Hermann Scherchen defied the stereotype of the old-fashioned German conductor by infusing their performances with freshness and flexibility. Their recorded Beethoven traversals from the 1950s exemplify musical qualities normally associated with developments of recent decades. The CDs (5 disc boxes - mono):
-Schuricht: EMI CZS 7 62 910 2 - Orchestre de la Société des Concerts du Conservatoire. The conductor really gets his Paris orchestra "punching above its weight" in this stirring set. It may be hard to find but still keeps its place in EMI European catalogues at bargain price.
-Scherchen: Archipel ARPCD 0201 - Vienna State Opera Orchestra/Royal Philharmonic Orchestra. Archipel re-issued the set in 2005 in a 24-bit re-mastering and virtually no documentation. Terrific performances at a modest price.
-Stephen Habington
Labels: beethoven, product_review