This Week in Toronto (March 29 - April 4)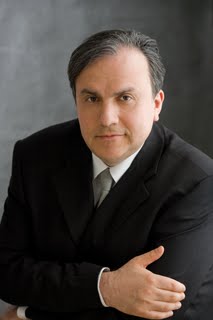 Yefim Bronfman (Photo: Dario Acosta)
This being Easter Week, the music scene is heavy on sacred works, in venues large and small. A good choice is
Toronto Mendelssohn Choir
's
Sacred Music for a Sacred Place
, on Good Friday, April 2, 7:30 pm at St. Paul's Basilica.
Noel Edison
conducts a program of more contemporary sacred pieces by Arvo Part, Eric Whitacre, Pavel Lukaszewski and Timothy Corliss. Rick Phillips presents a pre-concert chat at 6:50 pm. For ticket information, go to
http://www.tmchoir.org/purchase/singleTix.cfm?ID=484
If you aren't into religious music, here's the antithesis of Sacred Music - the

Toronto Symphony Orchestra

has

TSO Goes Vegas: A Jackpot of Vegas Hits!

Three shows, on March 31, 8 pm and again on April 1 at 2 pm and 8 pm at Roy Thomson Hall.

Taken directly from the TSO website, "Jack Everly returns with a jackpot of hip Vegas hits, include Luck Be a Lady, Big Spender, Viva Las Vegas, My Way,

and

Lady is a Tramp. He is joined by a cast of showgirls and high rollers, including stars from Broadway and the Vegas Strip, and Mr. Showmanship himself, Martin Preston, as the legendary Liberace. It's Vegas, Baby - Symphony Style!" Gotta hand it to the TSO for innovative programming!
Tafelmusik continues with its Enchantress program starring Quebec soprano Karina Gauvin singing selections from Handel's Alcina. It moves to the George Weston Recital Hall for a single performance on March 30, 8 pm.
Pianist Yefim Bronfman is making a welcome return to Toronto on April 1 8 pm, this time in a recital at the new Koerner Hall of the Royal Conservatory of Music. On the program are Beethoven's 32 Variations, plus sonatas by Prokofiev, Tchaikovsky and Schumann.
The Esprit Orchestra presents an all-Canadian concert, A 'aventure! on March 31, 8 pm at the Jane Mallett Theatre. On the program are music by Evangelista,Gougeon, and Schafer, with Robert Aitken on the flute and Erika Raum on the violin. Alex Pauk conducts.
Finally, a brief report on an interesting event - Sir Ernest MacMillan Memorial Foundation Orchestral Conducting Award for 2010 is presently being chosen March 29, Monday afternoon 3:15 - 6:00 pm at the MacMillan Theatre, Edward Johnson Building, University of Toronto. The three finalists are Ghassan Alaboud (Montreal), Genevieve Leclair (Montreal) and Matthew Otto (Toronto). They will rehearse with the University of Toronto Symphony Orchestra for between 30 and 45 minutes in selections from Berlioz' Symphonie fantastique, Op. 14. Jury panel members are Victor Feldbrill, Tania Miller, Alain Trudel and David Briskin (chair). At 6:15 pm, the Tokai String Quartet, winners of the 2004 MacMillan Award in Chamber Music, will be performing Britten and MacMillan while the jury deliberates. After the winner is announced, there will be a reception open to the public. Admission is free but donations welcome.