Scintillating Bravissimo Brings 2009 to a Close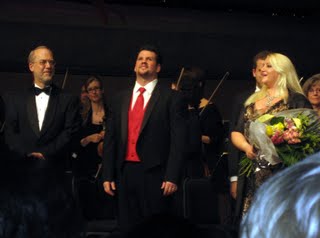 Curtain Call at
Bravissimo
(l. to r.) : broadcaster Rick Phillips, tenor David Pomeroy, mezzo Elena Bocharova
Bravissimo! Opera's Greatest Hits
Susan Neves, soprano
Sarah Jane McMahon, soprano
Elena Bocharova, mezzo
David Pomeroy, tenor
Bruno Ribeiro, tenor
Nikola Mijailovic, baritone
Rick Phillips, mc
Opera Canada Symphony
Roberto Paternostro, conductor
Roy Thomson Hall, Dec. 31, 7 pm.
At one point in his introduction during Bravissimo on New Years Eve, broadcaster and master of ceremony Rick Phillips mentioned that this particular Dec. 31 was not only a full moon but a Blue Moon, a rare event that occurs every twenty years or so when there are two full moons in a single month. Last evening was so enjoyable that I hope we won't have to wait another twenty years for an encore. This is the third season that Attila Glatz Concert Productions has brought the new years eve opera gala to Toronto. I have attended them all, and this one was easily the best, with a very strong roster of singers and an excellent conductor at the helm.
As is typical of these events, a cancellation or two can happen. American Carl Tanner cancelled, but we got to hear Canadian David Pomeroy, who made a triumphant house debut at the Metropolitan Opera in the title role of The Tales of Hoffmann the previous evening. He was there covering Maltese tenor Joseph Calleja, and got the call at 3 pm that he would go on. I heard the performance on satellite radio, and thought Pomeroy did exceptionally well, fully deserving the generous ovation the audience gave him at the end. Singing two days in a row is not for the faint of heart, so it is to Pomeroy's credit that, with youth on his side, he was able to pull it off without a hitch. He sounded terrific last night, with his customary ringing top and no trace of fatigue. Particularly noteworthy were a powerful 'Nessun dorma' and a dramatically engaged final scene from Carmen with mezzo Bocharova, who was very good vocally as Carmen and Dalilah, even if her appearance was more matronly than sultry.
A major artist last evening was American soprano Susan Neves, for some reason billed as a "French soprano". I have seen her a number of times in the past, including a very small role two weeks ago at a Met
Elektra
. But I must admit I did not recognize her last evening when she walked out in a kimono for the Butterfly selections - I thought Rick Phillips forgot to announce a change in cast. Neves has shed a tremendous amount of weight. She looks fabulous with her new hair style and colour. She still has her trademark pianissimo, which she used in the Act One Love Duet, but she and tenor Bruno Ribeiro did not sing the high C, taking the lower option. There were also some minor memory lapses with the text, understandable as Cio-Cio-San does not appear to be in her active repertoire. Ribeiro has a fine lyric tenor, and he sang a credible 'Kuda, kuda', Lensky's great aria and 'Pourquoi me reveiller'. American soprano Sarah Jane McMahon is a voice new to me. She sang with lovely tone in 'O mio babbino caro' and as the lead soprano in 'Libiamo' in the encore. Her Papageno-Papagena duet with baritone Nikola Mijailovic was charming. Incidentally, this might be the only time a baritone sang both Papageno and Rigoletto's great Cortigiani on the same evening! Special kudos go to conductor Roberto Paternostro. Often opera aficionados turn their noses up at these gala concerts with what is best described as "pick up orchestras" with "routine" conducting. But this is quite unfair - given the limited rehearsals, it takes a really good conductor to hold an orchestra together and have the disparate musicians, not used to playing together, play as one. The "Opera Canada Symphony" played very well under the assured leadership of Paternostro, a few sour notes primarily from the brass section notwithstanding. The strings were particularly good. All in all, a highly enjoyable evening and I look forward to the 2010 Edition!
http://www.glatzconcerts.com/
Labels: Bravissimo, David Pomeroy, Roberto Pasternostro, Susan Neves