This Week in Toronto (April 12 - 18)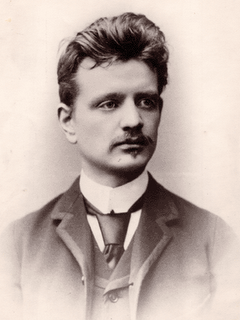 Jean Sibelius (photo taken around 1889-90)
There was a time when the
Toronto Symphony Orchestra
featured works by Jean Sibelius with regularity, especially during the tenure of the Finnish conductor Jukka-Pekka Saraste. I recall hearing Sibelius symphonies and other orchestral works like
Kullervo, Karelia Suite
, and of course the famous
Finlandia
. If you are a Sibelius fan, the next two week's programs are for you. The TSO under guest conductor
Thomas Dausgaard
is presenting
The Sibelius Festival
from April 14 to 22. On the program will be all seven symphonies plus some of his violin works played by Finnish violinist
Pekka Kuusisto.
Symphonies No. 1 and 2
will be on April 14 at 8 pm and April 15 at 2 pm at Roy Thomson Hall. Also on the program is
Humoresques
Nos. 1 & 2 for violin and orchestra.
Symphonies No. 3 and 4 will be performed on Saturday April 17 at 7:30 pm, together with C
antique and Devotion
, as well as
Finlandia
. The
Sibelius Festival Chorus
and the
Toronto Symphony Youth Orchestra
will be performing the Finlandia alongside the TSO. This is a "Casual Concert" so there will be a live band after the show in the lobby. I have attended some of these in the past and they are fun, although the change of musical styles took some getting used to.
Symphony 5, 6 and 7
will be performed Wednesday and Thursday of next week (April 21 and 22). On April 16 at 7:30 pm, at the George Weston Recital Hall, the
Toronto Symphony Youth Orchestra
under French Canadian conductor
Alain Trudel
will be offering a mixed program that includes The Haydn
"London" Symphony
, Sibelius'
Finlandia
, Tchaikovsky
violin concerto
, and Britten's
The Young Person's Guide to the Orchestra Op. 34. For more information and tickets, go to http://www.tso.ca/Concerts-And-Tickets/Sibelius-Festival.aspx
The
Toronto Philharmonia
presents Swiss pianist
Teo Gheorghiu
in Rachmaninoff
Piano Concerto No. 2.
Also on the program is Brahms
Symphony No. 1
conducted by Kerry Stratton. This concert takes place at the acoustically friendly George Weston Hall, on April 15 8 pm. For more information, go to
http://www.torontophil.on.ca/
On the vocal front, there are several interesting concerts this week. The presentation by Native Earth and An Indie(n) Rights Reserve of Giiwedin continues on April 13 and April 15 at the Theatre Passe Muraille. I attended opening night last Thursday, and I was impressed by this piece co-composed by Spy Denomme-Welch and Catherine Magown. With rather basic sets and a very limited orchestra, they managed to put together a work remarkable for its emotional power and eloquence. I found myself moved by it at the end of the evening. The music is evocative of many styles and totally accessible, in fact with plenty of melodies. Kudos go to conductor Gregory Oh who worked wonders with an orchestra of four - violin, cello, archlute and harpsichord! But the greatest accolades go to the committed, passionate and enthusiastic cast, led by First Nations mezzo Marion Newman, who successfully brought to life Noodin-Kwe, the fictional and symbolic 150 year old native woman fighting for her land. Yes, I believe those were real tears on her face at the end of the final scene. Also deserving of mention is bass baritone Jesse Clark as the French Canadian Indian Agent Jean. I would be remiss if I don't mention the excellent quartet of women - Catharin Carew, Nicole Joy-Fraser, Jessica Lloyd, and Neema Bickersteth - who took on multiple roles, some of them animals! Lawrence Cotton was a deliciously over-the-top Dr. Carlton. Unfortunately the tenor James McLennan (The Minister) was ill and only mimed the role, with the voice very capably supplied by Martin Houtman. It was interesting to see the composers going against operatic convention by making the tenor the bad guy! Director Maria Lamont is to be commended for her deft staging of the piece, one that is rather heavy on storyline, especially in the second act. I particularly liked the ingenious ways of her using the columns of light to suggest a forest, and then again in its final destruction. This show runs to April 24 and is well worth attending.
On April 15 noon, the Canadian Opera Company Vocal Series at the Richard Bradshaw Amphitheatre presents Pergolesi's delightful La Serva Padrona. This short opera is a staple of opera schools and rarely finds its way to the mainstage. The singers are members of the COC Ensemble Studio. Remember to show up 45 minutes early to ensure a seat. Last but not least, Canadian soprano Monica Whicher, who is on the faculty of the Royal Conservatory of Music, gives a recital on Sunday April 18 at 1 pm in Mazzoleni Hall of the RCM. Joining her will be mezzo Frances Pappas and pianist Liz Upchurch.