This Week in Toronto (Mar. 14 - 20)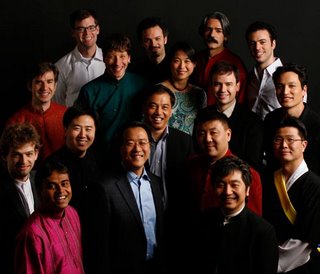 The Silk Road Ensemble brings their unique program to Roy Thomson Hall (March 19 and 20, 8 pm)
While this column is about classical music in the Toronto area, I can't help but mention the appearance of
Art Garfunkel
, of the iconic Simon & Garfunkel fame, on March 14, 8 pm. Interesting that the Roy Thomson Hall website lists him as a countertenor! I must say this is the first time I heard him referred to as such. He still has a big following among us Baby Boomers :-) For ticket information, go to
http://www.roythomson.com/eventInfo.cfm?E=68&YearMonth=2009,2
and follow the link.
The other exciting event this week is the appearance of Yo-Yo Ma and his
Silk Road Ensemble
at RTH (March 19 and 20, 8 pm). According to information on
http://www.silkroadproject.org/
the Ensemble with its multimedia presentations has performed in 25 countries in more than 100 venues, ranging from concert halls to stadiums to museum galleries, in festivals around the world. Inspired by the cultural traditions of the historical Silk Road, this project is "a catalyst promoting innovation and learning through the arts". Their vision is to "connect the world's neighborhoods by bringing together artists and audiences around the globe." If you have not experienced their performance before, I urge you to give it a try. For tickets, go to
http://www.roythomson.com/eventInfo.cfm?E=54&YearMonth=2009,3
and follow the link.
The premiere early music group in Toronto, the
Tafelmusik Baroque Orchestra and Chamber Choir
under Music Director Jeanne Lamon, is performing Handel's
Ode to St. Cecilia
March 12 -15 at the Trinity St. Paul's Centre. I believe there has been a cast change, with Canadian soprano Nathalie Paulin replacing British soprano Sophie Daneman. Others on the cast is alto Vicki St. Pierre, tenor Rufus Muller, and bass Peter Harvey. For ticket information, go to
http://www.tafelmusik.org/index.htm
On the recital front, the Aldeburgh Connection is presenting A James Joyce Songbook (March 15, 2:30 pm in Walter Hall, Edward Johnson Building, University of Toronto). The quartet of soloists are soprano Katherine Whyte, mezzo Lynne McMurtry, tenor Michael Colvin, and baritone Peter Barrett. The Sunday Series is intelligent programming at its best - "each show is set around a theme, be it literary, musical, or historical, weaving the musical selections around interesting readings from letters, diaries, newspaper clippings, and poetry." Complimentary tea is served at intermission. Tickets can be ordered by telephone at: 416 735-7982.
Labels: This Week in Toronto