Chabrier's L'Étoile Shines Bright for Austin Lyric Opera!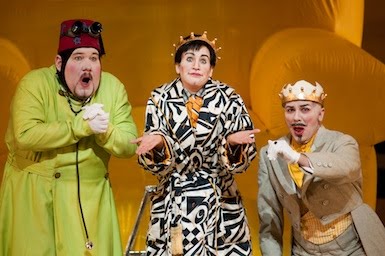 Emmanuel Chabrier
's operetta or opéra-bouffe,
L'Étoile
(The Star), was a consummate success at its premiere in Paris in 1877; then, it all but disappeared from the repertoire.
John Eliot Gardiner
, a celebrated interpreter of
Monteverdi
and Bach, brought
L'Étoile
back to life when he mounted a production at the
Opéra National de Lyon
in 1986. Since then, opera companies all over the world have added this comic gem to their repertoire - one of the latest among them,
Austin Lyric Opera
. The ALO production which opened January 30th to a near capacity house, was a triumph.
Kevin Patterson
, the general director of Austin Lyric Opera, has consistently shown a remarkable flair for making opera entertaining, first and foremost. He understands that in a community without a long operatic tradition and with only three productions a year, he cannot present a heavy-duty 'grand opera' program and expect to sell tickets; rather he must adopt a more populist strategy that 'educates' the audience without appearing to do anything of the sort.
Patterson's apparent strategy notwithstanding, opera and operetta at their best can have a very direct appeal if they are done in a multi-media style that does not hesitate to learn from the likes of Broadway, Hollywood or
Cirque du Soleil
. Over the last few years, Austin audiences have been charmed by the likes of an Austin-infused production of
Die Fledermaus
and Rossini's
Cinderella
. They have been powerfully moved by Poulenc's
Dialogue of the Carmelites
and Verdi's
Rigoletto
. With
L'Étoile
, Patterson has scored again, by wisely mounting a magic production that has already proven itself a huge hit in New York, Montreal, Cincinnati and Glimmerglass.
Outstanding Sets and Costumes
What grabs the audience right from the start in this production are the sets and costumes, originally created by
Glimmerglass Opera
and the
New York City Opera
by Andrew Lieberman (sets) and
Constance Hoffman
(costumes). We know we're in for a night of fun when King Ouf appears as a re-channeling of '
The Little King
' of comic strip fame. He is diminutive, sports a ridiculous mustache and wears an ermine robe in the shape of a round lampshade, which drags along the floor behind him. Veteran
Jean-Paul Fouchécourt
didn't have to sing a note or say a word to have the audience convulsed in laughter.
Then there's the male chorus, all dressed in black suits and hats, carrying umbrellas. Here again, the way they look and the way they move is, in itself, amusing. Before long we have other characters dressed in the brightest of colors, carrying through the comic strip concept.
As the convoluted, not to say absurd, story of the opera unfolds, we begin to appreciate the fine work of Canadian director
Alain Gauthier
. He knows all about comic timing and how to be witty, without resorting to slapstick at every turn. It also helps that
L'Étoile
is 'sung' in the original French with surtitles, while the 'spoken dialogue' is in English with a smattering of French.
I assume that some of the English dialogue was added by recent hands in order to make it palatable and funny for contemporary audiences. In my opinion, even more could have been done in this vein - especially in Act I - to make the dialogue really sparkle. On opening night, Act I had other problems as well. It was slow and some of the ensembles were more than a little rough.
Second and Third Acts Rachet up Music and Comedy
All was forgiven after intermission, however, with the cast settling in and conductor
Richard Buckley
moving the music along with a little more animation. One could argue that the improvements resulted from better music and more opportunity for comic action in Acts II and III .
One of the highlights of this production was undoubtedly the drunken duet (over multiple glasses of 'green chartreuse') between the King and his astrologer Siroco (
Kevin Glavin
). Director Alan Gauthier made the most of the already comic difference in size between the King and Siroco and they sang and acted with enormous hilarity. To top it off, their increasing inebriation was brilliantly underscored by the swaying sparkling yellow/green wall of curtains behind them.
As far as I could tell, there was only one local reference in this production; the Mayor appears in the last act, wearing an oversized black Stetson, looking for all the world like a stereotypical Texan.
Chabrier's music might best be described as
Gilbert and Sullivan
with a French translation. There are lots of 'rum-te-tum' rhythms à la G & S, but Chabrier's writing for woodwinds is in another class altogether. It is even beyond
Offenbach
in its color and complexity. Moreover, Chabrier and his librettists clearly had a gift for expressing humor in music. On the other hand, Chabrier's melodies are rarely original or memorable. In a routine production, I doubt that the music would stand on its own.
Fun and Fine Voices From Major to Minor
Vocally, this performance of
L'Étoile
had its glorious moments, but it had weaknesses too.
Deborah Domanski
, in the trouser role of Lazuli, has a big load to carry and didn't always rise to the occasion. Her mezzo-soprano voice seems a little light for the role. On the other hand, she handled the comic bits with energy and vivacity. Soprano
Nili Riemer
as Princess Laoula projected her voice with much greater authority. In a largely slapstick role, bass Kevin Glavin as Siroco nonetheless managed to impress with the richness of his voice. I also have to mention Scott Shipman in the speaking role of the Chief of Police. He was dressed like a toy soldier and walked like one and he made his reports to the king with the most extraordinary accent and timing. Hilarious.
The 1986 Opéra de National Lyon production referenced above was recorded for both CD and DVD release. Both versions have long since been deleted from the EMI catalogue, but if you really want to see the DVD, it is available as a rental from Netflix. Unfortunately, the production recorded on DVD pales in comparison to the Glimmerglass-New York-Cincinnati-Austin production, and the DVD is technically inferior to what can be done today.
John Eliot Gardiner loved Chabrier's music and has done an excellent all-Chabrier CD with the Vienna Philharmonic (
DG 477 51
).
Otto Soglow
created the comic strip 'The Little King' in 1931. It first appeared in the New Yorker, and was later picked up by newspapers across the country. It ran until 1975.
Photo (above) by Mark Matson
: Left to right Kevin Glavin (Siroco); Deborah Domanski (Lazuli); Jean-Paul Fouchécourt (King Ouf)
Labels: Austin Lyric Opera, classical music blog, Emmanuel Chabrier, Long Center, L'Étoile