Last-minute stand-in saves COC's Carmen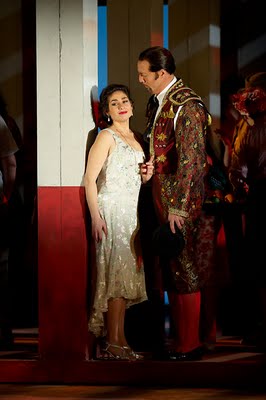 By L.H. Tiffany Hsieh

I didn't fall in love with the gypsy devil. As one of the most seductive operas of all time, the latest production of Bizet's sizzling Carmen on stage at the Canadian Opera Company falls short of some much-needed charisma.

Directed by Justin Way with set design from Michael Yeargan, the Jan. 30 performance was interesting and lovely in parts (for example, the gypsy tavern in Act 2 and bullfight arena in Act 4), but struggles with movement and continuity throughout.

The COC chorus and the Canadian Children's Opera Company chorus gave some magnificent and charming singing. However, it was unfortunate that they were given some awkward and un-gypsy-like routines to work with from choreographer Jane Johanson. This was especially painful to watch in the opening scene of the final act, when the choruses lined the front of the stage, stationary and pointing fingers.

The brief and sporadic standing ovation at curtain call owed its thanks to the last-minute-stand-in Carmen, sung brilliantly by Israeli-born mezzo-soprano Rinat Shaham, who makes her COC debut in this production after American mezzo-soprano Beth Clayton pulled out due to health reasons.

Shaham, blogging that she was "picking my nose in New York and complaining about my life" before she was called in last week, gave us a fiery, multidimensional Carmen, whose tobacco-laden gypsy pride torments the relatively simple and weak Don José. She wants her freedom above all things, and so she rejects the army officer for a matador in pink socks despite her hibernated love for the former. Shaham portrayed this subtle nuance beautifully.

In contrast, Don José didn't know what he had until he lost it - albeit no one can hold on to a woman like Carmen for too long. New Orleans tenor Bryan Hymel, who made his COC debut as Pinkerton in Madama Butterfly, gave a guarded and measured performance of the hopeless lover. His singing was thin at times when coupled with Shaham's deep and sultry tones, but he soared in the final act, revealing a vulnerable and impassionate Don José at his wits' end.
Homegrown soprano Jessica Muirhead of Aurora, Ont. was a darling as the innocent and faithful Micaëla while French bass-baritone Paul Gay offered up a slightly rigid Escamillo, the matador. The COC orchestra, under the baton of 29-year-old Scottish conductor Rory Macdonald, shined from the pit.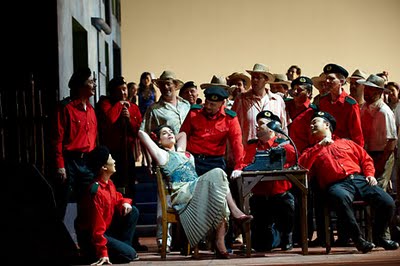 Carmen continues at the Four Seasons Centre for the Performing Arts with Shaham on Feb. 2, 5, 7, 9, 11, and 14. Georgian mezzo-soprano Anita Rachvelishvili will make her COC debut as Carmen on Feb. 17, 20, 23 and 27.