This Week in Toronto (Feb. 22 - 28)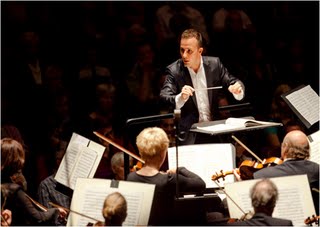 Quebec conductor Yannick Nezet-Seguin leads the Rotterdam Philharmonic at Roy Thomson Hall
Photo: Marco Borggreve
Toronto classical music lovers rejoice - your cups truly runneth over this week! The opera and the symphony are both in full swing, plus there are a number of special events, including several eminent international artists in town for recitals and workshops. For me, the highest profile visitor this week is Quebec wunderkind Yannick Nezet-Seguin who is making a stop at Roy Thomson Hall, this time with his own band, the Rotterdam Philharmonic Orchestra, as part of their North American Tour. The single performance takes place on Wednesday Feb. 24 8 pm. The soloist is the ever-colorful pianist Jean-Yves Thibaudet playing Ravel's Piano Concerto for the Left Hand. The concert opens with Messaien's Les offrandes oubliees, and ends with Richard Strauss' magnificent tone poem Ein Heldenleben. This event is not to be missed!
The
Toronto Symphony Orchestra
presents two interesting program in its
New Creations Festival
showcasing the works of Argentinean composer
Osvaldo Golijov
, who will be in town for a number of appearances. On Thursday Feb. 25 8 pm, Peruvian-born American conductor
Miguel Harth-Bedoya
who last conducted
Barber of Seville
at the Canadian Opera Company in 2008 returns to Toronto to lead
Azul
, a program showcasing works by
Golijov and others.
American soprano
Dawn Upshaw,
long a champion of Golijov, sings the Canadian premiere of
Three Songs
by the composer. Also on the program is
Azul
for Cello and Orchestra, which is also receiving its Canadian premiere. On Saturday Feb. 27 7:30 pm, the concert is named
La Pasion
, featuring works by
Golijov
,
Andrew Paul MacDonald
, and
Peter Lieberson,
the husband of the late, great Lorraine Hunt Lieberson, conducted by both
Peter Oundjian
and Miguel Harth-Bedoya. The
Labeque sisters, Katia and Marielle
, are also featured.
During this
Osvaldo Golijov Week
, in addition to the Toronto Symphony Orchestra, the composer will also appear in events with
Soundstreams
and the
Faculty of Music, University of Toronto
. On Monday, Feb. 22, 7 pm at the
Gardiner Museum
, Soundstreams is hosting
The Diverse World of Osvaldo Golijov
. Attendance is free but you need to register to ensure a spot. Go to
http://www.soundstreams.ca/our_events/index.php
for details. On Wednesday, Feb. 24 8 pm at the Jane Mallett Theatre, Soundstreams presents
Ashes in the Wind
, featuring music of Golijov and
Jose Evangelista
. Soloists include mezzo
Wallis Giunta
and pianist
Serouj Kradjian
. Also appearing is American soprano
Dawn Upshaw
singing three Schubert lieder that have inspired Golijov. For additional information and tickets, go to
http://www.soundstreams.ca/our_events/detail.php?id=72
On Friday, Feb. 26 7 - 9 pm at Walter Hall, Edward Johnson Building at the University of Toronto, the Faculty of Music presents Golijov at its
Composer's Forum,
an excellent opportunity to hear Golijov talk about his creative world.
The Canadian Opera Company's two winter productions, Carmen and Otello, are in their final week of performances. Opera being opera, there is no shortage of drama on stage and off. As reported before, the Carmen run has not one but two replacement mezzos in the title role. As reported in this space last week, the final four performances will be sung by mezzo Anita Rachvelishvili. Also of interest is the appearance of American tenor Garrett Sorenson as Don Jose this week. Another cast change is COC Ensemble soprano Simone Osborne taking over the role of Frasquita. The two final performances are on Feb. 23 and 27. Meanwhile, Otello is having its own unintended drama. Tenor Clifton Forbis became indisposed during the show last Friday but finished the performance. I understand that the COC has since flown in American tenor Frank Porretta over the weekend, but so far there is no official announcement from the COC as to who will sing the performance on Monday Feb. 22 7:30 pm at the Four Seasons Centre. Frank Porretta comes from an eminent musical family. In fact his full name is Frank Porretta III, as his father, Frank Porretta II, was a well known tenor at the New York City Opera, on Broadway, movies and television in the 50's and 60's. The younger Porretta has a dramatic tenor with a baritonal timbre and a ringing top, ideal as Otello, a role he has sung previously. His repertoire also includes Calaf (with which he recently made his debut at the Met), Samson, Don Jose, Canio, and Cavaradossi. The last two performances of Otello are on Feb. 25 and 28.
UPDATE: I just got news at 12:15 pm that Frank Porretta will indeed be singing the title role in this evening's Otello!
The eminent pianist Andras Schiff returns to Toronto for a recital, this time at Royal Conservatory of Music's new Koerner Hall on Tuesday Feb. 23 8 pm. On the program are works by Mendelssohn and Schumann. Canadian soprano Isabel Bayrakdarian and pianist Serouj Kradjian give a recital under the auspices of the Women's Musical Club of Toronto on Thursday Feb. 25 1:30 pm at Koerner Hall. On the program are songs by Heggie, Berlioz, Poulenc, Bellini, Gomidas, Ravel and Obradors.
As if the concert schedule on Feb. 24 isn't crowded enough, the glamorous violinist Sarah Chang is giving a recital with pianist Andrew von Oeyen at the Markham Theatre north of Toronto. It is a shame that the concert, at 8 pm, conflicts directly with Nezet-Seguin and the Rotterdam Philharmonic. I have not been able to find out anything about the program - there is no mention of it at the Markham Theatre website, nor Chang's own website. On Thursday at the Richard Bradshaw Amphitheatre of the Four Seasons Centre, soprano Jessica Muirhead and mezzo Lauren Segal will be giving a joint concert of arias and duets. Muirhead is currently singing Micaela and Segal is Mercedes at the current run of Carmen. This is bound to be popular so be sure to show up at least 45 minutes early to secure a seat.
Last but not least,
Opera York
stages Verdi's
Rigoletto
at the
Richmond Hill Centre for the Performing Arts
on Sunday Feb. 28 2 pm. It stars soprano
Charlotte Corwin
as Gilda,
Romulo Delgado
as the Duke, and baritone
Nicolae Raiciu
in the title role.
Sabatino Vacca
conducts. For more information, go to
http://www.operayork.com/
Labels: Andras Schiff, Dawn Upshaw, Isabel Bayrakdarian, Opera York, Osvaldo Golijov, Rotterdam Philharmonic, Soundstreams, Yannick Nézet-Séguin