Richard Strauss and Nézet-Séguin: A Hero's Life
by

Paul E. Robinson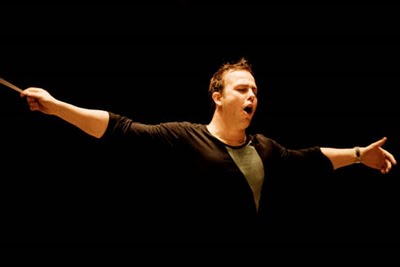 It's hard to fathom the arrogance of a thirty-four year composer who writes a huge orchestral piece called
Ein Heldenleben
(A Hero's Life) – about himself! What's more, in the section called "The Hero's Works of Peace" he quotes from his own previous compositions! Then you have the case of a thirty-four year old conductor who programs this virtuoso piece with a part-time orchestra. Fortunately, the supremely confident young composer was named Richard Strauss, and, as they say, the rest is history. As for the conductor, he happens to be a leader who can galvanize his players to perform way beyond themselves as they did this week at Place des Arts in Montréal.
Yannick Nézet-Séguin celebrated his tenth anniversary as artistic director and conductor of the Orchestre Métropolitain this week and demonstrated yet again why he is not only a Canadian treasure, but also one of the most sought-after maestros on the international scene. It was an all-Richard Strauss programme with
Don Juan
leading off, followed by a set of orchestral songs featuring soprano Barbara Bonney and, after intermission,
Ein Heldenleben
.
Don Juan
was well-rehearsed and urgent in spite of some shaky trumpet playing and the love music was meltingly beautiful.
I must confess that I am a huge admirer of Strauss' vocal music, especially in the endlessly imaginative orchestrations by the composer himself. Earlier this summer we heard some of them in fine performances by Ben Heppner and Thomas Hampson at the Knowlton Festival. Strauss had a genius for capturing the very essence of the poetry he set to music. Bonney led off with one of my favourites,
Die Heiligen Drei Könige aus Morgenland
(Three Holy Kings from the Land of the West). The poem by Heine is a very simple telling of the role of the Wise Men in the Christmas story. Strauss makes it a thing of wonder and childlike innocence.
In the five Strauss songs chosen by Bonney – actually six if you include the encore
Morgen
– the celebrated soprano was somewhat disappointing. Her voice didn't have the lyric effortless quality we have associated with this singer in years past. In its place there was an engrossing maturity. Bonney seemed to be using her resources with an excess of caution; the voice never soared. Admittedly, Strauss puts a lot of orchestral weight in the way but Nézet-Séguin and his players accompanied with the utmost care. The lack of power and freedom seemed to be Bonney's choice. Nevertheless, it is always a pleasure to welcome back beloved artists even when they are not at their best.
One of Nézet-Séguin's most impressive qualities is his fearlessness. He thinks nothing of recording all the Bruckner symphonies in Montreal or programming Mahler's massive Eighth Symphony later this season (June 20). In taking on
Ein Heldenleben
, a work that has tested the finest 'full-time' orchestras, he was asking the Orchestre Métropolitain to do the near impossible.
This
Heldenleben
opened with a very fast tempo- as befits the spirit of a thirty-four year hero - and in terms of technical mastery, it quickly became apparent that Nézet-Séguin had everything under control. At no time, however, did one sense that this performance was about mere accuracy. This young maestro's technique is extraordinary – a combination of natural ability and hard work – but his performances are never just about getting the notes right; he always reaches beyond that to capture the full range of emotion and meaning in the music. His players gave him everything he asked for, and the results were spectacular! The augmented horn section was thrilling throughout, with authoritative and eloquent solos from principal horn Louis-Philippe Marsolais. The famous violin solos were played by concertmaster Yukari Cousineau. She may have been a little too careful with her long cadenza, but the warm tone she produced in the epilogue was something special. Her dialogue with Marsolais was as touching as one is ever likely to hear.
Finally, I want to commend Nézet-Séguin for making the last chord of
Ein Heldenleben
– a trumpet-saturated E flat major - the thing of splendor it was meant to be. I haven't heard it so well-prepared and sustained since Karajan. Most conductors are content to make a half-hearted crescendo, followed by an anti-climactic punctuation mark. This is neither what Strauss wrote, nor what he meant. This is a Straussian Valhalla moment, as the hero is seen one last time in all his glory. In purely musical terms, this chord must be of a weight and power to balance everything that has come before it in the piece. It is obvious that Nézet-Séguin took enormous care over this moment in rehearsal and inspired his players to give everything they had in the performance. Make no mistake about it. This was a very loud chord but – again, Karajan comes to mind – it had no hint of raucous blaring. This is one of the secrets of great conducting and Nézet-Séguin already knows many of them.
The Orchestre Métropolitain simply has no right playing
Ein Heldenleben
as well as it did this week. This was a great triumph for both conductor and orchestra.
At the risk of being boring or pedantic, I must mention that I changed my seat during the course of this concert and it made a huge difference. I heard
Don Juan
from the very back of the Parterre (under the first balcony) and I had the feeling I was standing outside the door of Place des Arts. The music had no presence. Then I moved up to the sixth row of the Parterre. Now I could appreciate the intensity of the performances and hear all the details of balance and phrasing.
I realize that not everyone is able to sit so close to the performers and sitting in close proximity can reveal weaknesses too, but I am making, I think, two valid points: that to really appreciate what musicians are doing in Place des Arts, it is necessary to sit as close to the front as possible, and that in a really good concert hall, one should be able to sit almost anywhere and get something close to the full effect of the music. That said, I and many symphony lovers with me, are ready to bid farewell to Place des Arts and more than ready to hear the OSM and the Orchestre Métropolitain in their new home – a smaller and better (hopefully!) new hall - currently under construction right next door.
Paul E. Robinson
is the author of
Herbert von Karajan: the Maestro as Superstar
, and
Sir Georg Solti: His Life and Music
, both available at Amazon.com.
Labels: Barbara Bonney, Orchestre Métropolitain, Place des Arts, Richard Strauss, Yannick Nézet-Séguin