Yannick Nézet-Séguin — A Soaring Talent

by Wah Keung Chan / February 1, 2000

---
"I knew I wanted to be a conductor when I was 10," said 24-year-old maestro Yannick Nézet-Séguin, winner of both the "Discovery of the Year" and the "Public Prize" at the Conseil québécois de la musique's 1999 Opus Awards held last December. Nézet-Séguin owes his soaring career to perseverance and happenstance, as he told La Scena Musicale.
In June 1998 Seguin's career got on the fast track with a phone call from l'Opéra de Montréal's General and Artistic Director Bernard Uzan. One year after Jacques Lacombe (visit http://www.scena.org for an interview) had left the post of Chorus Master and Assistant Music Director, the Opéra de Montréal was still looking for a permanent replacement. "I was really surprised when he offered me the position," said Séguin. "I had only become interested in opera the year before, so I spent two months reading, studying, listening to the great singers and great opera conductors." In a year of mostly false notes at the O d M, Séguin's appointment has been the most positive. Last year, in addition to making his debut with the Orchestre Métropolitain at the invitation of Joseph Rescigno, filling in for a cancellation, Séguin conducted at the 1998 Opéra Gala. This season he made two guest appearances with the Montreal Symphony Orchestra and conducted most of the performances of Les Grands Ballets' Nutcracker. With the Opéra de Montréal Séguin has already conducted a concert version of Lakmé (January 2000) with great poise, and will be directing Monteverdi's Coronation of Poppea. The response from musicians, the public, and the critics has been extremely enthusiastic.
His path to becoming a musician and conductor has been paved methodically. "When I joined the Petits chanteurs de la cathédrale of the Choeur Polyphonique, I became fascinated with what the choral conductor did, how one person could influence the music." Charles Dutoit was his early idol.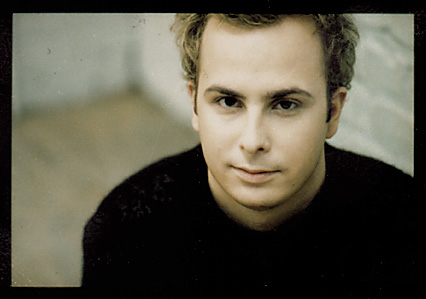 "I called the Conservatoire de Montréal and told them that I wanted to be a conductor. It was pretty funny, because I had no idea what it took," Nézet-Séguin confessed. However, he picked it up very quickly. "I studied the required courses, specialized in piano, and did chamber music. It is important for a conductor to know how each instrument works. I liked the Conservatory approach because I could go at my own pace." Opportunities followed. Nézet-Séguin started leading rehearsals at the Choeur Polyphonique at age 14, becoming its musical director in 1995 at age 19.
This period was very important to Nézet-Séguin. "I had questions about conducting that you couldn't learn from books, such as: How to do a rehearsal? Do you start with talking or with the music? How do you organize your time? How do you adapt to a world-class orchestra or a youth orchestra?" Nézet-Séguin contacted the Jeunesses Musicales du Canada and, after much persistence, in the summer of 1996 travelled to Switzerland to observe the rehearsals of the World Youth Orchestra under Temirkanov, Pappano, and Nagano. "I had the opportunity to compare my opinions of the rehearsal with the musicians and the conductors, and what amazed me was that these were always different."
Ever since Nézet-Séguin started buying recordings in 1988, he has been a great fan of Italian maestro Carlo Maria Giulini. "I was moved by everything he made. While in Europe, I got in contact with Giulini through the Italian Embassy. Later, I wrote to him to explain my situation and what he represented for me." From October 1997 to July 1998, Nézet-Séguin had five sessions with Giulini during his last year of performing, attending rehearsals, concerts, and private meetings. "He taught me to be respectful of my work, the orchestra, the score, and the composer. It was extraordinary to watch the intensity of his body, his eyes and his hands. He said that the first thing is to do what is natural and that would mean being most respectful of the composer's intent. He also taught me to make my own bowings."
Listening to Nézet-Séguin talk about the artistry of Callas, his admiration for Tebaldi, the intelligence of Fischer-Dieskau, his awe toward Furtwängler, his mixed feelings for Toscanini, the humanity and vulnerability in Brahms's work, the cosmic feeling of Bruckner and the absolute conjunction of expression and craft in Bach, it is not difficult to see why he is able to command authority from the podium. "I always get on the podium respectful of the musicians' talent and knowledge."
Quebec has produced many fine young conductors such as Lacombe, Stéphane Laforest and Marco Parisotto. "I feel fortunate to be able to learn my craft at home," said Nézet-Séguin. It is not hard to compare Nézet-Séguin to Jacques Lacombe – both are small in stature and highly energetic. Similarities can also be found with Bernard Labadie. Like Labadie, who founded Les Violons du Roy, five years ago Nézet-Séguin co-founded La Chapelle de Montréal, a choral and chamber ensemble that specializes in baroque music. "The ensemble is starting to mature. I think we may be ready for a recording in the next two years, possibly with the music of Zelenka. We would like to branch out to non-baroque music too."
The son of two university education professors, Yannick picked-up the piano at age 4: "at the time, my parents were taking piano lessons themselves. They were very supportive and never discouraged or pushed me." In a reversal of the usual order, the parents followed the child by joining the Choeur Polyphonique a year after him. Now at 24, world-class musicians are following young Yannick.
---
Yannick Nézet-Séguin conducts La Chapelle de Montréal in an all-instrumental Bach program February 11, Bach's St.-John's Passion April 21, and Bach's B-Minor Mass June 2. Info (514) 527-5019. Opéra de Montréal in Monteverdi's L'incoronazione di Poppea April 1, 4, 6, 8; (514) 985-2258. Orchestre Métropolitain, at Théâtre Maisonneuve, May 8; (514) 598-0870.
---
Version française...
---