This Week in Toronto (March 1- 7)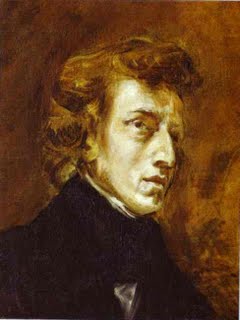 Painting of Frederic Chopin by Eugene Delacroix, 1838.
On Monday (March 1) two hundred years ago, the great Frederic Chopin was born. Although he died in 1849 in Paris, at the young age of 39, his impact on the piano world was indelible. This week, there will be numerous events around the world celebrating his 200th anniversary. (In fact, the celebration has already begun on Feb. 22, the date of his actual birthday based on church records) Famous pianists and Chopin interpreters the likes of Martha Argerich, Daniel Barenboim and Yundi Li, to name a few, are giving concerts to commemorate the milestone. Here in the GTA, we have the
Canadian Chopin Festival's
Third Canadian Chopin Competition: Senior Division
. It takes place at the John Paul II Cultural Centre at 4300 Cawthra Road in Mississauga. The Preliminary Round is at 10 am on March 1 and 2. Attendance is free. Semi-finals take place on March 3 and 4, also at 10 am. Finals take place on Saturday March 6 10 am, with the Winners Concert on Sunday March 7 at 2 pm at Royal Conservatory of Music's Koerner Hall ($20 - 50). For more information, call (289) 937-6545, or visit the website at
http://www.chopinfestival2010.com/
Other Chopin festivities include a noon hour concert at the
Canadian Opera Company
's free concert series -
Homage a Chopin: a celebration of the 200th anniversary of the birth of Frederic Chopin
. Pianist is
Lucas Porter
, on Tuesday March 2, at the Richard Bradshaw Amphitheatre, Four Seasons Centre. Admission is free, but remember to show up at least 45 minutes to line up. On the same day at 7 pm, as part of the
Canadian Chopin Festival
, well known pianist
William Aide
will give a lecture-recital, at the John Paul II Cultural Centre in Mississauga. On Thursday, March 4 at 7 pm, Liszt scholar
Alan Walker
will give a lecture on Chopin, the Poet of the Piano. Admission to these events is $10 each. On Friday March 5 7:30 pm, there is a show called Chopin and Friends: A Parisian Salon Recital at the same venue. There is no details as to performers or program, but go to
http://www.chopinfestival2010.com/
for any additional information.
The Toronto Symphony Orchestra presents Le Plus Forte, its last concert of the New Creations Festival on Wednesday, March 3, at 8 pm in Roy Thomson Hall. On the program is Osvaldo Golijov's The Last Round and Jacques Hetu's Symphony No. 5 (world premiere). Soloist is soprano Barbara Hannigan, whose repertoire is predominantly contemporary music. There will be a post-concert live event in the lobby called Spotlight on Piazzolla - not to be missed by Astor Piazzolla fans! On Saturday March 6 7:30 pm Sunday 3 pm March 7, the TSO presents Best of British, a mixed program of British music, including works by Walton, Vaughan Williams, Elgar, Holst, and Bruch. Christopher Bell conducts and soloist is violinist Nicola Benedetti.
Opera York, a young professional opera company in York Region, continues its presentation of Verdi's Rigoletto, at the new Richmond Hill Performing Arts Centre. Soprano Charlotte Corwin is Gilda, tenor Romulo Delgado is the Duke and Nicolae Raiciu is Rigoletto. Sabatino Vacca conducts. It opened on Sunday, Feb. 28 and continues with two more shows on March 4 and 6 at 8 pm.
On Sunday March 7, Off Centre Music Salon presents its Russian Italian Salon: Multiple Choice. Singers are sopranos Lucia Cesaroni and Ilana Zarankin, who happens to be the daughter of Inna and Boris Zarankin, co-artistic director of Off Centre. Also on the program is mezzo Emilia Boteva, cellist Winona Zelenka and violinist Marie Berard. It takes place at 2 pm at the Glenn Gould Studio.
Labels: Off Centre Music Salon, Opera York, Rigoletto, Third Canadian Chopin Competition, Toronto Symphony Orchestra