William Lawes: The Harp Consorts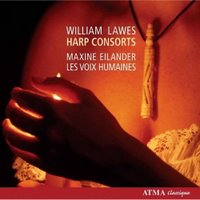 Maxine Eilander, harp; Les Voix Humaines

Atma Classique ACD2 2372
**** $$
William Lawes' pieces for harp, bass viol, and violin were originally written for the court of Charles I and have never been recorded in their entirety – until now. The group includes Seattle harpist Maxine Eilander, baroque violinist David Greenburg, Steven Stubbs on theorbo, and Montreal's Susie Napper and Margaret Little of Les Voix Humaines on viola da gamba.
Though the recording is titled The Harp Consorts, the works don't exclusively feature the harp. Each instrument has its own musically demanding part. This group meets these demands with aplomb, imparting more than just technical capability to the long lines of Lawes' distinctive melodic style. Subtly and varied articulations from the violin and viols bring something special to these pieces while rhythmically energetic playing gives the melodies direction.

Fine musicianship doesn't end with the violin and viol: Maxine Eilander plays on the triple-strung harp, navigating the three rows of closely spaced strings with ease and lively dynamic contrast.

The only slight disappointment is the sound mix itself. One wishes that in these consorts the harp and the theorbo were slightly more audible; at times it is difficult to hear the instruments in the background of the viola da gamba. Minor objections aside, this is truly fine music – and history – making.
- Dawna Coleman
Labels: classical CDs, english, harp, product_review, voix humaines