Brahms: Symphonies Nos. 2 and 3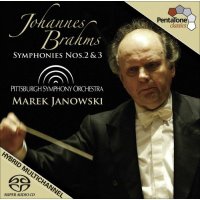 Pittsburgh
Symphony Orchestra/Marek Janowski

PentaTone PTC 4186 308 Hybrid SACD
***** $$$$
(79 min 17 s)
We might just be within an ace of the finest Brahms symphony cycle of the digital era. Marek Janowski and the Pittsburgh Symphony commenced the series with impressive accounts of Symphony No 1 and the Haydn Variations. These live concert performances from November 2007 of Symphonies 2 and 3 confirm the partnership's mastery of Brahms and elevate expectations for the Fourth, which should appear within a matter of months.
Marek Janowski's contribution to the Pittsburgh conducting triumvirate (with Sir Andrew Davis and Yan Pascal Tortelier) appears to be a 'back to basics' approach to core repertory. It is easy to lose touch with the quality of an orchestra after an extended break in commercial recording activity. With the advent of this Brahms project, the PSO reveals itself again as a truly great ensemble. The stunning performances are enhanced by Direct Stream Digital engineering, which permits multi-channel surround playback. This mode provides one with the illusion of occupying the best seat in Heinz Hall.
In the Brahms symphonies, we are really spoiled for choice; the Abbado/Berlin Philharmonic cycle from the early 1990s (Deutsche Grammophon) continues to stand up very well. Just last year, Marin Alsop and the London Philharmonic completed a distinguished four-disc traversal of the symphonies and other orchestral works for Naxos. Janowski's interpretations benefit from more finely developed rhythmic propulsion to achieve a sense of buoyancy in these densely packed scores. A decision may boil down to excellent Brahms on a budget (Alsop) versus definitive Brahms at more than twice the price (Janowski). But it is nice to have options. The PentaTone issue includes a current catalogue of the label's inventory.
Janowski the Wanderer: Marek Janowski was born in Poland in 1939 but is by background, training and temperament a German conductor of traditional outlook. We are indeed fortunate that the maverick PentaTone label has taken him up by at an advanced stage in his career. In this respect, and others, it is apparent that he has much in common with the late Günter Wand, who would be Janowski's senior by nearly three decades. Although Janowski is more traveled throughout Europe than Wand was, they have similar tastes when it comes to recording the repertory (Janowski has also released a Bruckner 9th with the Orchestre de la Suisse Romande for PentaTone), as well as the rigour of their application to the scores. In 1991, Wand didn't even rate an index entry in Norman Lebrecht's survey of the conducting profession, The Maestro Myth. Neither did Janowski. At that time both were accomplished conductors, both had turned away from the opera house to concentrate on symphonic music, and each had made some notable recordings. By the end of the decade, Wand had secured a pre-eminent place among active conductors thanks, in large part, to the advocacy of RCA Victor. It would be a bonus for collectors if Janowski's association with PentaTone lasts long enough to yield results of comparable magnitude.
-Stephen Habington
Labels: brahms, janowski, product_review