Conspirare Rings in New Year with Seldom Heard Strauss Motette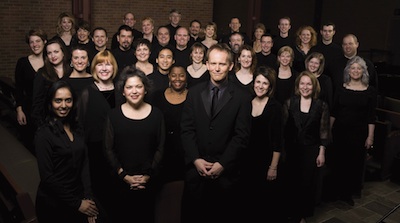 The last time I looked in on Conspirare, they were offering Christmas music at the Long Center in Austin. Last week, they moved a few blocks uptown to St. Martin's Lutheran Church for a concert titled "A New Year's Conspirare Classic". I had no idea what that meant, but a perusal of the program suggested that we were in for an evening of German choral music - except for a short piece by Samuel Barber - which turned out to be Conspirare's tribute to the American composer on the occasion of the 100th anniversary of his birth (March 9, 1910).
First Half of Program Somewhat Disappointing
I could have done without the five excerpts from Max Reger's Acht Geistliche Gesänge Op. 138 which opened the concert. This is boring music by any standard. In my opinion, the concert should have opened with Bach's wonderful motet Singet dem Herr nein neues Lied BWV 225 for double chorus. This music is full of energy and the sort of inspired contrapuntal variety that only Bach could write. Conductor Craig Hella Johnson went to the trouble of bringing in some continuo players just for this piece. I would have preferred an organ – the harpsichord was all but inaudible – but the cellos and bass sounded fine.
The Samuel Barber selection was too short and inconsequential to serve as an appropriate tribute to a composer of his stature.
The first half of the concert ended with two choral songs by Robert Schumann. Zigeunerleben is an amazingly vivid piece and Conspirare sang it very well indeed. They followed up with Schumann's An die Sterne.
Here is one of those thematic connections that Johnson likes to make in his programs. The poetry Schumann set to music in both songs is by Friedrich Rückert (1788-1866), the same man whose poetry was used by Richard Strauss for his Deutsche Motette, the major work in the second half of the concert. I am sure that Johnson also wanted us to note the pivotal role played by stars in the heavens in both An die Sterne and the Deutsche Motette, and, for good measure, in Samuel Barber's Sure on This Shining Night.
Chameleon Conspirare Takes Several Forms
For readers unfamiliar with Conspirare, let me provide some background. 'Conspirare' is the name of the organization based in Austin devoted to the performance of choral music. But there are several different ensembles that perform under this umbrella. One of these is the 'Conspirare Symphonic Choir', a large group with a nucleus of professionals and community singers recruited locally. This choir took part in an excellent performance of Cary Ratcliff's Ode to Common Things with the Austin Symphony earlier this season. Then there is the smaller ensemble of about forty voices that appears under the name 'Company of Voices.' This is an all-star festival choir which brings together top professionals from all over the country.
Rare Strauss Composition Program Highlight
This was just about the coldest night I have ever experienced in Austin, and all things being equal I would rather have curled up in front of a roaring fire at home. But all things weren't equal. What drew me out into wintry discomfort was the prospect of hearing a rare performance of Richard Strauss' magnificent Deutsche Motette. This is one of the most daunting challenges in choral literature, but I knew that Craig Hella Johnson and Conspirare 'Company of Voices' had what it takes to do it justice. And so they did, giving us a glorious performance of the piece.
The Deutsche Motette was composed in 1913, around the time of Strauss' opera Ariadne auf Naxos, but he revised it in 1943. As a result of this revision, it must be grouped with several other works of Strauss' late years. What these later works have in common – the Metamorphosen for 23 Solo Strings and the two Sonatinas or Symphonies for Winds – is a preoccupation with contrapuntal complexity.
Strauss had great gifts as a melodist and was a master of orchestration, but far less appreciated was his ability to write complicated fugues and other contrapuntal textures. It is almost incredible that in his last years, when he was in his eighties, when he could have rested on his laurels or written only tuneful miniatures, he set himself some of the most difficult musical challenges imaginable. Strauss was apt to refer to these late works as "wrist exercises" or "workshop" pieces, but one cannot help but marvel at the level of craftsmanship Strauss maintained until his final days.
For the singers, the most difficult aspects of the Deutsche Motette are technical. Strauss takes his sopranos and basses to the extremes of their ranges, and often keeps them there for bars on end. The harmonies are also unusual and not easy to tune. Finally, Strauss sometimes seems to forget that singers have to breathe! But no music endures simply because it is difficult. The Deutsche Motette is a great piece because of its beauty and power. Rückert's words suggest someone in the depths of depression, perhaps at the end of a troubled life, searching for reassurance and peace of mind.
Strauss was outwardly one of the most confident of men, but his music often reflected sadness and disappointment. One thinks of the Marshallin in Der Rosenkavalier, and those heartbreaking epilogues in works like Ein Heldenleben, Don Quixote, and Eine Alpensymphonie. In the Deutsche Motette, Strauss finds a profoundly moving musical expression of the essence of Rückert's poetry. I have no doubt that individually and collectively, the 'Company of Voices' must have spent many long hours preparing this piece. For at least one listener, it was worth every minute. This was a performance to treasure.
And to Cap off the Evening...Humor and Charm!
The next piece performed was also German, but very different from anything else on the program. It was from the repertoire of that legendary close harmony group, the Comedian Harmonists, who had flourished from 1927 to 1934. Craig Hella Johnson programmed a choral version of My Little Green Cactus in order to "cleanse the palate" after the Strauss. It was great fun and I would love to have heard several more.
Finally, we had a selection from Brahms' Liebeslieder Waltzes. These are charming choral songs, with accompaniment by two pianists at one keyboard. It was the perfect way to end a concert of mostly German music and it sent the audience back out into the cold with at least a warm glow to fortify themselves.
Additional Listening
You can hear the Comedian Harmonists singing Mein kleiner grüner Kaktus (My Little Green Cactus) on YouTube. A whole album of their recordings is available on Naxos 8.120613.
Paul E. Robinson is the author of Herbert von Karajan: the Maestro as Superstar, and Sir Georg Solti: His Life and Music, both available at Amazon.com.
Labels: classical music blog, Conspirare Company of Voices, Craig Hella Johnson, Deutsche Motette, Richard Strauss