This Week in Toronto (Feb. 28 - Mar. 5)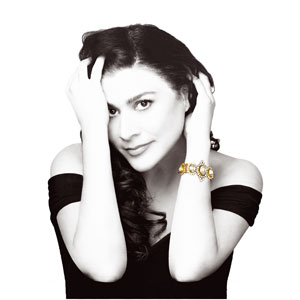 The biggest news this week is the appearance of superstar Italian mezzo Cecilia Bartoli at Roy Thomson Hall. Her frequent visits to Toronto have always been eagerly anticipated, and this time is no exception. Her concert, scheduled for Sunday March 1, 2 pm, is totally sold out. Amazingly, La Bartoli agreed to second concert, on the same day (!) at 7 pm. As of today, tickets to the secondconcert are still available. I admit to being a big fan of Bartoli - there isn't anyone today with her combination of technical brilliance (with its incredible agility), exceptional musicality (her penchant of unearthing forgotten repertoire) and charismatic stage presence. There may be some singers today with remarkable technique - Vivica Genaux comes to mind, and perhaps even Simon Kermes whom I have only heard on disc - but none can approach Bartoli in her felicitous combination of voice, looks, musicianship and personality. If you don't have a ticket, by all means get one! The tariff to a Bartoli event is no small sum but it is worth it.
I attended the first of two concert performances of Berlioz's Damnation of Faust last evening at Roy Thomson Hall, featuring the return of French conductor Charles Dutoit. It was an overwhelming experience. In this repertoire, Dutoit can hardly be bettered. He led the TSO in a dramatically taut, powerful, yet delicate performance that kept everyone in rapt attention throughout its 2 hour 10 minute duration (without intermission). It was one of the most enjoyable concerts in recent memory. The quartet of principals were exceptional, led by tenor Gregory Kunde, who was in wonderful voice. He has previously sung this piece with Dutoit in San Francisco . Kunde has been in front of the public for well over 20 years, yet the voice remains fresh and appealing. Hard to believe he actually sang Camille in Merry Widow for the COC back in the 1980s! His instrument has changed a lot since then, gained in size and power, yet still capable of hitting those requisite high notes, and god knows Faust is high! In the duet with Marguerite, he had to hit two high Ds which he switched to head voice, an acceptable solution. Willard White was a fabulous Mefistopheles, singing and acting with great initensity. Both of these artists sang their respective roles with Dutoit and the San Francisco Symphony in 2007, and their experience of having collaborated previously was all to the good. The mezzo at the time, Ruxandra Donose, is replaced here by American Susanne Mentzer. It was great to have Mentzer back in a lead role. Her voice has taken on a bit of fluttery quality of late, but it remains an attractive instrument and she was a most creditable Marguerite. She sang an affecting "D'amour l'ardente flamme". I was really impressed that all the principals sang without music - the way it should be in a concert performance! In the small role of Brander was New Zealand bass baritone Jonathan Lemalu, who impressed with his powerful voice and youthful timbre. Everytime I hear the Mendelssohn Choir, I never failed to be moved, and their performance was sensational last evening. There is another performance on Saturday Feb. 28 - not to be missed!
Finally, I want to draw your attention to Opera York's production of Puccini's Tosca, to take place at the spanking new Richmond Hill Performing Arts Centre, located north of Toronto at Yonge Street north of Major McKenzie. This new theatre is designed by Jack Diamond who also designed COC's Four Seasons Centre. This Tosca stars Albanian-Canadian soprano Mirela Tafaj as Tosca. Tafaj moved to Canada about 10 years ago and has sung for Opera Ontario (Musetta), Toronto Opera Repertoire (Tosca, Violetta), Opera York (Micaela, Mimi), the Montreal Opera Gala, plus many concerts and recitals. Hers is an interesting soprano with a rich, dark timbre, just right for Tosca. Partnering her as Cavaradossi is young tenor James Ciantar, who has a very good, Italianate sound. He studies voice with retired Canadian tenor Ermanno Mauro, who also coaches tenor David Pomeroy and soprano Sinead Sugrue, among others. Rounding out the trio is baritone Nicolae Raiciu as Scarpia. Sabatino Vacca conducts the Opera York Orchestra and Chorus. Three performances (two in Richmond Hill Performing Arts Centre March 5, 7) and one at the Markham Theatre (March 13). For tickets call (905) 787-8811 for Richmond Hill and (905) 305-7469 for Markham.
Labels: Cecilia Bartoli, This Week in Toronto