Sparkling Ariadne auf Naxos closes Toronto Summer Music Festival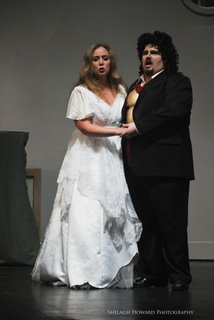 Photo: Melinda Delorme (Ariadne) and Steven Sherwood (Bacchus)
Thanks to conductor Agnes Grossmann and her Toronto Summer Music Festival, local opera lovers enjoyed a high calibre, fully staged opera in the dog days of summer, something that had not been possible until the last couple of summers. The offering this year was Strauss' Ariadne auf Naxos. A connoisseur's piece, Ariadne represents Strauss at the height of his powers, a clever juxtaposition of comedy and tragedy, filled with sublime melodies for the four principals. I had the good fortune of attending the opening night of Munich Opera's new production of Ariadne last month, starring Canada's own Adrianne Pieczonka. TSM's Ariadne might not be on the same grand scale, but on the "enjoyment meter", it was right up there.
Seen on opening night (August 14), it featured an excellent quartet of principals, headed by soprano Melinda Delorme as Ariadne. During her tenure as a member of the COC Ensemble Studio, Delorme was rather overshadowed by her more high profile colleagues. She never received the plum roles, with the possible exception of Aksinya in Lady Macbeth of Mtsensk two seasons ago. This Ariadne really showed what Delorme is capable as an artist. Becomingly costumed, Delorme sang powerfully and with stamina, her bright tone ringing out impressively in the McMillan Theatre. Yet she is also capable of delicacy and nuance, as her nice pianissimi in "Ein schoenes War" amply demonstrated. I heard her "Es gibt ein Reich" at the Ensemble Farewell Concert in June. Back then it was a work in progress, but now her singing was altogether lovely. Her German was very good, as was almost everyone in the youthful cast - kudos to diction coach Adi Braun.
Sharing top honours with Delorme was Erica Iris Huang as the Komponist. Her high mezzo has the right timbre for this role and her portrayal of the impulsive, idealistic Composer was spot on. If I were to nitpick, her high pianissimo needs greater security and the same beautifully rich tone colours as her middle voice. I look forward to hearing more from this singer.
Zerbinetta is one of the greatest coloratura soprano roles in the repertoire. Her 11 minute "Grossmachtige Princessin" is an acid test of vocal technique and endurance. Soprano Desiree Till has a small but pretty voice to match her petite stage presence. Though hampered by an unattractive costume, Till was a fine Zerbinetta, singing her big aria with nice tone and sure sense of pitch, all the way up to a totally secure high F. The only thing lacking in her voice is a decent trill, not at all in evidence on opening night. Much of Zerbinetta's music requires a well developed trill. Hopefully it is something Ms. Till will work on in the future.
While Strauss may have lavished his best music on the female voice, he was singularly cruel to tenors. Just about all Strauss tenor roles - from the Kaiser in Die Frau, to Menelaus in Die Aegyptische Helena, Matteo in Arabella, or Bacchus in Ariadne - are ridiculously high. Dramatically these characters aren't terribly rewarding either, so the biggest challenge in any Ariadne production is finding a good Bacchus. Tenor Steven Sherwood was a workmanlike Bacchus. His voice has a pleasant timbre, although a bit small and didn't sufficiently project, especially when paired with a big-voiced Ariadne. Still he acquitted himself honourably.
The rest of the cast was strong, with kudos to the terrific trio of Rhinemaiden-like Nymphs of Anna Bateman (Najade), Laura McAlpine (Dryade) and Ada Balon (Echo), their voices blending beautifully. Also deserving of mention was the sturdy baritone of Gene Wu as the Musiklehrer. The youthful comedians sang and acted with enthusiasm, with Stephen Bell an amusing if stereotypically swishy Tanzmeister.
The production is quirky, but it's par for the course when it comes to modern stagings of Ariadne auf Naxos, surely one of the most likely candidates for postmodernist updating! Overall I feel the direction by Austrian Titus Hollweg was good. (Incidentally he did a superb job as the Major Domo) The Prologue, set in the lobby of an "island resort", works surprisingly well. Using the same basic set for the Opera proper however is more problematic. Furnitures are covered with white sheets, signs set askew, giving it an appropriately dusty, disheviled look. Have we wandered into the living room of Miss Havisham in Great Expectations? Onstage is Ariadne's wedding cake, which she samples, eliciting snickering from the audience. There were more belly laughs from this audience over the antics of the comedians than I have ever experienced in the many Ariadnes I have seen. Yes this is a comedy to be sure, but is it really that funny? A surfeit of rip roaring laughs takes away from the profundity of this work as far as I am concerned. Another misfire is the shadow play right in the middle of Zerbinetta's great scena. In this sublime musical moment, we don't need any irrelevant staging to take the attention away from Zerbinetta herself. On the other hand, the arrival of Bacchus, standing behind the cutout of a cardboard ship's captain uniform is suitably pompous and amusing.
The musical side of things were commendable. Agnes Grossmann gave a precise, tightly controlled reading of the score, perhaps a little metronomic at times, as in the orchestral prelude to the entrance of Bacchus, but overall her conducting was enjoyable. The opening minutes of the Prologue was marred by some balance problems, with the brass and woodwinds overwhelming the strings. But things settled down quickly soon after and the youthful orchestra played well, a few sour notes from the horns notwithstanding. All in all, an audacious but highly rewarding production of a scintillating opera. I look forward to the offering next summer!
Labels: Agnes Grossmann, Ariadne auf Naxos, Toronto Summer Music Festival