Letters from Munich: Ariadne auf Naxos
Photos: Wilfrid Hoesl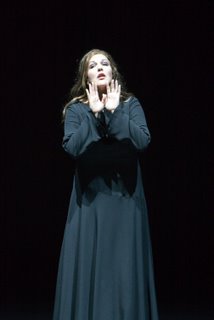 Joseph So

If Arabella on Wednesday wasn't quite up to the normally high Festival standards, the premiere of a new production of Ariadne auf Naxos at the Prinzregententheater was just about as good as it gets. As the ecstatic strains of the finale faded away, the house erupted for minutes of prolonged cheering and foot-stamping, and many curtain calls. Given that we live in an age of hyperbole, the word "great" is thrown around rather indiscriminately, but not in this case. This performance qualifies as great, one that will withstand the test of time in my memory bank.
Ariadne had its Munich premiere in January 1918 in the exquisite Rococo Cuvilliés Theater. With its reopening recently to celebrate the city's 850th anniversary, it would appear to be a logical venue, but the Company wisely chose to make it more accessible by using the larger Prinzregententheater. With only three performances, it was an extremely hot ticket. Fortunately Munich Opera is bringing it back next July, with an essentially identical cast, but with Bertrand de Billy replacing Kent Nagano. Rumour has it that the run next summer will be filmed for release on DVD.

The director of this Ariadne is none other than Canadian Robert Carsen, whose cutting edge productions have won kudos from the Met to Paris Opera. For Munich, he has created an production of layered symbolism that provokes and challenges our conventional views of this piece. Before a bar of music was played, onstage was a ballet studio with dancers warming up in front of mirrored panels. They proceeded to dance the orchestral prelude in pleasant if rather conventional choreography. Setting the prologue in a ballet studio isn't all that surprising, given that Robert Carsen, as the son of important National Ballet patron Walter Carsen, likely grew up in a dance milieu. The predominanatly black modern dress costumes served to lend the focus on the drama and the internal psychological states of the characters.

Carsen's direction tends towards uber-symbolism, with many interesting touches throughout, sometimes surprising and more often than not amusing, refreshing and provocative, and frequently brilliant. In the "seduction scene" in the prologue, in a darkened stage when Zerbinetta tells the Komponist that she isn't what she seems, Damrau takes off her black wig letting her long blond hair tumbling down – a magical moment. The prologue ended with the Komponist in front of the stage, delivering the score to the conductor and then moving to the side where she stays in full view of the audience throughout the opera. The opera was performed without an intermission.

Lovers of opulent stagings of the desert island of Naxos must have felt deprived, since all they got was a bare stage. I am not particularly fond of minimalist staging, but this time it really worked. A dozen or so supernumeraries, consisting of the mixed corp de ballet from the opening plus the comedians in drag, populated the stage, dressed identically as Ariadne and moving in unison with her – it says to me that Ariadne's dilemma is every women's dilemma. In a traditional interpretation, this piece can be seen as anti-feminist. Afterall, we have the suicidal Ariadne stranded on Naxos, abandoned by "her man". She can only be fulfilled and redeemed when Bacchus shows up to rescue her. At the moment of Bacchus' arrival, the black backdrop opened to blinding light. In this production, the many supers, some representing Ariadne and an equal number representing Bacchus on opposite sides of the stage, implying a sort of gender opposition At the moment of reconciliation, Ariadne and Bacchus cross over to the other opposite sides, a nice symbolic stroke.

To be sure, not everything worked equally well. The significance of three upright pianos being wheeled on and off stage eluded me, ditto to have Zerbinetta popping out of the piano. Overall, there were enough brilliant directorial touches that it made for a very rewarding evening in the theatre. Much of the pleasure of this production was vocal, with a dream cast, led by Canadian soprano Adrianne Pieczonka, reprising her celebrated Ariadne. She was ably partnered by tenor Burkhard Fritz. The cruelly high tessitura of.Bacchus posed no problem for Fritz, who sang with exemplary freedom at the top of his range. Diana Damrau made a vocally and dramatically scintillating Zerbinetta. Surrounded by a chorus line of ten buff boys, Damrau clearly was enjoying herself as a sassy and sexy Zerbinetta, bringing the house down with a dynamite "Grossmachtige Prinzessin". Munich Opera ensemble artist Daniela Sindram was a big-voiced, intense, ponytailed, slightly hysterical Komponist. She looked so much like a man that it's positively scary. The other roles were all well taken, with special mention going to Nikolay Borchov (Harlekin), and the three nymphs, particularly Sine Bundgaard (the Fiakermilli two nights ago) as Echo. As expected in this meat-and-potatoes Straussian score, the orchestra under the baton of Kent Nagano, produced appropriately thrilling sounds. All in all, a most memorable evening.
Labels: Ariadne auf Naxos, Munich Opera Festival, Nagano, Richard Strauss