Concert - Matt Haimovitz et DJ Olive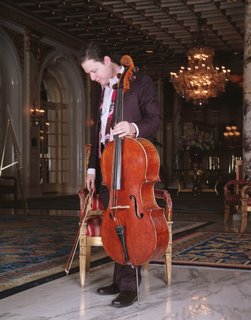 MATT HAIMOVITZ, GEOFFREY BURLESON and DJ OLIVE
Odd Couple: Duos pour Violoncelle & Piano ET
Violoncelle et Platines
Montréal, le vendredi 24 octobre 2008 - La 30e saison de la série des concerts CBC/McGill se poursuit avec un concert mettant en vedette le professeur de McGill et violoncelliste de réputation internationale Matt Haimovitz, avec Geoffrey Burleson au piano et DJ Olive. Le concert aura lieu à 19 h 30 le jeudi 6 novembre à la salle Pollack (555, rue Sherbrooke Ouest). Les billets sont en vente à la billetterie de la salle Pollack au prix de 15 $, 10 $ pour les étudiants et aînés.
C'est donc au tour de Montréal d'accueillir le projet Odd Couple proposé par Haimovitz, Burleson et DJ Olive, qui offre des duos pour violoncelle et piano de Beethoven et d'Elliot Carter ainsi que des duos pour violoncelle et tables tournantes de Tod Machover et de la Montréalaise Nicole Lizée. Mettant l'accent sur la farouche individualité de chaque instrument, Haimovitz affirme : « Il est aussi inusité pour un violoncelliste de s'associer à un pianiste qu'à un platiniste.» Le duo Burleson-Haimovitz a choisi la sonate opus 102, no 2 dans l'œuvre de Beethoven, typique du style qu'avait adopté le compositeur à la fin de sa vie, tandis que DJ Olive et Haimovitz, fréquents collaborateurs, s'appliquent à créer une musique de chambre pour violoncelle et tables tournantes. Les trois musiciens donneront libre cours à leur créativité en improvisant des liens entre les différents styles des œuvres interprétées pour jeter un nouvel éclairage sur le répertoire établi et briser la parfois trop grande prévisibilité des concerts. Après Montréal, les musiciens sont attendus sur la scène du Black Sheep Inn à Wakefield (Québec), ainsi qu'au Poisson Rouge de New York le 13 novembre.
Également au programme du concert, la première mondiale de Bookburners, une œuvre pour violoncelle et tables tournantes commandée par CBC à la Montréalaise Nicole Lizée, étoile montante des compositions pour instruments classiques et tables tournantes. Les œuvres de Nicole Lizée ont été interprétées par de nombreux ensembles, dont l'Orchestre Métropolitain et le Winnipeg Symphony Orchestra. Composée en 2007, sa pièce pour ensemble de musique de chambre et tables tournantes intitulée This Will Not Be Televised s'est classée parmi les finalistes du prix Jules-Léger et est la seule œuvre canadienne recommandée par l'International Music Council à Paris cette année.
Le concert Odd Couple a ravi les critiques. Le Washington Post a écrit : « Haimovitz alterne entre la sensibilité et le dramatique, tandis que Burleson marie parfaitement la vivacité et la poésie dans son jeu. » Quant au Boston Phoenix, il a décrit VinylCello de Tod Machover (2007) « d'émouvante et d'une grande beauté ». Le disque Odd Couple de Haimovitz et Burleson sera également lancé à Montréal à l'occasion du concert, le lancement à l'échelle canadienne sur l'étiquette Oxingale Records devant avoir lieu le 4 novembre.
Pour de plus amples renseignements sur ce concert ainsi que sur l'ensemble de la saison, nous vous invitons à composer le 514-398-4547 ou à visiter le site www.cbc.ca/montreal. Tous les billets peuvent être achetés à la billetterie de la salle Pollack, tous les jours de 12 h à 18 h en semaine ou une heure avant chaque concert ou encore, sur le réseau Admission au 514-790-1245 ou sur le site www.admission.com. Pour de plus amples renseignements sur Matt Haimovitz et les autres musiciens, voir sur www.oxingale.com.
Le concert sera diffusé sur CBC Radio 2 dans le cadre des émissions Sunday Afternoon In Concert, animée par Bill Richardson (les dimanches de 13 h à 17 h), Tempo, animée par Julie Nesrallah (du lundi au vendredi de 10 h à 15 h), The Signal, animée par Laurie Brown et Pat Carrabré (tous les soirs de 22 h à 24 h) ainsi que sur CBC Radio One à l'émission 5 à 6 (les samedis de 13 h à 17 h). À Montréal, CBC Radio One : 88,5 FM, et CBC Radio 2 : 93,5 FM. Les concerts CBC/McGill sont également offerts sur Internet, au volet Concerts on Demand (www.cbc.ca/radio2/cod/). Kelly Rice est le directeur artistique et premier réalisateur de la série CBC/McGill.
Labels: cello, electronic, montréal, pop, violon