La SCENA Introduces "I LOVE THE ARTS" Buttons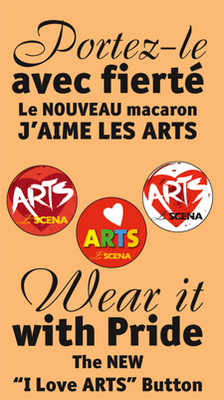 La SCENA is proud to introduce the "I LOVE THE ARTS" button. Three designs are available in full colour. Wear it with pride. Send $2 per button.
Fundraiser for Other Groups
Looking for an ARTS related fundraising idea? The "I LOVE THE ARTS" button is also available as a fund-raising tool for schools and arts groups. Ask us about our bulk rates.
La SCENA, 5409 Waverly, Montreal, QC, Canada, H2T 2X8
laurabates [at] scena.org
---
La SCENA vous présente le macaron J'AIME LES ARTS, disponible en trois versions en couleur. Commandez des macarons en envoyant 2$ pour chacun.
Levée de fonds pour d'autres groupes
Vous cherchez une idée de collecte de fonds ? Le macaron J'AIME LES ARTS est également disponible comme outil de financement pour les écoles et les groupes artistiques. Informez-vous sur notre taux de vrac.
La SCENA, 5409 Waverly, Montreal, QC, Canada, H2T 2X8
laurabates [at] scena.org