This Week in Toronto (November 16 - 22)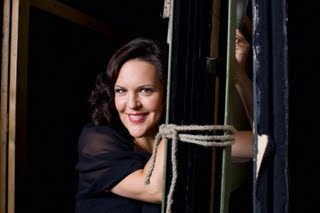 Adrianne Pieczonka (Photo: Andreas Klingberg)
Soprano Adrianne Pieczonka, in my mind - and the minds of many - is Canada's reigning prima donna. Possessing a beautiful and versatile lyric soprano and generous stage presence, Pieczonka is enjoying a high powered international career, in demand from Munich to San Francisco to the Met. Since moving back to Canada after spending some fifteen years living in Vienna and London, she has managed to enjoy the best of both worlds- continuing her European appearances in the leading houses there, as well as singing and living at home and in the U.S. She will appear as Amelia opposite the Simon Boccanegra of the great Placido Domingo at the Met in January, and it will be part of the Met in HD series shown in 42 countries around the world. On Tuesday, Nov. 17, you can hear Adrianne - for free! - when she gives a noon-hour concert at the Richard Bradshaw Amphitheater, at the Four Seasons Centre. She will be accompanied by Elizabeth Upchurch in a selection of arias from her new all-Puccini CD, recently released on the Orfeo label. I am not positive about this, but I imagine there will be discs for sale at that time. This is sure to be a full house so I advise anyone interested to show up at least 45 minutes early to line up.
Another interesting recital at the Richard Bradshaw Amphitheater, FSC is that of pianist Sergei Saratovsky, on the very next day (Nov. 18th noon). Saratovsky received the best Canadian at the 2008 Montreal International Musical Competition, piano edition. I recall his excellent playing when I covered the finals last year, and this recital is well worth attending. On the program is Debussy's Estampes and Schumann''s Carnaval.
On the subject of pianists, Chinese-Canadian piano phenom Yuja Wang is in town with the Shanghai Symphony at Roy Thomson Hall on Nov. 16, 8 pm. She is one in a long line of Chinese pianists with a big technique, which she will be showing off in Rachmaninoff's Piano Concerto No. 2, conducted by Long Yu. Also on the program is a Chinese piece and Mussorgksy's Prelude to his opera Khovanchina.
Now that the COC's fall season is over, the opera house becomes a ballet house, featuring the National Ballet of Canada's Sleeping Beauty from Nov. 13 to the 22. Performances this week are on 18, 19, 20, 21 at 7:30 pm, and 22 at 2 pm. Aurora will be shared by a whole bunch of ballerinas, with the prima danced by Heather Ogden. Others are Xiao Nan Yu, Sonia Rodriquuez, Jillian Vanstone and Stacey Minagawa. The Prince is led Guillaum Cote, with Jason Reilly, Zdenek Konvalinaa and Piotr Stanczyk to follow. The great Rex Harrington is now a character dancer, as King Florestan. The roots of the NBC are in the classics, and this piece, with its wonderful Tchaikovsky score and Petipa choreography, remains a perennial favourite. It is definitely not to be missed.
Labels: Adrianne Pieczonka, National Ballet of Canada, Sergei Saratovsky, Shanghai Symphony, The Sleeping Beauty, Yuja Wang