This Week in Toronto (Jan. 11 - 17)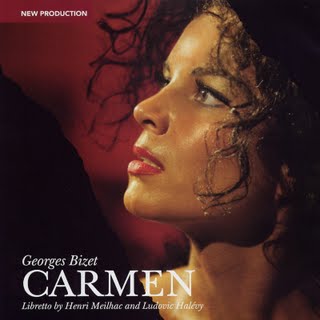 Photo: Latvian mezzo Elina Garanca burns up the stage in a new Metropolitan Opera production of Bizet's
Carmen
, coming to your nearest participating Met in HD Cineplex on Saturday Jan. 16 at 1 pm. (photo courtesy of Metropolitan Opera)
Now that we are into the second full week of the new year, the winter concert season is in full swing. Since Mozart's 250 anniversary celebration in 2006, the Toronto Symphony Orchestra has turned January into more or less a "Mozart Month". Last year we had concert performances of Die Zauberfloete. This year's offerings, billed as Mozart@254, are a little more modest in scale but hopefully just as enjoyable. On January 13 and 14 at 8 pm at Roy Thomson Hall, and January 17 at 3 pm at the George Weston Recital Hall in North York, Peter Oundjian conducts a mixed program consisting of Symphony No. 25, a horn concerto with soloist horn player Neil Deland, the famous concert aria Ch'io mi scordi di te....Non temer, amato bene with soprano Shannon Mercer, and the even more famous Piano Concerto No. 21, which for years was called the "Elvira Madigan" because the gorgeous slow movement was used in the soundtrack of a 1967 Swedish film by that name. Interestingly there is absolutely no mention of the film in the TSO promotional material, so I guess with the passage of time, this little bit of trivia is forgotten. The pianist is Jonathan Biss. At the intermission on January 13 and 14, audience members will get an opportunity to hear the performers speak about the program. On Jan. 14 at 7:15 pm, broadcaster Rick Phillips will give a pre-concert talk in the lobby. On Saturday Jan. 16 at 7:30pm, the National Arts Centre Orchestra visits Roy Thomson Hall. Pinchas Zukerman does double-duty as conductor and violin soloist in Mozart's Violin Concerto No. 5 "Turkish". Also on the program is Clarinet Concerto in A Major (second movement) with soloist Kimball Sykes. The beloved Canadian baritone Russell Braun sings Songs for an Acrobat, a cycle of love songs by Linda Bouchard. This is a "Casual Concert", with no intermission and a chance to mingle with the performers after the show in the lobby with live music.
On January 14 at 8 pm at the St. Lawrence Centre, Music Toronto presents a joint recital featuring cellist Rachel Mercer and pianist Minsoo Sohn. Mercer plays on 1696 Stradivarius cello on loan to her from the instrument bank of the Canada Council. Korean pianist Sohn is the first Laureate of the 2006 Honens International Piano Competition in Calgary. On the program are cello sonatas by Beethoven, Rachmaninoff and Schostakovich. Tickets are a real bargain at $15!
On Tuesday in Walter Hall at the Faculty of Music, University of Toronto, soprano Leslie Ann Bradley gives a noon hour recital. Those of you who followed the Montreal International Vocal Competition may remember her in the semi-finals three years ago. She is the recipient of the Charlotte and James Norcop Song Prize at the Faculty. No information on the program is available - I went to the U of T Faculty of Music website and found no details whatsoever, not even the name of the singer!
On Sunday, Jan. 17 at 2 pm in Mazzoleni Hall at the Royal Conservatory of Music on 273 Bloor Street, cellist Bryan Epperson, principal cello of the Canadian Opera Company Orchestra, together with pianist Dianne Werner, give a recital of Beethoven, Rachmaninoff, and Panufnik. It is a good opportunity to hear the excellent Epperson out of the pit and on the main stage.
And as the photo at the top of my post makes clear, this Saturday is another must-see event from the Met in HD series - a new production of Bizet's Carmen starring Latvian mezzo Elina Garanca and French tenor Roberto Alagna. Originally the Carmen was supposed to be Angela Gheorghiu, but she bowed out because she didn't want to sing opposite her estranged husband Alagna now that they are divorcing. I don't miss her one bit - I'd much rather hear a genuine mezzo in this role any day. However, if you are a Gheorghiu fan, she is scheduled to sing two performances later in the run, opposite German tenor sensation Jonas Kaufmann. This is worth attending for Kaufmann's Don Jose alone. Micaela is Italian soprano Barbara Frittoli and Polish baritone Mariusz Kwiecien is Escamillo. Canada's own Yannick Nezet-Seguin conducts. Preliminary reports from opening night praised Garanca and Nezet-Seguin, with a mixed response for Alagna. Frittoli and Kwiecien were both tepidly received. But I am sure everyone will give his/her all for the telecast. Not to be missed!
Labels: Carmen, Elina Garanca, Jonathan Biss, Met in HD, Minsoo Sohn, Music Toronto, Pinchas Zukerman, Rachel Mercer, Roberto Alagna, Russell Braun, Toronto Symphony Orchestra, Yannick Nezet-Seguin