Knowlton Festival 2009: The Incomparable Sumi Jo in Bellini's La Sonnambula
by

Paul E. Robinson
Kent Nagano (photo:
above
) is music director not only of the Orchestre symphonique de Montréal (OSM), but also of the Bavarian State Opera. His operatic interests are broad and all-encompassing, and he is always looking for new challenges.
For the Knowlton Festival, Nagano has chosen to focus on one particular aspect of operatic literature, the so-called
bel canto
composers who flourished in Italy in the early part of the nineteenth century. Nagano's interest in this music paid great dividends last year with very good performances of Bellini's
Norma
. This year we heard another Bellini opera,
La Sonnambula
(The Sleepwalker), dating from 1831. Again, Nagano delivered the goods.
La Sonnambula
and much else in the
bel canto
repertoire has been mercilessly parodied by Gilbert and Sullivan. The stories are silly and the music too often begins to sound like the same simple-minded patterns repeated over and over. These operas also became corrupted by self-promoting divas who took the elaborate ornamentation to the realm of total absurdity with their own interpolations. In recent years singers of the stature of Maria Callas, Joan Sutherland and others showed that when one makes a real effort to get back to what the composers intended, many of these operas can be seen in a new and positive light.
Festival Celebrates Unique Beauty of Classic Bel Canto

Nagano is doing for the
bel canto
operas what the period instrument specialists have been doing for music from earlier periods. He is searching for the correct style of singing and orchestral playing. He has discovered that Bellini's operas are less like early Verdi and more like what came before in Schubert and Mozart. This means toning down the bombast and easing up on the vibrato, especially in the string playing. It also means shortening the notes. The result is that the Bellini orchestra becomes a somewhat more robust classical or Mozart orchestra. Similarly, the singing is scaled back to become more lyrical and far more intimate.
The Knowlton Festival has become the summer home of the OSM but even this fine, hard-working ensemble has limits in the number of services it can provide. For
La Sonnambula
the OSM is replaced by a 'Festival Orchestra,' made up of some of Québec's finest free-lance players. I have no idea how much rehearsal was needed, but the results were very fine indeed. The Festival Orchestra responded to Nagano's meticulous direction as if they had been playing together for years.
Sumi Jo Heads Cast of Consummate Bel Canto Stars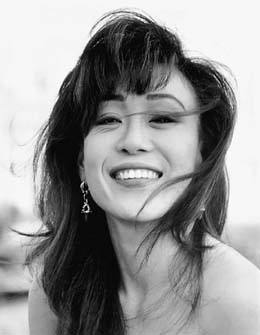 Performances of
La Sonnambula
are usually mounted as vehicles for star sopranos. There is no doubt that without a first-rate singer in the role of Amina, the production is unlikely to be successful. At last year's festival, Sumi Jo (photo:
right
) was sensational in a concert of operatic excerpts and this year she easily topped that appearance. Her virtuosity was nearly impeccable and her soft singing, exquisite. In the tradition of the finest
bel canto
artists, she is able to use the ornamentation to convey the feeling of the moment, whether it be joy or sadness or something in between.
She was not alone. Nagano had chosen a superb cast, each of whom was well-schooled in
bel canto
style. Tenor Barry Banks has technical challenges of his own in the role of Elvino and tossed them off without any difficulty. Riccardo Zanellato as Rodolfo was a commanding presence and cultivated a conversational style of singing perfectly suited to the role. There wasn't a weak link in this fine cast and the OSM Chorus, functioning in the opera much of the time as a sort of Greek chorus – G & S had a field day with this kind of thing – were precise and animated.
Simple, Effective Staging and Surtitles Enrich Concert Version
This performance was a concert version of the opera with some effective bits of staging by François Racine. Another positive element was the surtitles system set up behind the chorus. The texts, in both French and English, were large enough to be easily read from the back of the tent and always related to what was being sung. We may take surtitles for granted in opera performances but in fact this job must be put in the hands of a highly-skilled professional. In so doing, the Knowlton Festival team enormously enriched the experience for its audience.
A second performance of
La Sonnambula
is scheduled for Saturday, August 15. Anyone with the slightest interest in opera,
bel canto
, and great sopranos should be there. At press time, there were a few seats available but when the word gets out about what Sumi Jo, Kent Nagano and their colleagues are up to in Knowlton, those who delay buying tickets may well be disappointed.
Paul E. Robinson
is the author of
Herbert von Karajan: the Maestro as Superstar
, and
Sir Georg Solti: His Life and Music
, both available at Amazon.com.
Labels: Barry Banks, Bel Canto, Festival de Knowlton, Kent Nagano, Knowlton Festival, La Sonnambula, Orchestre symphonique de Montreal, OSM, Riccardo Zanellato, Sumi Jo, Vincenzo Bellini