Letter from Munich: Lucrezia Borgia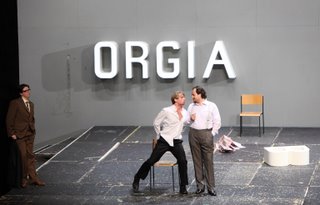 Photo: Wilfrid Hösl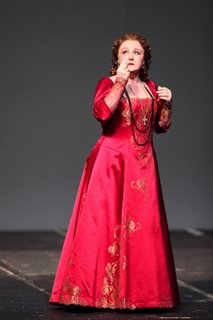 The raison d'etre of this new production of Lucrezia Borgia at the Bayerische Staatsoper is undoubtedly the great Edita Gruberova. Sopranos come and go, but there is always Edita, who has been in front of the public for almost forty years and still going strong, thank you very much. At the age of 62, many of her contemporaries would likely have retired to a teaching post somewhere, or at least moved on to the old ladies, the maids, the witches, and other assorted "character roles" in opera, or disappeared from public view altogether. Not Edita Gruberova, who remains the undisputed Queen of Bel Canto. We in North America don't get many chances to hear her, and it is entirely our loss. The few times that I have managed to catch her were in European houses like Munich where she has a particularly vociferous following. To put it simply, last evening's performance was a total triumph. The voice was very much as I had remembered, with only minimal aging of the tone. Her coloratura – and the seemingly infinite variations in dynamics – is as amazing as ever. She obviously warmed up sufficiently just before coming on stage, as the voice was already in full flight from the beginning. The voice had a pronounced beat in beginning of Act Two, likely due to the long intermission, but it soon disappeared. The final high note was attacked a little flat but pushed up to pitch. The volume was impressive as always. I was in the 18th row dead center parkett and she was loud! The theatre had video cameras in strategic places, so you can expect a telecast and commercial DVD release in the near future. Lucrezia is not exactly a charming character, poisoning everyone in sight, but Gruberova managed to make her sympathetic. The final scene was a vocal and dramatic tour de force that one rarely encounters these days. She pulled out all the stops, never mind the vocalism wasn't quite note-perfect – with such a remarkable performance, to complain about an occasional flat note or pitch deviation would be mere quibbling.

She was well partnered by a fellow Slovak, tenor Pavel Breslik, who was an exceptionally fine Gennaro. Celebrated in Mozart, I wasn't prepared for his idiomatic Italian, his plangent timbre and stylish yet heart-on-sleeve singing/acting was an unalloyed pleasure. Looking handsome and youthful, he complemented the soprano perfectly, but with enough star power of his own so as not to recede into the background. Given his buff build, he is a natural candidate for any director wanting to show some flesh onstage, witness his Idamante last season. Christof Loy had him scraping a knee, taking off his shirt ostensibly to wipe off the blood. Then Lucrezia materializes (in his dream) and shows her maternal instincts towards her wounded son. I give Loy credit for turning the little gratuitous striptease into something dramatically logical. Another example – the libretto calls for Gennaro to destroy Lucrezia's coat of arms. In this contemporary production, it was replaced by her name in large illuminated letters attached to the gray background. Gennario rips the B off her name and throws it on the stage floor – rather amusing as "ORGIA" remains on the wall, the implications of which rather unmistakable.

The production is extremely pared-down, with really no set to speak of, a bare stage save for a few office chairs. It is as far removed as one can get from the Venetian grandeur of the Duca D'Este palazzo. Yet there is something to be said about this approach, as it allows one to focus on the emotional and dramatic core of the work. Whether an audience member like Christof Loy's re-interpreting the libretto depends on the person's affinity towards the Regietheater aesthetic. The most conspicuous costume touches are the schoolboy garb with rolled up pant legs – why does it remind me of Clockwork Orange or the Barcelona Lohengrin? – and Lucrezia's Jean Harlow hairdo and smart black pantsuit. Ultimately this is a vehicle for the prima donna so nothing else really matters, especially when the diva delivered in spades like last evening. I understand that at the premiere, there were some vociferous, if predictable, boos for director Christof Loy of the Covent Garden/Ariadne/Little Black Dress fame. But last evening there was nothing but cheers. The third vocal standout was British mezzo Alice Coote as Maffio Orsini. She makes quite a convincing boy, and blends well with the chorus all dressed up as schoolboys with bad behaviour, though for some reason she was the only one without uncovered calves. I must say some of these directorial touches are a tad gimmicky. The Gennaro-Maffio duet was a highlight of the evening. The role of Maffio lies a little low for Coote, who struggled a bit in the Prologue, but her Act Two extended scena was terrific. Baritone Franco Vassallo was a firm voiced, macho Don Alfonso, complete with an interpolated high G at the end of his aria. With such high voltage goings on, the conductor Bertrand de Billy was decidedly second fiddle. Despite a good performance, he received polite applause at the end. This is a much-see show for Gruberova fans and anyone into diva worship – but if you haven't got a ticket during the July run in hand, you are out of luck as everything was gone a long time ago. Hopefully there might still be a few tickets available for performances this September.
Labels: Edita Gruberova, Lucrezia Borgia, Munich Opera Festival, Pavol Breslik