Knowlton Festival 2009: Operalia Winners Showcased in Bellini and Tchaikovsky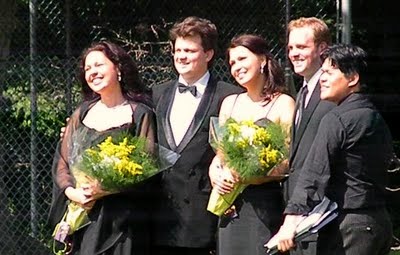 One lesson to be learned from Thursday night's concert is that great singers can make even the worst music sound important - lesser singers not so much. On this occasion, we heard some talented young singers struggling with the inanities of Bellini's
I Capuleti e I Montecchi
, second-rate music that should never have been inflicted on them. On the other hand, in the second half of the concert, excerpts from Tchaikovsky's
Eugen Onegin
showed other Operalia winners to great advantage.
Murrali and Ensemble Undone by Bellini
As one of its missions, the Knowlton Festival celebrates the art of
bel canto
and features some of its finest practitioners. But as with everything else in life, there is good and not so good. To programme an hour of excerpts from
I Capuleti e I Montecchi
, conscript some promising young singers to perform it and force – remember, one has been bussed to the site from one's car - a festival audience to sit through it, is cruel and unusual punishment. The music isn't worth it. The singers chosen to present this repertoire showed little affinity for it, conductor Massimiliano Murrali didn't do much with the score, and the Festival Orchestra seemed ill at ease with the whole undertaking.
At last night's performance, we had the usual absence of surtitles or translations but were at least offered a brief synopsis of the story behind the opera by Kelly Rice, who also pointed out that in this telling of the Romeo and Juliet story, Romeo is a 'trouser role'. Rather important I would suggest – particularly for those coming to the opera for the first time. – to be alerted to the fact that in this Bellini opera, as in some other operas such as Mozart's
Le Nozze di Figaro
and Richard Strauss'
Der Rosenkavalier
, one of the leading male parts is sung by a woman. Even more important in an hour without surtitles or translations.
To assist the audience further, Mr. Rice pointed out that mezzo-soprano Kremena Dilcheva would be instantly recognizable as playing the role of Romeo because she would in fact be wearing "trousers." For all we know, there may still be members of the audience waiting in the Chapiteau for this mysterious trouser-wearing female singer. No such person ever appeared on stage during the performance I saw. What we did get was a Romeo in a glamorous shimmering blue (for "boy"?) low-cut gown.
As for this evening's Juliet - dare I mention that Sumi Jo gave us a wondrous performance of Juliet's aria, "O, quante volte" at last year's festival?
Nagano and Company Bring Onegin to Life
So much for the first half of the concert. After intermission, we had music of real quality – from Tchaikovsky's
Eugen Onegin
– and a conductor who knows his business and his music; Kent Nagano, no less, with an impressive cast of singers. Even the orchestra sounded a whole lot better.
The cast for the Tchaikovsky was headed by Ukrainian soprano Oksana Kramaryeva as Tatyana. I first heard her at Operalia in Québec City last September. At the time I was greatly impressed by the beauty of her voice and her command of phrasing, especially in an excerpt from Verdi's
Aïda
. Last night, she was again impressive in the musical values of Tatyana's great "Letter" aria. However, as we heard more of the opera, it seemed to me that she was underplaying the character. This is a deeply conflicted woman and her inner turmoil seldom bubbled to the surface in Kramaryeva's performance. Baritone Christopher Magiera as Onegin also sang well and he was much more passionate. Tenor Dmitri Popov (photo:
right
) made an exceptionally heroic and ill-fated Lensky. Nagano kept it all flowing with total command of the score.
Cornucopia of Bel Canto Talent Presented at Festival

As Marco Genoni noted in his opening remarks, the Knowlton Festival celebrates three generations of singers. It features big stars like Sumi Jo, Ben Heppner and Thomas Hampson, but also artists at the early stages of their career who are creating excitement through their prowess at the Operalia competition created by Placido Domingo. Finally, there are the young singers from the Accademia Nazionale di Santa Cecilia. This is an admirable concept and one hopes it will be an ongoing feature of the Knowlton Festival. The process, however, can be risky if young singers are entrusted with roles beyond their capacity, on the same stage where the stars have performed.
Audiences expect to pay a pretty price to see and hear proven internationally acclaimed artists. Tickets to performances by rising stars and students, on the other hand, should surely cost less.
For the record, it was a beautiful summer's evening in Knowlton. Perhaps summer has finally settled in after weeks of below average temperatures and frequent rain. More of the same is expected through the final weekend of the festival.
Coming Next
: the final performance of
La Sonnambula
will be given tonight (Saturday), and Sunday at 11 am Kent Nagano will conduct the OSM in the concluding concert. The programme includes the Symphony No. 1 by Brahms and the final scene from Richard Strauss'
Der Rosenkavalier
. June Anderson, Sumi Jo and Susan Platts are the featured soloists. After the concert, patrons are invited to picnic on the hillside near the Chapiteau. Sounds like a great way to end an exciting festival. For more information visit the festival
website
.
Paul E. Robinson
is the author of
Herbert von Karajan: the Maestro as Superstar
, and
Sir Georg Solti: His Life and Music
, both available at Amazon.com.
Group Photo (above) left to right: Oksana Kramaryeva, Dmitri Popov, Ekaterina Lekhina, Christoper Magiera, and accompanist Doug Han after recital earlier in the week.
Labels: Christopher Magiera, Dmitri Popov, Festival de Knowlton, Kent Nagano, Knowlton Festival, Knowlton Festival Orchestra, Massimiliano Murrali, Oksana Krameryeva