This Week in Toronto (December 14 - 20)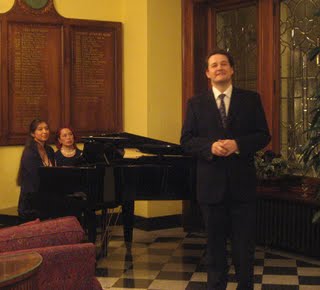 Baritone Russell Braun gives a lieder recital in celebration of Jeunesses Musicales du Canada's 60th anniversary at the Toronto French School on December 9th. Pianist is Talisa Blackman
(Photo: Joseph So)
The feast of Holiday Season music continues this week with literally dozens of concerts and events big and small, all over the GTA. The Toronto Symphony Orchestra bills its Messiah as Toronto's favourite - it probably is among the most august of Messiah traditions in Canada and likely has the highest attendance numbers. This year's version begins on Dec. 16 at Roy Thomson Hall and continues on Dec 18, 19, 20, and 21, all at 8 pm except for Sunday Dec. 20 at 3 pm. The soloists are soprano Shannon Mercer, countertenor Matthew White, tenor Colin Balzer, and baritone Tyler Duncan. Quebec conductor Jean-Marie Zeitouni leads the TS forces and the Toronto Mendelssohn Choir. This is a massive Messiah and well worth attending if you like this work performed by huge forces. For a more intimate Messiah, I can recommend Tafelmusik's baroque Messiah. Ivar Taurins conducts the Tafelmusik Baroque Orchestra and a quartet of soloists (soprano Ann Monoyios, mezzo Meg Bragle, tenor Benjamin Hulett, and bass Sumner Thompson). Performances from Dec. 16 to 19 7:30 pm at the Trinity-St. Paul Centre. On Dec. 20 2 pm is the ever-popular Sing Along Messiah at Massey Hall. There is something about a whole Massey Hall audience raising their collective voice to the Hallelujah Chorus that is awe-inspiring - so if you haven't experienced it before, go! This is general admission so be sure to get there early if you want a good seat!
The Nathaniel Dett Chorale offers An Indigo Christmas at the Glenn Gould Studio on Dec. 16 and 19, at 8 pm. According to the promotional material, this choral group is called "magical and transformative, their voices....will carry you on a journey through the beauty and intricacies of Afrocentric music from around the world" - I couldn't agree more. Also of note is the Via Salzburg Chamber Orchestra performing on Dec. 17 and 18 at the Glenn Gould. On the program are music of Handel, Vivaldi and Mendelssohn, plus Imant Raminsh singing Songs of Sorrow, Songs of Joy, in a work commissioned by Via Salzburg in 2003.
On December 17, soprano
Isabel Bayrakdarian
, who received a degree in biomedical engineering from the University of Toronto before she went into a musical career, headlines a concert in celebration of the 75th anniversary of the U of T Engineering Science program. It takes place at the Hart House Theatre at 6:30 pm on Thursday. Julian Kuerti conducts the Skule Orchestra in a program of arias and orchestral pieces of Verdi, Rossini, Dvorak and Mozart. There is also a post-concert dinner. I have no idea of the ticket availability - go to
http://www.facmed.utoronto.ca/Page2795.aspx
for more information.
Finally, I'd like to report on a concert I attended last week, given by Canadian baritone Russell Braun, in celebration of the 60th anniversary of the Jeunesses Musicales of Canada. It took place at the Toronto French School on December 9th, attended by a small group of invited guests. Also in attendance was Mr. Jacques Marquis, the Executive and Artistic Director of JMC, and Mr. Joseph Rouleau, the President of JMC. In fabulous voice, Braun sang songs by Mendelssohn, Schubert, and Ravel, all delivered with beauty of tone and depth of feeling. No wonder is he one of Canada's greatest singers today. He concluded the evening with a most heart-felt 'Avant de quitter ces lieux', Valentin's prayer from Gounod's Faust. It was a truly memorable evening.
Joseph Rouleau thanks Russell Braun after the concert and spoke a few words to the audience. (Photo: Joseph So)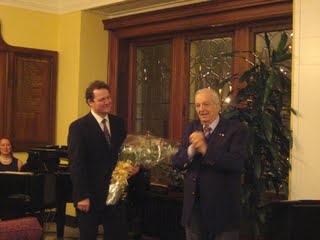 Labels: Isabel Bayrakdarian, Jeunesses Musicales of Canada, Joseph Rouleau, Messiah, Nathaniel Dett Chorale, Russell Braun, Tafelmusik Baroque Orchestra, Toronto Symphony Orchestra, Via Salzburg