Knowlton Festival 2009: Nagano, OSM and Idyllic Brahms
by

Paul E. Robinson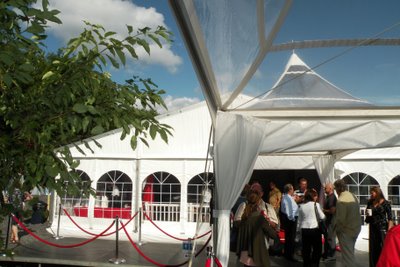 The Knowlton Festival, which started life as Festival Bel Canto last summer, opened officially last night with an all Brahms program. Maestro Kent Nagano did his best, in a well-attended pre-concert talk, to make the case that one could legitimately see the music of Brahms as no less bel canto than the operas of Rossini, Bellini and Donizetti. Basically, he was saying that all music is 'singing' or an attempt to emulate 'singing' using instruments. But such a broad definition obscures most of the very real and interesting differences between styles of music.
Nagano was on firmer ground when he took baton in hand and mounted the podium. His Brahms was decidedly lyrical rather than dramatic or rugged, as it is in the hands of some conductors. One didn't have to agree with Nagano's general approach to find his Brahms conducting refreshing and satisfying in its own way.

The concert opened with a musical but all too careful reading of the Academic Festival Overture. In this rousing piece based on German student songs, being careful doesn't get the job done. Even in the big moments, the brass was kept on a tight leash and the extra percussion might as well have stayed at home.

On the other hand, the Alto Rhapsody Op. 53 was fascinating. It too was careful, but more appropriately so. This is a dark, brooding piece that can easily sound thick and ponderous. With his sharp ear for balances, Nagano made the piece exquisitely beautiful. He was helped enormously by mezzo-soprano Marie-Nicole Lemieux and the men of the OSM Chorus. I am sure the sound system had something to do it with it, but the balance between voices and orchestra was nearly perfect. Quite a feat in this piece in which voices and instruments alike are pretty much all in the same register.

Lemieux was even better in the Two Songs for Contralto with Viola and Piano. Her phrasing was remarkably expressive and she fully deserved the ovation she received.

The major work on the program was Brahms Symphony No. 2 in D major Op. 73. Over the course of the festival, Nagano and the Orchestre symphonique de Montréal (OSM) will perform all four symphonies of Brahms and it was fitting to start this festival set in the Québec countryside with the symphony often called Brahms' "Pastoral".

This symphony also made the best case for Nagano's bel canto approach. From the opening bars, each player was directed to 'sing' his or her part and did just that. But it was not only the singing quality in the music that Nagano captured; the transparency of the sound was astonishing. Nothing was covered in over-saturated textures. Even the trumpets managed to function as extensions of the woodwind section rather than as the aggressive intruders they often seem to be in this music. The final coda never fails to bring a crowd to its feet and Nagano and the OSM whipped up plenty of excitement. Some prefer a more 'hell for leather' approach, but Nagano showed that precision and taste work wonders too.

With this successful 'official' opening, the Knowlton Festival is off and running. This concert was sold out and the size of the crowd made for long waits for buses out of the festival site. Last night's audience made the most of the camaraderie that standing in line can effect after a shared 'good' experience; nevertheless, if there are more big crowds – and there probably will be – something may yet have to be done to get the buses in and out much faster.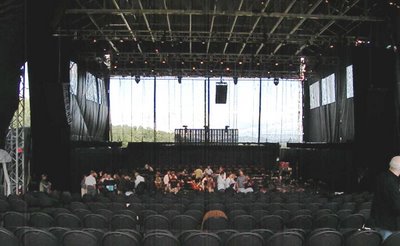 The festival tent is much larger than the one used last year. It is decidedly less claustrophobic and now has a bar area under cover. That it is still acoustically challenged should come as no surprise; it is still a tent and as such has no effective reflecting surfaces. Without amplification one guesses that very little sound would get to the audience.
When it comes to the amplification of classical music, I have serious reservations. On the other hand, music is meant to be enjoyed and it can be enjoyed in many different ways and in different settings. As executive director, Marco Genoni pointed out in his pre-concert talk there are very few concert halls where you can sit in your seat and see a sunset behind you and a little later a full moon rising in front of you. And I have to say that in quiet passages, the sound system works extremely well to give you not only more sound, but good quality sound. It is only when the music gets loud, that the lack of real resonance becomes an issue. And for the fine OSM musicians who have endured Place des Arts all these years, acoustical imperfection has become as way of life.
Everything considered a visit to the Knowlton Festival should be on every music-lovers list of things to do this year. The setting is beautiful and a conductor with refreshing ideas is leading a terrific orchestra in some of the greatest music ever written.
More Brahms Saturday night, with tenor Ben Heppner adding some songs by Richard Strauss, and Sunday afternoon a concert performance of Bellini's
La Sonnambula
with Nagano conducting and Sumi Jo as Amina. And there are other weekend events too including a master class by Bruno Cagli and two recitals. For more information visit the festival
website
.
Paul E. Robinson
is the author of
Herbert von Karajan: the Maestro as Superstar
, and
Sir Georg Solti: His Life and Music
, both available at Amazon.com.
Photos by
Marita
Labels: brahms, Kent Nagano, Knowlton Festival, Marie-Nicole lemieux