Knowlton Festival 2009: Rising Stars and Heroic Strauss
By

Paul E. Robinson
Knowlton was awash with tourists and classical music-lovers this weekend. The tourists are a familiar sight in these parts, drawn by the beauty of the location, the antique stores and boutiques selling lavender products and a tempting variety of other country fare. The music-lovers, however, are a relatively new phenomenon, attracted by the Knowlton Festival. On the basis of what I have heard so far I don't think they would be disappointed.
At its Saturday evening concert in the Chapiteau (photo above: bar area) the Orchestre symphonique de Montréal (OSM) under Kent Nagano offered another lyrical and transparent Brahms performance – this time the Fourth Symphony – and earlier in the day there was some fine singing to be heard in two different locations.
The morning event was held in the charming Old Brick Church in West Brome. Bruno Cagli (photo: right), the president of the distinguished Accademia Nazionale di Santa Cecilia in Rome, presented a master class in bel canto with some young singers he had brought with him from Italy. In fact, these singers were already pretty accomplished in bel canto and Cagli spent less time teaching them and more time educating the audience of about 200 – a full house in this intimate setting – in the "rules" of bel canto.
Cagli took his captivated audience through the history of singing, with particular emphasis on nineteenth century composers, including Rossini, Donizetti, Bellini and Tosti, and some of the most renowned singers from that period. There was also considerable talk about breathing and 'proper' voice production. Each of the singers contributed very good performances. One of them, tenor Antonio Poli, sounded like a major talent. All of them will be heard again during the festival in a concert with the Festival Orchestra on Monday night.

Domingo's Rising Stars Take the Stage
Later, I dropped by the Saint Édouard Chapel in Knowlton to hear a recital by winners of Placido Domingo's Operalia competition.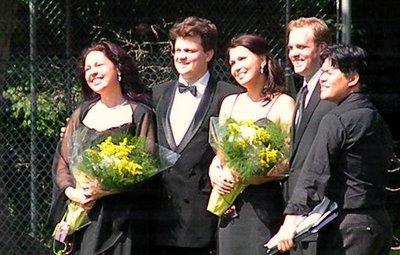 This concert was announced in the programme as featuring "Winners Operalia 2008" (Québec City). Only Ukrainian soprano Oksana Kramaryeva (photo:
above left
), who took "The People's Prize" there, fits that description. The other soloists are fairly recent Operalia winners in other countries. All were well worth hearing and have deservedly advanced beyond the promising 'student stage' to become busy professional artists.
If I had to choose a favourite, it would Kramaryeva. She is a genuine Verdi dramatic soprano with presence, richness of tone and considerable dramatic skills. Kramaryeva and her Operalia colleagues will all be featured again during the festival on Friday August 15. Kent Nagano will conduct excerpts from Tchaikovsky's Eugen Onegin and Massimilliano Murrali will lead excerpts from Bellini's I Capuleti e I Montecchi.
And From Ben Heppner - An Almost Perfect Set of Strauss Songs

The founders of the Knowlton Festival – Marco Genoni and Kent Nagano – based their new venture on the glories of the Italian bel canto tradition. While the content of the festival has shifted somewhat in the second season, singing in general and bel canto in particular remains a major component; it is, therefore, entirely within the concept of the festival that one of the world's great heldentenors should be featured in orchestral songs by Richard Strauss.

Canada's own Ben Heppner is in constant demand at all the top opera houses in the world and it was a coup for the festival to be able bring him here. He chose for his programme a group of six songs by Strauss, including the beloved Zueignung, along with some less popular pieces.
In the opening bars of Cäcilie we heard Heppner's effortless purity of sound and beauty of phrasing. The darkly imaginative Ruhe meine Seele was also given a fine performance with Nagano taking care over every detail and the members of the OSM playing beautifully. We heard five Strauss songs presented as well as one is likely ever to hear them.
Then came Befreit. Suddenly, Heppner's voice simply failed him. It was painful to hear and undoubtedly most painful for Heppner himself. One could only reflect on the vagaries of the human voice.

Texts, Translations, Projections?
As a festival grows, it learns from its mistakes and tries to improve things that need improvement. For any festival that makes vocal music the core of its mission, great care must be taken to provide the audience with texts for songs, operatic excerpts and complete operas being performed. This can be accomplished by means of texts and translations in the printed programmes or through the use of modern technology with projections on screens situated around the auditorium. Whatever the means used, it is not only important – some might add 'respectful' - to provide audience members a comfortable way into a full appreciation of the music they are hearing.
The Knowlton Festival continues on Sunday with the first of two performances of Bellini's La Sonnambula starring Sumi Jo with Nagano conducting. More bel canto follows on Monday night, with an all-Handel programme by the period instrument orchestra Les Violin du Roy under Bernard Labadie on Tuesday night.
The concert on Tuesday will include, in addition to a group of opera arias featuring soprano Hélène Guilmette, Handel's very popular Water Music.
Labels: Ben Heppner, brahms, Bruno Cagli, Festival de Knowlton, handel, Kent Nagano, Knowlton Festival, Marco Genoni, Orchestre symphonique de Montreal