Nagano & OSM Rise to the Challenge: Mahler's Epic Symphony of One Thousand!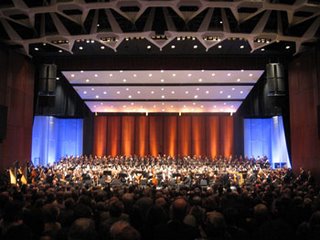 The final 'Chorus mysticus' is one of the most powerful passages in his entire oeuvre, if not in the whole history of music
–
Henry-Louis de La Grange

It is easy to be overwhelmed by
Mahler
's Eighth Symphony. Few works require such vast resources - hundreds of singers and instrumentalists. Fewer still rise to such towering climaxes, and yet the
Mahler Eighth
is not about size, but about love and death and the meaning of it all. Mahler wrestled with these concepts his whole life and tried his best to express what he felt through his music. Kent Nagano and the Orchestre symphonique de Montreal opened the OSM's 75th season with two performances of the Eighth Symphony and the one I heard - the second - on Wednesday night, was extraordinary.
An Opera Disguised as a Symphony, or a New Kind of Symphony?

It is often remarked on that Mahler was one of the great opera conductors of his time yet wrote no operas. Each of his symphonies, however, is a music drama and many of them use one or more voices. The Eighth Symphony begins with a hymn, but its entire second part is a setting of much of Goethe's
Faust: Part Two
, an operatic scene if ever there was one. At the same time, Mahler was not writing an opera disguised as a symphony; he was writing a new kind of symphony. In fact, he composed the entire first movement before he had a text and then fit his selected text to the music.
One can analyze the Eighth Symphony in purely musical terms. The first movement, for example, is in sonata form and the second movement is a kind of
Lisztian
symphonic poem in which themes from the first movement reappear. In both movements Mahler employs the most complex contrapuntal devices. It all hangs together as a musical structure on a very large scale, but Mahler was also trying to go beyond traditional musical forms by adding voices to the orchestra just as Beethoven had done in his
Ninth
or
Choral
symphony. The
Beethoven Ninth
is also coherent as a purely musical structure. Remember how Beethoven brings back themes from earlier movements to start the last movement. Mahler does the same thing in his Eighth Symphony, only on a larger scale and with a more elaborate extra-musical purpose.
Part One: The Agony of Struggle and the Ecstasy of Hope A Wild Ride to Faith
The first movement of the Eighth Symphony makes use of a Ninth Century Latin hymn attributed to
Hrabanus Maurus
, Archbishop of Mainz. It is a fervent glorification of God and the equivalent of Beethoven's
Ode to Joy
and the hope that all men will be brothers. In the words of Maurus' hymn:
Give us joy,
Grant us Thy grace,
Smooth our quarrels,
Preserve us in bonds of peace.
Like Beethoven, Mahler uses his soloists and chorus in this movement simply as different kinds of instruments, and so extends the expressive range and colour of the symphony orchestra. Mahler also gives us a hymn setting that goes far beyond Bach and Beethoven in its extreme emotionalism. There are moments when the music gets so wild it seems on the verge of spinning out of control.
Part Two: Repentance, Divine Love, Forgiveness and Life Everlasting
The second movement of the symphony is something else again. Here, through the medium of lines from Goethe's
Faust
, Mahler continues his lifelong exploration of the mysteries of love, faith and death. In his Symphony No. 2
Resurrection
, Mahler had given us a powerful vision of life after death, and in his Fourth Symphony he had shown us what heaven could be like through the eyes of a child. In the Eighth Symphony we have Goethe's depiction of life after death as Faust's soul is welcomed into heaven and Faust is reunited with his beloved Gretchen. In Goethe's telling of the Faust legend, the scholar Faust makes a pact with the devil that in return for getting everything he wants in earthly life, he will serve the devil in hell. One thing leads to another - Faust falls in love with Gretchen and gets her pregnant. She gives birth but then drowns her illegitimate child. Convicted of murder, she is sent to prison. Faust is doomed to hell and damnation, but at the end of Part One, voices from heaven proclaim that Gretchen will be forgiven and saved.
By the end of Part Two, Faust is forgiven his overweening ambitions and desires and accepted in heaven where Gretchen awaits him. Like Schumann and Liszt before him, Mahler found in Goethe's text the most profound expression of the human condition and the path to everlasting life through earthly love and Christian faith.
Thriving on Challenges, Nagano Delivers Full Scope of Mahler's Masterpiece
Given its enormous musical and philosophical challenges, Mahler's Eighth Symphony is a daunting challenge for any conductor.
Kent Nagano
showed Montreal listeners once again that he thrives on challenges. He conducted with remarkable technical control and a deep sense of what lay behind the notes. The overwhelming climaxes at the end of each of the two movements were built with care and realized with maximum intensity. Yet it was often in the quiet passages that one felt Nagano's total identification with the music. Mahler loved to storm the heavens, but some of his most profound music is whispered rather than shouted.
Nagano's soloists were all first-rate and added immeasurably to the success of the performance. Soprano
Jennifer Wilson
got off to a shaky start but settled in later on to soar fearlessly over the huge orchestra. Soprano
Janice Chandler-Eteme
impressed me with the beautiful colour of her voice. The star soloist, however, was undoubtedly tenor
Simon O'Neill
(
left:photo by Lisa Kohler
). He has been singing some of the great
Heldentenor
roles in opera houses around the world and one can see why he is in such demand. In the Mahler Eighth he was heroic indeed but never lost his fine lyric sound.
The OSM Chorus sang magnificently under its guest chorus master,
Michael Zaugg
. The OSM winds have shown themselves capable of producing finer intonation on other nights, but then Mahler's writing is often cruelly exposed. On the whole, however, the orchestra played with total commitment and careful attention to balances.
The eminent Mahler authority Henri-Louis de La Grange gave us something to ponder in calling the final 'Chorus Mysticus' one of "the most powerful passages in the history of music." As Kent Nagano led his stellar ensemble of soloists, chorus and orchestra through this inspiring music at
Place des Arts
, one had no choice but to concur wholeheartedly.
Paul E. Robinson is the author of
Herbert von Karajan: the Maestro as Superstar
and
Sir Georg Solti: his Life and Music
, both available at
http://www.amazon.com/
. For more about Paul E. Robinson please visit his website at
http://www.theartoftheconductor.com/
.
Labels: 8th Symphony, Gustav Mahler, Kent Ngano, Nagano, OSM