This Week in Toronto (December 7 - 13)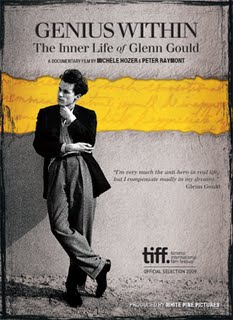 White Pine Pictures promotional image of
Genius Within: The Inner Life of Glenn Gould
, a new documentary by Canadian filmmakers Michele Hozer and Peter Raymont, first screened at the Toronto International Film Festival in September, 2009
In my haste to post last week's blog entry which was already late, I forgot to mention the Toronto screening of Genius Within: The Inner Life of Glenn Gould, the new documentary on this most enigmatic of Canadian cultural icon by filmmakers Michele Hozer and Peter Raymont. I attended the second screening last Thursday at the Royal in downtown Toronto. The filmmakers were there to introduce the documentary, as was Professor Mark Kingwell, who penned the newest Glenn Gould book, as part of the Extraordinary Canadians series on Penguin Books. Gould has been an endless subject of scholarly and popular works, and this film goes a long way in answering some of the many questions about Gould the man, with all his complexities and eccentricities. The film was screened at the TIFF last September. The filmmaker Michele Hozer mentioned at last Thursday's screening that it will be shown on many arts channels, including Arte in Europe and PBS in the United States. The screenings in Toronto ended yesterday, but you can still catch it in Waterloo (Jan. 27-28), Ottawa (Feb. 3), Barrie (Feb. 6 - 8), and Collingwood (March 29). I understand the film is not yet available on DVD, but I imagine it will be at some point after its run of international screenings are completed. Highly recommended.
A main interest this week is the world premiere of a Toronto Symphony Orchestra's co-commissioned piece, The Four Seasons by composer Philip Glass. This intriguing new work is billed as Glass's re-imagining of Vivaldi's Four Seasons. Also on the program is Beethoven Symphony No. 6, 'Pastoral'. Two performances on the 9th (8pm) and 12th (7:30pm). The Saturday 12th show is a "casual concert", without an intermission and with lobby entertainment after the show.
Of course the season of Christmas choral music is just beginning. There are multiple offerings on each day of the week, so I won't try to be comprehensive about this! On Wednesday December 9 at the Yorkminster Baptist Church on Yonge Street is
Mendelssohn Choir
's
Ceremony of Carols
, featuring
Judy Loman
(harp). On Thursday at the George Weston Recital Hall, Toronto Centre for the Arts in North York, it's the
Toronto Philharmonia
and their
Carol for Christmas
-rather clever play on words I thought -
with jazz vocalist
Carol Welsman
. On Friday, December 11 (2 shows 4 and 8pm), you can catch the
Moscow Boys Choir
in
Christmas Around the World
at the Oakville Centre for the Performing Arts. Or you can choose to attend
Oakville Choral Society
's performance of Vivali's
Gloria
at the Glen Abbey United Church at 7:30 pm. There are at least two
Messiah
s this week, one presented by the
Brott Musical Festival
at the St. Christopher Anglican Church in Burlington on Saturday December 12 at 7:30 pm. The second one is
The Dublin Messiah
, presented in its "original version" by conductor
Kevin Mallon
and his
Aradia Ensemble
at the Glenn Gould Studio on Saturday, December 12 8 pm. Soloists are
Laura Albino, Marion Newman, Nils Brown
and
Sean Watson.
Labels: Genius Within, Glenn Gould, Philip Glass, Toronto Symphony Orchestra