Cellist Kleinhapl slated for tour of Eastern U.S. and Canada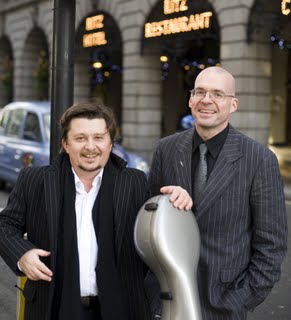 Cellist Kleinhapl slated for tour of Eastern U.S. and Canada
By Rick MacMillan
The distinguished Austrian cellist Friedrich Kleinhapl [www.kleinhapl.com] is perhaps unique among players of that instrument in that his major sources of inspiration have often been singers rather than other cellists. He and his regular duo partner, the German pianist Andreas Woyke, who are about to appear together in recital in Montreal, have played and recorded arrangements of songs by the likes of Brahms, Schubert and Richard Strauss.
Not so strange really. As is often said, the cello is a singing instrument, and its range, which lies in the gamut of the baritone voice, conjures a tonal warmth that is immediately appealing. "It touches the heart in a very literal way," says Kleinhapl in a phone conversation from his home in Graz, where he was born, "partly because of how you hold the instrument. You feel the vibrations in your heart, directly from the instrument."
"One of the singers who moved me very deeply," he remembers, "was Mario del Monaco. His son gave a portrait of his father at the university when I started there, and I saw in the films of del Monaco that his style was somehow very realistic; there was no theatre, no playing, it was real life. This was the first moment when I thought to myself, 'It need not always be beautiful.' It's sometimes more important to forget that you are a musician, to think of yourself only as a human being, not acting but living."
Maria Callas comes to mind. "Yes, yes," he responds. "And Pavarotti too. I underestimated him myself for a very long time, because I thought he was only singing very loudly, that he was not very intellectual. But a few years ago it struck me that it's not necessary to be very intellectual, to think too much about music, but only to be open in your heart to make music. And that's what he did in an incredible way. He formed his tones so easily, much easier than Domingo and many other singers. So this is often the image I take in my cello playing: When the cello sounds like that, like Pavarotti, it sounds very natural."
As we spoke the 49-year-old musician and Woyke were gearing up for a mini-tour of eastern North America, beginning in Montreal on Sept. 26 in that city's La Chapelle historique du Bon-Pasteur. The tour continues with performances in Annapolis, Maryland (Sept. 27, at St. John's College), New York City (Sept. 29, at the Austrian Cultural Forum) and Washington, D.C. (Oct. 1, at the Austrian Embassy). All are free admission to the public. The tour is designed to promote the duo's latest recording on the Austrian Ars Produktion label, an SACD release featuring the first three Beethoven cello sonatas: op. 5 no. 1, op. 5 no. 2 and op. 69. Kleinhapl's 12th CD release, and his fifth with Woyke, it recently won Stereoplay's Audiophile CD of the month honours.
"I'm interested to hear what people think about my Beethoven performances," he ponders, "because I play more expressively than is usual. It was hard for me to find a way to play Beethoven because what I heard before, what I learned from my teachers, was not convincing for me. I wanted to find a way of speaking that was [relevant] for our day, since the way we hear music has changed so much over the centuries. I felt it was time to stop with all tradition, and everything I read, and define my own way, a way that would be convincing for our time. With steel strings we produce a totally different sound now. I like to think more about how Beethoven lived, how he worked. He was very passionate, maybe even a bit crazy. How would he perform now, in our time?"
Concertgoers are in for a real treat of luscious playing on an outstanding instrument that was actually built decades before Beethoven was born. For the past year, Kleinhapl has had the pleasure of performing on the valuable Giovanni Battista Guadagnini, ex von Zweygberg, Piacenza cello, dating from 1743, on loan from the priceless collection owned by the Austrian National Bank.
"I knew it would be a big step to take on this instrument," he says looking back, "but I didn't think it would be SUCH a big step. It's incredible for me. For the first time, every day when I pick up the cello it seems to me to be not just a THING but something that has a soul. What I like about it is the warmth of the sound, which is still brilliant and somehow focused. During the time I've had it I've gone through five different bows, heavier and heavier, built by a Hungarian bow maker I work with, and the sound has changed quite a lot over that time. It's a good instrument for cello concertos; it has a very big sound. I find it so easy to play."
It seems playing the cello also came easily for the young Kleinhapl, who took up the instrument at the age of 8, after three years of music study. "My parents brought me to an education program for children and all the teachers tried to convince me to take up the cello. First I played piano, then flute. Then I took up the cello. At first I wanted to be a conductor but I found the cello so fascinating that I never went on to anything different."
Apart from singers, many cellists have served as inspiration. "There was especially Philippe Muller, my teacher in Paris," he recalls. "He was a very big influence on my cello playing. And also Paul Tortelier. It was incredible to experience his energy and his openness. He was always open to new points of view. I played Bach for him, for instance, and he said it's not the usual way to play Bach but it's interesting and it's convincing. He was the first to encourage me to grow in this way. He told me, Find your own way and this will be the only good way."
That way eventually led to collaborations with Claudio Abbado, Yehudi Menuhin and the great Hungarian violinist Tibor Varga, and performances throughout Europe, China and North America with the likes of the Mariinsky Orchestra under Valery Gergiev, the Wiener Concertverein led by Fabio Luisi, the Graz Philharmonic with Johannes Fritzsch and the Prometheus Ensemble at the Haydn Festival Eisenstadt.
Next up in Kleinhapl's recording plans are the remaining two Beethoven Cello Sonatas, op. 102, plus, he hopes, that composer's sets of variations for cello and piano. "These late sonatas are not very easy," he cautions. "And the sets of variations [two based on tunes from Mozart's Magic Flute and one after Handel] offer very different music from the sonatas, very friendly music. My roots are in the Romantic era, with side trips to modern music, then bach to Bach. And I would love to record the Haydn sonatas. That will be another big project, but a big step for me, to control the energy, to find the lightness they require, not to push too much as I generally like to do.
New music holds a special place in Kleinhapl's repertoire, including some unusual fare: Friedrich's Gulda's Concerto for Cello and Wind Orchestra; the young Austrian Johannes Berauer's Werden, Sein, Vergehen, for cello, mixed chorus and percussion; Sofia Gubaidulina's Sonnengesang, also for cello, chorus and percussion; and American Ed Neumeister's Fantasy for Cello and Big Band. Kleinhapl's Ars Produktion catalogue includes a CD devoted entirely to music by the Belgian-Austrian composer Dirk D'Ase, including his Cello Concerto, plus another that pairs the Gulda and Neumeister works mentioned above.
Working with composers during the gestation of their works can be illuminating for both parties, when the situation calls for it. Says Kleinhapl: "Some composers don't want to involve musicians. They want to start and stop and then say, 'Here it is.' Others have many questions. Johannes Berauer is one of those who accept ideas of mine. We did some improvisation sessions where I showed him what I would love to do in his concerto. It was very different. I'd never worked with a composer in that way before. I think it can be good to have two creative people working together, but the chemistry must be just right."
Labels: Andreas Woyke, Friedrich Kleinhapl