This Week in Toronto (Feb. 15 - 21)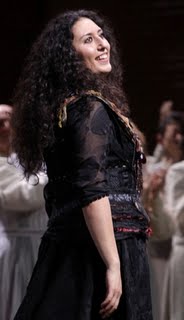 Georgian mezzo Anita Rachvelishvili as Carmen
Photo: Teatro della Scala, Milano
The big news for Toronto opera fans this week is the arrival of Georgian mezzo Anita Rachvelishvili to sing the last four performances of Carmen at the Canadian Opera Company (Feb. 17, 20, 23, 27). Only 25 years old, Rachvelishvili was plucked out of the La Scala young artists program by conductor Daniel Barenboim to sing the title role of Carmen that opened the La Scala season last December 7. Despite the incredible pressure, Rachvelishvili received favourable notices and a well deserved ovation from a highly critical opening night audience. While the loggionisti heckled stage director Emma Dante, they only had cheers for Rachvelishvili. In addition to this important cast change, American tenor Garrett Sorenson takes over the last two performances as Don Jose (Feb. 23, 27) The COC run of Otello continues, with performances on Tuesday Feb. 16 7:30 pm and Friday Feb. 19 7:30 pm.
Another piece of big news this week is the Verdi Requiem at Roy Thomson Hall, starring Michele Crider, Daniela Barcellona, Maxim Aksenov and Roberto Scandiuzzi as the quartet of soloists, together with the Toronto Mendelssohn Choir under the direction of conductor Gianandrea Noseda. This is part of the Toronto Symphony Orchestra season, with a big name international cast. Michele Crider's big dramatic soprano is ideal in "Libera me" - the last time I heard her several years ago, her high pianissimo B flat was exquisite. Any performance of the magnificent Verdi Requiem is an occasion, but with a stellar cast like this, the event is not to be missed - Feb. 18 and 20, 8 pm at Roy Thomson Hall.
Tafelmusik offers Mostly Mozart with conductor Bruno Weil at their usual venue of Trinity-St. Paul's Centre on Wednesday Feb. 17, 7 pm. On the program are Serenade K 525 "Eine Kleine Nachtmusik", Piano concerto. No. 20 K466, and Haydn Symphony No. 97. The program is repeated on Feb. 18, 19, 20, and 21.
Toronto Operetta Theatre under the direction of Guillermo Silva Marin presents Leo The Royal Cabet by Oscar Telgmann on Feb. 17 (preview), `9 (opening), 20 and 21m, at the St. Lawrence Centre. Among the soloists are husband-wife team of Gabriella Prata and Robert Longo. For details and ticket information, call (416) 366-7723 or 1-800-708-6754. The Toronto Opera Repertoire, which I reported on last week, continues with Nozze di Figaro (Feb. 19 and 21) and Cavalleria Rusticana/Pagliacci (Feb. 17)
Labels: Anita Rachvelishvili, Gianandrea Noseda, Michele Crider, Verdi Requiem