OSM's 75th with Mehta & Messiaen a Celebration of Sound!
reviewed by Paul Robinson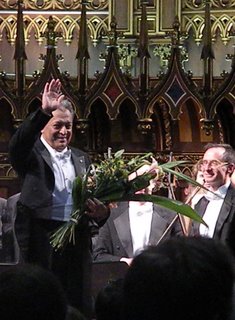 Canada doesn't see much of
Zubin Mehta
these days but he still has a soft spot for Montreal and tries to return as often as he can to the city that helped him so much in his early days as a conductor. He was back again to celebrate the 75th anniversary of the
Orchestre symphonique de Montréal
(OSM) last week and it turned into a great event for all concerned. Mehta has a home in Los Angeles, but he doesn't conduct there much any more. His primary musical responsibilities are to the Israel Philharmonic – he was appointed music director for life in 1981 – and the
Teatro del Maggio Musicale
in Florence, where he is currently at work on a new production of Wagner's
Ring
cycle.
Montreal Symphony and Zubin Mehta Grew Together in the 60s
In 1961, at the very beginning of his career, the OSM took a chance on 25-year-old Zubin Mehta and hired him as music director. For the next six years, he and the orchestra learned repertoire together, but within a year of his OSM appointment, Mehta also became
music director
of the
Los Angeles Philharmonic
(1962-77). His career quickly became international. In 1977, he became music director of the
Israel Philharmonic
, and then the
New York Philharmonic
(1978-91), and later, the
Bavarian State Opera
(1998-2006) in Munich. He is a regular guest conductor of the
Vienna Philharmonic
and has been invited by its members to conduct no fewer than four of its famous New Year's concerts.
For his return visit to Montreal to celebrate the OSM's 75th, Mehta put together a programme of works by
Messiaen
and
Saint-Saens
to be presented in the
Notre Dame Basilica
in
Old Montreal
.
Et exspecto resurrectionem mortuorum
(Messiaen) was part of "
Automne Messiaen 2008
" being celebrated all over Montreal from September to December and culminating in performances of Messiaen's opera
Saint Francis of Assisi
conducted by Kent Nagano. In fact, 2008 is the centenary of Messiaen's birth: the actual date is December 10.
Mehta on Messiaen: "I really miss him!"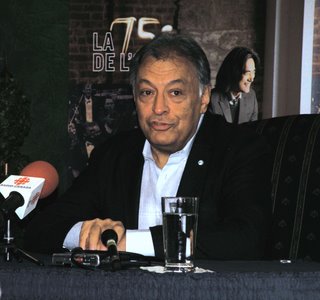 I had not realized that Mehta has been a great champion of
Messiaen
's music over the years. At his press conference held a few days before the Montreal concert, Mehta talked about his relationship with
Messiaen
and his music, and passed on an amusing anecdote. It seems that Messiaen was in Tel Aviv for rehearsals of his Turangalila Symphony with the Israel Philharmonic. During the course of rehearsals the players became bored and restless and at one of the breaks some of them went to Messiaen and asked him to cut a couple of movements. Naturally, Messiaen was offended and made a counter-suggestion. Better they should cut the other work on the programme – Mozart's
Jupiter
Symphony – and he would tell them exactly where to make the cuts! Mehta had to apologize to Messiaen over the incident. No word on whether anyone apologized to Mozart.
Mehta recalled that Messiaen often came to rehearsals wearing a colourful Hawaiian shirt with girls in hula skirts on it, but when it came to the performance of his music he was very serious and very strict.
Wind, Brass & Percussion Orchestration – When "Bigger" is "Better"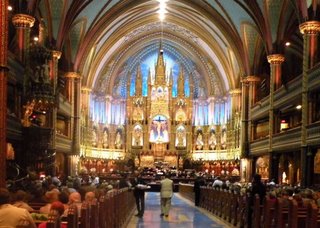 Et exspecto resurrectionem mortuorum
was given its first performance in 1965 at the Church of
St. Chapelle
in Paris and then a month later at
Chartres Cathedral
. It is obviously designed to be performed in a large space with long reverberation time. The orchestra comprises only winds, brass and percussion and the music features slow-moving chords and percussion effects from various kinds of bells, gongs and tam-tams that are intended to reverberate in a large space. Notre Dame Basilica is indeed a large space, but in this case "bigger" is even better. The piece sounded wonderful in Notre Dame – especially the almost deafening percussion crescendos – but to have heard it in Chartres Cathedral would have been something else again.
Mehta conducted the Messiaen with his customary efficiency. Messiaen pupil Pierre Boulez could hardly have done better. Nor was
Et exspecto resurrectionem mortuorum
the only Messiaen heard during the evening. The concert began with a performance of the early (1932) organ piece
Apparition de l'Église éternelle
played by
Pierre Grandmaison
. This ten-minute work begins with a series of unsettling tone clusters, but gradually out of extreme dissonance comes relief in the form of the grandest and loudest major chords one is ever likely to hear from an organ. Presumably, this is the "apparition" of the title.
Saint-Saens' Organ Symphony Pure Sound, Beautifully Balanced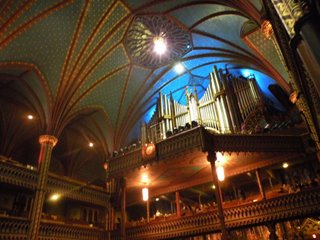 The major work on the programme - and the best-known - was Saint-Saens' Symphony No. 3
Organ
, with organist
Patrick Wedd
. For all its deserved popularity, this symphony is seldom heard under ideal conditions. It is most often performed in concert halls and often with electronic organs, but this performance was the real deal and I never expect to hear it done better. I was sitting about half-way back in Notre Dame, which meant that I was about the same distance from Mehta and the orchestra in front of me and the organ console and pipes behind me. Thanks to careful preparation by the performers, balances in both soft and loud passages were just about right. Given the size of the place and the vast distance between orchestra and organ this was an amazing achievement; of course, the performers have the benefit of video cameras to see and hear each other, but it still takes musicians with sharp ears and cool nerves to make it all work.
Mehta has had a lot of experience with the
Organ
Symphony. He has recorded it several times, most recently with the Berlin Philharmonic in 1997, and his view of the piece has become more refined over the years. Saint-Saens saves all the bombast for the last movement – this is the only time in the piece that the organ is allowed to play
fortissimo
– and Mehta made sure that the really big guns were saved until the end. In fact, the only other section of the score where the organ plays is the second movement 'Poco Adagio,' and there it mostly meshes softly with the orchestra in an accompanying role.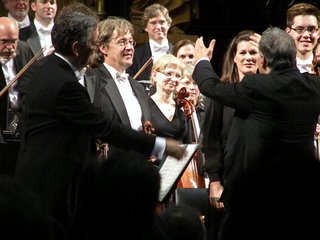 From the OSM
Mehta
got all the power he needed, but also a beautifully dark and blended sound. At the same time, Mehta had obviously asked the timpanist to use hard sticks so that the important timpani solos would register clearly in the reverberant acoustic.
In both the Messiaen and the Saint-Saens, we saw a master conductor at work. Mehta is a consummate technician, but he also loves the music he plays. It was a treat to see him at work and to hear this music so well performed.
Mehta Discography, Autobiography, and a Well Deserved Award

For listeners who wish to hear more of Mehta, there is a huge catalogue of recordings and DVDs and it continues to expand with new releases almost every month. Among his recent releases are the
VPO New Year's Concert
2007 from DG on both CD and DVD; the Israel Philharmonic's
70th Anniversary Concert
from 2007 released by Euroarts on DVD; and of special interest to those who want to see how he does it, there is a DVD called
Zubin Mehta in Rehearsal
from Image Entertainment. We see Mehta rehearsing Richard Strauss'
Till Eulenspiegel
with the Israel Philharmonic, followed by a complete performance. Also scheduled for release on September 30 by Medici Masters is a 1977 concert with Mehta and the Los Angeles Philharmonic under the title
Zubin Mehta: Los Angeles Philharmonic
.
For more information about Zubin Mehta, his life, recordings and upcoming performances visit his website at www.zubinmehta.net.
It was announced this week that Mehta has been awarded the prestigious
Praemium Imperiale
by the Japan Arts Foundation. The prize is given for lifetime achievement and is worth US$143,000. It will be officially presented in a special ceremony in Tokyo on October 15.
Finally, Mehta has recently written his
autobiography
. It is available now in German (
Partitur meines Leben
), Italian, and Hebrew, and the English version will be released by Amadeus Press November 15 with the title
Zubin Mehta: a Memoir
.
Paul E. Robinson is the author of
Herbert von Karajan: the Maestro as Superstar
and
Sir Georg Solti: his Life and Music
, both available at
http://www.amazon.com/
. For more about Paul E. Robinson please visit his website at
http://www.theartoftheconductor.com/
.
Labels: 75th, conductors, Messiaen, Nagano, OSM, Zubin Mehta