This Week in Toronto (December 28 - January 3)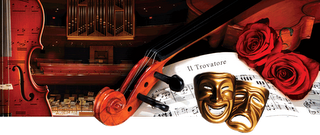 Photo: Bravissimo and Salute to Vienna concerts by Attlia Glatz Productions
First of all, a slightly belated Holiday Greetings to one and all! Now that we have had our fill of holiday food and spirits, what better way to celebrate the festive season - to ring in the new year - than a concert or two? While the opera and symphony are currently in hiatus, there are still a number of classical events worthy of your attention. As mentioned in my post last week, the
Toronto Operetta Theatre
is putting on Kalman's
Countess Maritza
at the St. Lawrence Centre. Remaining performances are on Dec. 29, 30, 31, Jan. 2 and 3.
Also very interesting is Bravissimo!, the third annual New Year's Eve concert put on by Canadian impresario Attila Glatz, to take place on December 31 7 pm at Roy Thomson Hall. Austrian conductor Roberto Paternostro leads the 78-member Opera Canada Symphony likely drawn from local musicians. Soloists include American sopranos Sarah Jane McMahon and Susan Neves, Russian mezzo Elena Bocharova, Portuguese tenor Bruno Ribeiro, American tenor Carl Tanner, and Serbian baritone Nikola Mijailovic. Paternostro was once an assistant to the late Karajan in Berlin, and is currently General Music Director of Staatstheater Kassel and Musical Advisor to the Israel Chamber Orchestra. On the program are selections from Carmen, Madama Butterfly, Turandot, Rigoletto, La Traviata, Magic Flute and others. Canadian broadcaster Rick Phillips will be the emcee. Please note that the above information comes from a press release from Attila Glatz Concert Productions, and the cast information is different from what is in the Roy Thomson Hall website which apparently has not been updated!
On New Year's Day at 2:30 pm, Glatz brings to Roy Thomson Hall its 2010 edition of Salute To Vienna. Now in its fifteenth year, this show brings the European New Year Concert tradition to Toronto. I have attended it in the past and can say it is a truly enjoyable show. It features the Strauss Symphony of Canada under the baton of Viennese maestro Peter Sommerer, principal conductor of the Theatre of Osnabrueck. The vocalists are Hungarian soprano Beatrix Lazin and Austrian tenor Wolfgang Gratschmaier, performing arias and duets from operettas of Johann Strauss, Franz Lehar and Imre Kalman. Also on the program are dancers from the Kiev-Aniko Ballet of Ukraine and the International Ballroom Dance Champions, performing Viennese waltzes and polkas.