Opera York's Tosca inaugurates the new Richmond Hill Performing Arts Centre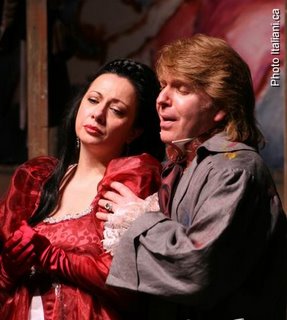 Soprano Mirela Tafaj (Tosca) and tenor James Ciantar (Caravadossi) in Opera York's
Tosca
at the new Richmond Hill Performing Arts Centre
(Photo courtesy of Italiani.ca)
by Joseph So
North Toronto's fledging opera company,
Opera York
, celebrated a milestone on March 5 when it opened its spring season with Puccini's
Tosca.
What made this event special was the opening took place in its new artistic home, the new Diamond and Associates designed
Richmond Hill Performing Arts Centre
. Located on Yonge Street north of Major Mackenzie Highway, in the heart of Richmond Hill, this handsome building is designed by the same architectural firm that created the bigger and glitzier Four Seasons Centre for the Performing Arts, the home of the Canadian Opera Company in downtown Toronto. The new, 615 seat Richmond Hill performing space, with its clean lines and predominance of wood trim, bears resemblance to its bigger sister. What is even more felicitous is the wonderful acoustics of this new hall. I had the pleasure of experiencing it last evening, when I attended the second performance of
Tosca
. Albanian-Canadian soprano Mirela Tafaj starred as the Roman diva Floria Tosca, partnered by a brand-new tenor, James Ciantar, in his professional debut in a principal role. Singing Scarpia was baritone Nicolai Raiciu. Sabatino Vacca led the Opera York Orchestra. The sound in this hall is rich and full, and the size of the venue is perfect for small scale opera and symphonic performances, as well as plays. This venue is an important addition to the cultural life of the Richmond Hill community, 45 minutes drive north of downtown Toronto.
Given the recessionary times, money is tight everywhere. So it was extremely commendable that Opera York managed to put on a very good show. (I was told that the March 7 performance was just six seats short of selling out) It began with the three principals, led by soprano Mirela Tafaj. Since her arrival in Canada, Tafaj has sung Musetta with Opera Ontario, Mimi and Micaela with Opera York, Violetta with the Toronto Opera Repertoire, appeared on the Montreal Opera stage in a Gala concert, as well as a number of concerts and recitals, including the Toronto Mozart Society and the LSM Gala Concert several years ago. As Tosca, her attractive stage presence and dark-hued soprano was ideal. On March 7, she was in excellent voice and acted with passion and authority. Her spinto soprano has the requisite weight for the climactic moments, complete with five very big high Cs. She was also able to scale her big voice down impressively in the quieter moments, giving us an exquisitely sung "Vissi d'arte." Tenor James Ciantar turned out to be a real find. A student in the studio of retired Canadian tenor Ermanno Mauro, Ciantar can be considered a neophyte, still in the early stages of his development as an opera singer. He has a very impressive, Italianate tenor with an easy top - that's half the battle right there! His "Recondita armonia" was very good, with excellent high notes. The basic voice is a fine one; what he needs now is to work on a more solid
mezza voce
, develop more vocal discipline and not get carried away, and to hold back and save for the climaxes. With further study and seasoning, Ciantar with go far. The third principal was baritone Nicolae Raiciu, who is a member of the COC chorus and has covered and sung solo roles there. A darkly handsome Scarpia, Raiciu was perhaps not quite menacing enough, but he was a solid Roman chief of police. He also did double duty as the stage director! I would be remiss if I did not mention veteran baritone Douglas Tranquada as a highly amusing (and scene-stealing) Sacristan. Also, this was the first time I have ever seen the Shepherd Boy singing his little ditty right onstage!
Given the limited budget, set designer Frank Pasian did quite a nice job with the traditional sets. It would have been evern more effective if the lighting changes weren't so abrupt at times. The orchestra under Sabatino Vacca was uneven, but he managed to hold it together, with only a stray note here and there. The tempo in Act One was on the slow side but it picked up later on. The surtitles had always been the Achilles heel of OY, but this time, it worked well, a few shadows notwithstanding. All in all, an enjoyable evening at the theatre.
Labels: Mirela Tafaj, Opera York, Richmond Hill Performing Arts Centre, Tosca