Death and the Maiden, Altera Vitae at MainLine Theatre- May 13-24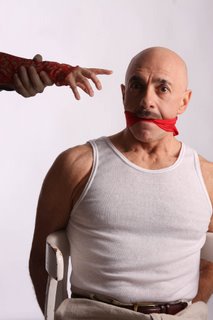 Death and the Maiden
By Ariel Dorfman
Directed by Jesse Corbeil
Wednesday, May 13 - Sunday, May 24
"During all those years not an hour has passed that I haven't heard it, that same voice, next to me, next to my ear, that voice mixed with saliva, you think I'd forget a voice like his?" - Paulina
Montreal, April 2009- Altera Vitae is proud to present their third production, Death and the Maiden, playing at MainLine Theatre from May 13 to 24. Directed by Jesse Corbeil, the capable cast includes Sam Croitoru (Dr. Roberto Miranda), Carolyn Fe (Paulina Salas) and William Ward (Paulina's husband, Gerardo Escobar). Altera Vitae produces works of theatre that engage and service the community. With each new production, the company partners itself with a valuable, charitable organization whose mandate is similar to themes in the play. For Death and the Maiden, Altera Vitae supports RIVO, assisting the organization in their public awareness strategies. Carolyn Fe, Altera Vitae's artistic director, wants the public to know about this vital intervention network of therapists and community workers concerned with the well being of survivors of torture and other forms of organised political violence. "RIVO helps people like Paulina get on with their lives and thrive…not forgetting the past but moving onto the future with pride."
Years after the fall of a dictatorship, a woman gets the chance to confront her torturer. Is this a time for forgiveness or revenge? Death and the Maiden is an inquest into the darker side of humanity – one in which everyone is implicated and justice seems like a fragile, ambiguous invention. Winner of the 1992 Olivier Award for Best Play, Ariel Dorfman's explosively, provocative drama is set in a country that has only recently returned to democracy. Gerardo Escobar has just been chosen to head the commission that will investigate the crimes of the old regime when his car breaks down and the benevolent doctor Roberto Miranda picks him up. But Gerardo's wife, Paulina Salas, thinks she recognizes another man – the one who raped and tortured her as she lay blindfolded in a military detention center years before. What would you do?
Director Jesse Corbeil comments on the unfortunate timelessness of the story, "Though it's not explicitly mentioned anywhere in the text, the play references the forces that were at work in Chile during the early post-Pinochet years; but the themes are still very fresh today." He continues, "Torture and the presumption of guilt are everywhere, and habeas corpus is becoming nothing more than a notion." Jesse would like audience members to come away questioning what it is that moves people to make assumptions where guilt and innocence are concerned, especially with so many people still imprisoned on the strength of extremely flimsy evidence.
Death and the Maiden is about survival and survivors' will to live and show the strength in humanity. Producer/actor Carolyn Fe is passionate about the play on many levels, "It amazes me how much the human body and mind can take when there is a goal, a promise, a hope or objective that is held onto." For Carolyn it is also deeply personal, "I've chosen to do this play to bring out the silent scream in everybody." She continues, "This play makes you listen to that scream in the dark that nobody hears after barricading yourself for too long. Yes, it is political, but it also speaks to those who lack confidence." Carolyn believes if you have a goal and you remain focused on it, you can attain anything.
Rounding out the team is stage manager and lighting designer Mindy Sirois, sound designer Dan Legault, fight choreographer Vladimir Cara, technical director Scott Drysdale, technical assistant Jeffery Farrer and photographer Litratista.
"If he's innocent? Then he's really screwed." - Paulina
Death and the Maiden
Altera Vitae Productions
Playing at MainLine Theatre
3997

Blvd. St. Laurent
Tuesday to Sunday, 8:00 pm
Matinees: Saturday and Sunday, 2:00 pm
$20 regular, $15 student/senior
Pay-what-you-can: Wed. May 13 preview and May 16 and 17 matinees, to help spread word of mouth
Reservations: 514 849-3378 or www.mainlinetheatre.ca
Showtimes: May 13, 14, 15, 16, 17, 19, 20, 21, 23 at 8:00 pm
Matinées: May 16, 17, 23, 24 at 2:00 pm
RIVO- http://www.web.net/~rivo/EngFramesHome.htm
Labels: Mainline Theatre, montreal