Hold the dates: Death and the Maiden , Altera Vitae at MainLine Theatre- May 13-24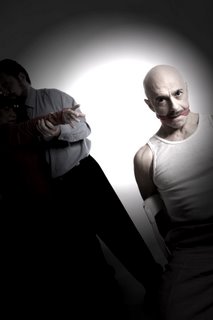 From the 2009 World Theatre Day Message (March 27) by Augusto Boal
Theatre is the Hidden Truth. When we look beyond appearances, we see oppressors and oppressed people, in all societies, ethnic groups, genders, social classes and casts; we see an unfair and cruel world. We have to create another world because we know it is possible. But it is up to us to build this other world with our hands and by acting on the stage and in our own life. We are all actors: being a citizen is not living in society, it is changing it.
Hold the Dates!
Altera Vitae Productions
Presents
Death and the Maiden
By Ariel Dorfman
Directed by Jesse Corbeil
Mark these dates in your spring calendar
Wednesday, May 13 'Äì Sunday, May 24, 2009
Years after the fall of a dictatorship, a woman gets the chance to confront her torturer.
Is this a time for forgiveness or revenge?
Altera Vitae 'Äì helping those who need to be heard
Each Altera Vitae production is partnered with a community organization whose mandate is similar to the theme of the play. For this production, Altera Vitae is proud to support RIVO, a network of therapists and community workers concerned with the well being of survivors of torture and other forms of organised political violence.
Death and the Maiden
Altera Vitae Productions
At MainLine Theatre
3997

Blvd. St. Laurent
Tuesday to Sunday, 8:00 pm
Matinees: Saturday and Sunday, 2:00 pm
Pay-what-you-can: Wed. May 13 preview and May 8 and 9 matinees
Reservations: 514-849-3378 or www.mainlinetheatre.ca
Labels: Mainline Theatre, montrˆ©al, theatre