4th Line looking for volunteers for summer season!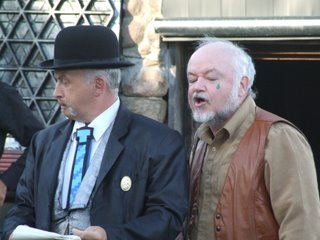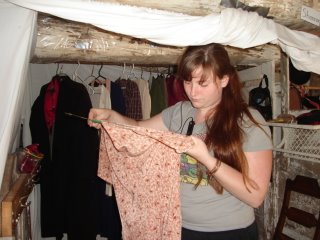 Old Millbrook School, 1 Dufferin St., Millbrook, ON, L0A 1G0
Administration phone: (705) 932-4448 Box Office phone: (705) 932-4445 Fax: (705) 932-3347

4th Line looking for volunteers for summer season!
Millbrook, ON...Are you an adult with a dream to act on the stage? If so, make your dream come true and become involved in 4th Line Theatreĺ─˘s 2009 summer season; learn and work alongside professional actors, directors and designers.
Adult auditions will be held at the Old Millbrook School, 1 Dufferin St. (2nd floor) in Millbrook on Saturday, February 14th between 10 a.m. and 2 p.m. Even if you have limited acting experience but are interested in bringing our regionĺ─˘s history to life on stage in this summerĺ─˘s world premiere productions, donĺ─˘t hesitate to give us a call at 705-932-4448 to book an interview.
Right Road to Pontypool
4th Line Theatre opens its 18th season on July 2nd with The Right Road to Pontypool written by Alex Poch-Goldin and directed by Kim Blackwell. A loving chronicle of one manĺ─˘s sun kissed dream for Torontoĺ─˘s working class Jews. With a way of life now vanished, Pontypool, Ontario boasted five resorts in its heyday as a summer haven for thousands of Eastern European immigrants in the heart of Protestant southern Ontario.
Casting requirements
2 Females 18-25 years
2 Females 25+ years
4 Males 18-30 years
4 Males 30+ years
Welcome Death
The seasonĺ─˘s 2nd world premiere play, Welcome Death is written and directed by Robert Winslow.
ĺ─˙Whodunitĺ─¨ fans will love this Victorian murder-mystery set right here in Millbrook! In 1873, the discovery of a young womanĺ─˘s body in a field spurs a Coronerĺ─˘s inquest that pushes past the restraints of science and enters the realm of the spirit to find unknowable answers. Based on the archives of the coronerĺ─˘s inquest of Elizabeth Deyellĺ─˘s murder trial, the show will be performed on the intimate Meadow Stage (last used in 2005 for That Summer). Welcome Death will give adult volunteers the opportunity to explore life in ĺ─˙Victorianĺ─¨ Millbrook while acting out a real murder mystery on stage.
Casting requirements
2 Males 15-25 years
1 Male 30-50 years
1 Male 40-60 years
1 Male 50-60 years
1 Female 18-25 years
BEHIND THE SCENES: If the limelight isnĺ─˘t for you but youĺ─˘re interested in volunteering behind the scenes or hosting audience patrons, please call 705-932-4448 or drop into the 4th Line office between 10 and 2 p.m. on Saturday February 14th . These volunteers would be 16 years and older, and can enjoy a variety of experiences from makeup to set painting to ushering and more!
---
4th Line Theatre, Canadaĺ─˘s premiere outdoor theatre company brings history to life on the barnyard stages of the picturesque 5th generation Winslow farm in Millbrook, Ontario.
4th Line Theatre is committed to preserving and promoting our Canadian cultural heritage through the development and presentation of regionally based, environmentally staged historical drama.
For 2009 season tickets please call the box office at 705-932-4445, visit www.4thlinetheatre.on.ca or drop by the 4th Line office in the Old Millbrook School, 1 Dufferin St. in Millbrook.
Labels: 4th line theatre, volunteers