Buy a piece of Summer at 4th Line Theatre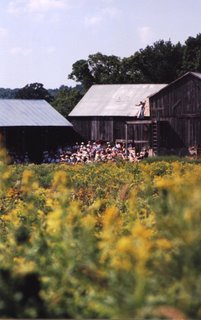 Old Millbrook School, 1 Dufferin St., Millbrook, ON, L0A 1G0
Administration phone: (705) 932-4448 Box Office phone: (705) 932-4445 Fax: (705) 932-3347

Buy a piece of Summer for the Holiday season!
Millbrook, ONĺ─ÂIf youĺ─˘ve had enough of winter already, 4th Line Theatre is pleased to offer a little piece of summer for your holiday gift-giving! This season, theyĺ─˘re presenting some new ways to enjoy great outdoor theatre at fabulous prices.
This week only, ending Friday, December 19th: all single tickets are $2 off!
With the presentation of two world premieres in 2009, 4th Line is offering something special this year: Champagne Gala Subscriptions are your passport to the excitement and splendor that is Opening Night! Your premiere ticket to two World Premiere plays also includes Hors dĺ─˘oeuvres and complimentary champagne at Baxter Creek Golf Club where you will rub elbows with stars of the stage and like-minded theatrephiles. (Opening nights are July 2nd and August 12th of 2009)
4th Line Theatre is also happy to announce their Picnic Partner for the 2009 season, Baxter Creek Golf Club which will provide delectable pre-show picnics to enjoy at the Farm before the play begins. Also new, and for the same price as a picnic, patrons can have the option of enjoying a Club Luncheon for a sit-down meal at the Club, just a short drive away from the theatre venue Winslow Farm.
A perfect solution for a weekend getaway, 4th Line Theatreĺ─˘s Rural Routes and Scenic Stages Theatre packages are now available for purchase online by visiting www.4thlinetheatre.on.ca or by phone (705) 932-4445 at the theatre box office. Your getaway package includes 2 tickets to a 2009 play, a full breakfast and an overnight stay for two with our Accommodation partners. Choices include ĺ─˙Historic Hill and Daleĺ─¨, ĺ─˙Plantation Houseĺ─¨ and ĺ─˙Pioneering Womenĺ─¨ (hosted by Victoria Inn).
A history or theatre buff on your holiday gift list may also appreciate receiving a published script. Doctor Barnardoĺ─˘s Children, Crow Hill: The Telephone Play and Cavan Blazers scripts are available for $15 each. Copies of Leanna Brodieĺ─˘s Schoolhouse and For Home and Country are also available at the 4th Line office for $15 each. For tickets, gift certificates or scripts call 705-932-4445.
Gift certificates for the Galas, tickets, subscriptions, picnics and theatre getaways can all be purchased online by visiting www.4thlinetheatre.on.ca or by phone at (705) 932-4445 or in person at the 4th Line Theatre Box Office. Associated ticket outlets have gift certificates for single tickets & picnics: Bethany Hills Interiors at 17 King St. E. in Millbrook (705)-932-1600 or Peterborough Museum and Archives on Armour Hill, at Museum Drive off Hunter St. E. in Peterborough (705)-743-5180, as well as Kent Bookstore at 55 Kent St. West in Lindsay (705) 328-1600.
4th Line Theatre, Canadaĺ─˘s premiere outdoor theatre company brings history to life on the barnyard stages of the picturesque 5th generation Winslow farm in Millbrook, Ontario. The theatre company is committed to preserving and promoting our Canadian cultural heritage through the development and presentation of regionally based, environmentally staged historical drama.
Labels: 4th line theatre, gala, outdoor theatre