Julian Bliss to Launch Leblanc Bliss Line of Clarinets at NAMM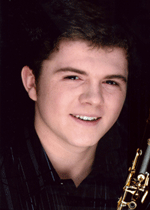 International clarinet sensation Julian Bliss, will attend the 2009 NAMM Show in Anaheim, California, for the launch of the new Leblanc Bliss line of clarinets. Julian will be providing performances on the new clarinets as well as making himself available for interviews at the Conn-Selmer booth. For complete information please see the attached press release and photo.
Grant Johnston
Marketing Communications Manager
Conn-Selmer, Inc.
(574) 523-0701 Office
(574) 522-0334 Fax
www.conn-selmer.com/allamericanhighschool/
www.conn-selmer.com/school
"Music Expresses That Which Cannot Be Said" - Victor Hugo
Labels: california, clarinet, Julian Bliss, NAMM