Mari Kodama, DSO-Berlin, Kent Nagano - Beethoven Piano Concertos Nos. 1 & 2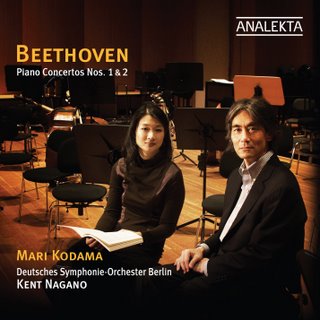 Beethoven
Piano Concerto Nos. 1 & 2
AN 2 9955
Deutsches Symphonie-Orchester Berlin
Kent Nagano, honorary conductor
Mari Kodama, pianist
Release date: January 27, 2009
Montreal, January 27, 2009 ― Kent Nagano, Music Director of the Orchestre Symphonique de Montréal and General Music Director of the Bavarian State Opera in Munich since 2006, conducts once more the Deutsches Symphonie-Orchester Berlin, an orchestra he knows well as he was its Artistic Director from 2000 to 2006, and pianist Mari Kodama in a recording devoted to Ludwig van Beethoven's first two piano concertos.
In November 1792, shortly before his 22nd birthday, Ludwig van Beethoven moved to Vienna. Among the compositions which he took from Bonn was a Piano Concerto in B-flat major–the Concerto No. 2–, a work with which he introduced himself to the musical public. Even after the successful first performance Beethoven made changes on at least three occasions. In no other work by Beethoven can we trace so clearly the various stages of its musical development.
Chronologically, Beethoven's First Piano Concerto was his second. It already contains what was later to characterize the concertos and symphonies of the classical Viennese composer: intensive thematic work, subliminal links between the movements, but above all the principle of contrast between the various planes of the composition. In a sense, these two concertos serve as translation of the sound of the times, beneath a European horizon.
Pianist Mari Kodama has established an international reputation for her musical sensitivity and outstanding virtuosity. In performances throughout Europe, the USA and Japan, she has consistently proven the profound aesthetics of her very personal and unique style. Recent concert highlights include Beethoven concerto performances with orchestras in Berlin, Montreal, Baden-Baden, Bad Kissingen, Singapore and Osnabrück, and in appearances at the Schleswig-Holstein and Bad Kissingen Festivals.
Kent Nagano has established a reputation as a gifted interpreter of both the operatic and symphonic repertoire. He was Music Director of the Opéra National de Lyon, Music Director of the Hallé Orchestra and Associate Principal Guest Conductor of the London Symphony Orchestra. In 2003, Kent Nagano became the first Music Director of Los Angeles Opera. A very important period in his career was his time as Artistic Director and Chief Conductor of the Deutsches Symphonie-Orchester Berlin from 2000-2006 after which he was then given the title Honorary Conductor.
www.analekta.com http://www.dso-berlin.de
Labels: beethoven, Kent Nagano, Mari Kodama, piano